TOTAL ETF PORTFOLIO
START MAKING MONEY… NOT CHASING IT
INTRODUCING
TOTAL ETF PORTFOLIO
YOUR "TRIPLE-STRATEGY" TRADING PLAN
This first-ever 3-in-1 combination delivers a total ETF portfolio solution no matter what your trading or investing outlook.
STRATEGY 3 – (BAN)
BAN TRADER PRO
(BEST FOR ACTIVE TRADERS)
STRATEGY 3 STARTING AT $899
STRATEGY 2 – (TIBT)
CONSISTENT GROWTH STRATEGY
(MOST PROFITABLE, LOWEST DRAWDOWN)
STRATEGY 2 STARTING AT $1499
STRATEGY 1 – (TTI)
THE TECHNICAL INVESTOR SYSTEM
(BEST FOR PASSIVE INVESTORS)
STRATEGY 1 STARTING AT $149
DELIVERING SERIOUS RESULTS
For 22 years, we have been refining these three strategies to deliver powerful end-of-day trade alerts on ETFs. Taken together, they give you a complete view of the market.
You'll get everything. That includes the biggest of big trend changes along with the smaller, profit-enhancing market movements and everything in between.
GO DEEPER AND MAKE MORE MONEY WITH BAN TRADER PRO
(Strategy 3 – Included)
BAN Trader Pro takes you all the way when it comes to profitable ETF trading and investing.
The strategy revolves around relative strength, momentum, stage analysis, and market sentiment.
That lets us identify the 'Best Asset Now' so you're always in sync with what's going on.
The service is proactive, not reactive. That means you own the best sectors (market-leading stocks) BEFORE the market drives up the price and everyone else is talking about them.
HERE'S HOW IT HAPPENS:
Subscribers receive a 7-12 minute pre-market video each morning that discusses the major indexes, bonds, metals, energies, the BAN Hotlist, open trades, and possible trade setups, as well as any noteworthy price action you need to know about.
These videos are your own private daily briefing. You'll know what's going on, what's important and the action items worthy of your attention.
BY OWNING THE BEST SECTORS, YOU CAN OUTPERFORM THE S&P 500 AND THE NASDAQ TOO
Our proprietary sector selection process delivers explosive growth potential. In fact, it averages 17.66% ROI per year with its best year at 65+%.
That's how you get a 974% return with a 75% win rate and no drawdown larger than 15% since 2007.
As you can see from the performance table, the difference is literally life-changing.
Ban Trader Pro really does give you that extra performance edge when you need it.
THE CGS STRATEGY FOR BABY BOOMERS AVOIDS STOCK AND BOND DECLINES EVERY YEAR AND GENERATES CONSISTENT LOW-RISK RETURNS THAT OUTPERFORM BOTH THE 60/40 PORTFOLIO AND S&P 500 DRAMATICALLY.
(Strategy 2 – Included)
The Consistent Growth Strategy is a complete algorithmic trading model based on technical analysis, inter-market analysis, sentiment, and position/risk management.
Our proprietary system sees the market with color-coded bars and tracks the most active price and time cycles within the market.
That means it generates a stream of additional profits by telling you when to rotate your money into the S&P 500 ETF, bond ETF, dollar ETF, or cash using a systematic approach.
On average there should be 5 – 12 trades each year, so your trading responsibilities are simple and easy to manage.
You can trade at your preferred risk tolerance too, with 1x, 2x, or 3x leveraged ETFs.
---
HERE'S THE CONSISTENT GROWTH STRATEGY PERFORMANCE CHART:
Again, the beauty of this second strategy that trades the index and bond ETFs is that everything's done for you.
This is our best ETF strategy, which also provides full guidance for efficient trading and position management. The maximum -7% drawdown keeps volatility in accordance with your risk levels.
You'll be able to generate profits in any market.
But perhaps you want even more. Keep reading…
GET A CLEAR MARKET VIEW WITH THE TECHNICAL INVESTOR SYSTEM
(Strategy 1 – Included)
The Technical Investor System delivers long-term growth signals for investors looking for a near "set-it and forget-it" strategy. The strategy uses the most popular and low-cost S&P500 Index, Bonds, and Dollar ETFs.
There have been only 5 major bull and bear markets in last 23 years, making this service a perfect fit for your long-term investing goals with little action required.
THESE INVESTING SIGNALS COULD QUADRUPLE YOUR RETIREMENT ACCOUNT
All you have to do is simply buy or sell one ETF to grow (or just preserve) your capital. That's it!
As the old saying goes, "don't tell me what to buy, tell me when to buy."
That's exactly what the Technical Investor System does for you. You get only the most critical, all-important signals to preserve your money and grow it faster than the market itself.
That's how it's outperformed the S&P500 handsomely since 1998:
Over the same timeframe, the S&P500 generated only 331% with a 57% drawdown.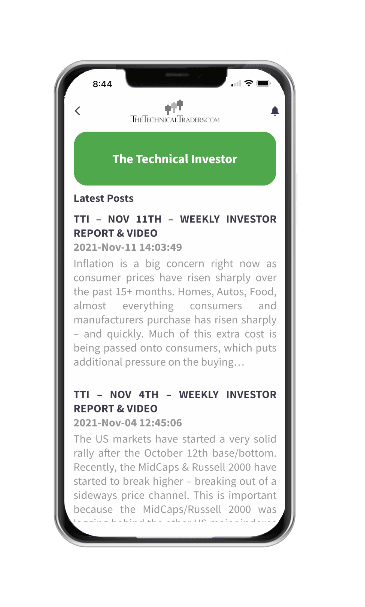 SEE FOR YOURSELF
The Technical Investor is designed to help you manage and protect your assets, family, and future.
Now you can transform bear market declines into profit centers using nothing more than a long S&P 500 ETF and a long bond ETF at the appropriate time.
That means the value of The Technical Investor systems accumulates over years – not days and months.
But perhaps you also want to take a more active role in the market?
Keep reading…

Chris Vermeulen
Founder and CEO
TheTechnicalTraders.com
SUBSCRIBE TO
THE TOTAL ETF PORTFOLIO
(Strategy 2 – Included)
The Technical Investor System, Consistent Growth Strategy, and BAN Trader Pro combine to give you a complete system. One that's more powerful and more flexible than any single system alone.
You can pick and choose when to be passive. When to be aggressive. When to use leverage and how much.
In nearly every instance, you'll be in the right sector at the right time. You'll enjoy full confidence that you're going to outperform the market with minimal drawdowns.
That's how these 3 systems are more than the sum of their parts.
75+ YEARS OF EXPERIENCE
With the Fed flooding the market with liquidity, supply chain aftershocks reverberating from COVID, and a world that's changing faster than ever, you need an edge that's proven to deliver.
Get our highest quality trades right now, no matter what your timeframe, risk appetite, and activity level.
Everything we offer comes from 75+ years of research and trading experience that provides easy-to-follow signals and a profitable strategy suitable for all levels of traders.
Go ahead and secure maximum decision-making power for your portfolio and your future today.