"Individual investors: If You're Ready To Profit From The Bear Market, Generate Solid Reliable Returns, Avoid Further Drawdowns, And Know When The New Bull Market Starts To Buy Your Favorite Stocks, Then This Letter Will Show You How…"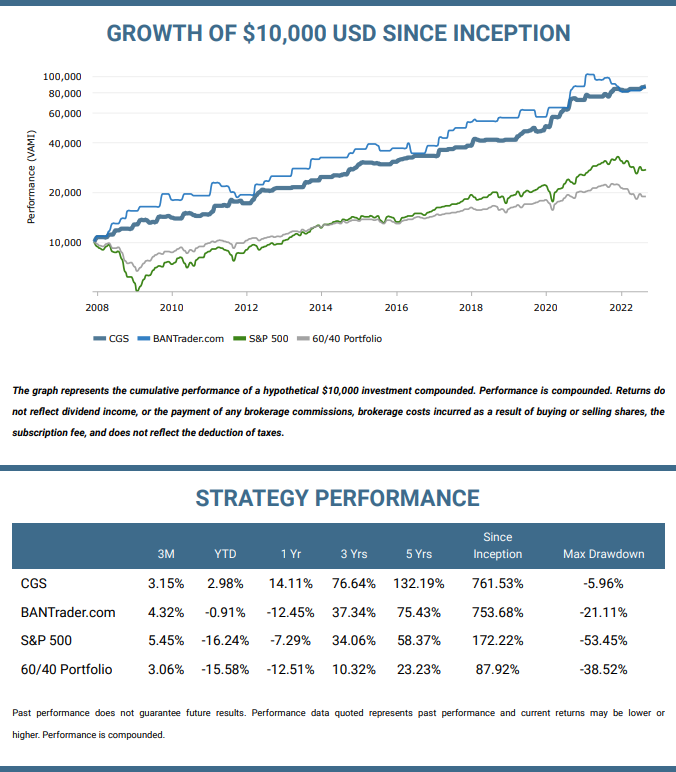 From: Chris Vermeulen


Are you an individual investor who wants more out of life?
If so, read on.
My name is Chris Vermeulen, and I've been investing, actively trading, and sharing my knowledge online for many years, since 2001, to be exact…
​I've been publishing weekly articles of "The Technical Traders Insight" report…
I've been featured in publications such as The Street, Reuters, Kitco, Financial Sense, Yahoo Finance, Market Watch, Sprott Money, and dozens of other publications and magazines. And some of my work is even translated into Spanish and Chinese.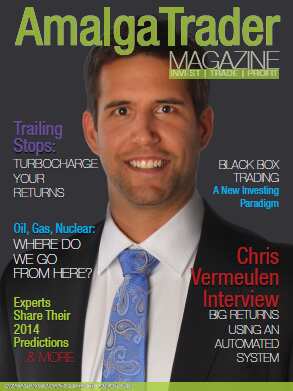 You may have watched me on shows such as CheddarTV, TraderTV, TickerToday, and TD Ameritrade Network. Also, you can catch me every Monday on Business First AM with my Trader Tip segment broadcasted to 94 US TV stations.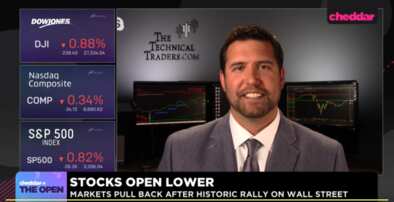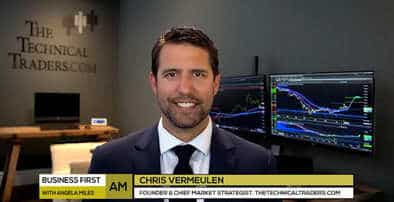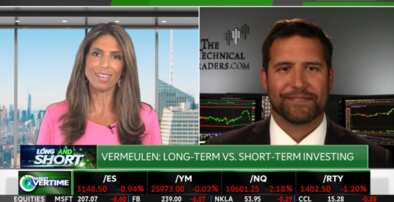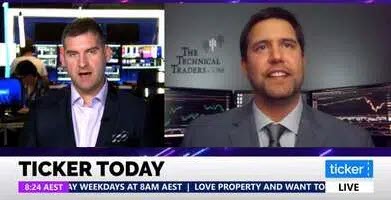 Even though I'm based in North America, I've also gone international. Here is a photo from a talk I gave on TickerToday in Australia.
I have been interviewed over 500 times on various TV, radio, and Youtube channels, podcasts, and newsletters.
And I've been fortunate to speak to groups of individual investors- from small groups to thousands – worldwide.
Yet, I REFUSE to share my most powerful, jaw-dropping, money-making strategies in those places. Because I only want to share them with individual investors who will "get it," see the value and take action.
This is why I have kept my best and most effective secrets and strategies for members of The Consistent Growth Strategy (CGS) newsletter.

Now, it's NOT for everyone.

Here's what I mean…

Please understand I'm not implying you'll duplicate my results. With my advice, some investors have told me they've made hundreds of thousands, even millions of dollars. Others take the same trade signals and do nothing with them except whine and complain. If you are a complainer or a negative person, stop reading right now because you're wasting your time.

As with all my strategies, my results are used for informational purposes. Your results will vary and depend on these factors and others—the type of trading account you use, experience, dedication, and so on.

​​We can't have a reward without taking some risks and applying effort and action. Trading and investing with the Consistent Growth Strategy is no different. If you're unwilling to accept some risk, please don't get this ETF signals and research newsletter.

With that said, let me talk to you about it…

My Consistent Growth Strategy newsletter is an online newsletter that gets published every Monday and Wednesday each week.

Each report is packed with actionable market insight and educational techniques designed to…
Protect Capital And Make More Money…
That's my goal for you.

I want you to read and watch each newsletter publication…

Then use the information to make back your Consistent Growth Strategy newsletter investment several times over.

Each report is like having a thought-provoking insider sending you market secrets. All you must do is login to the members area or review it in our mobile app. It's a club unlike any other.

​My team and I write every word and create each video. Written reports run anywhere from 1 to 7 pages depending on how long it takes to cover the topics. Plus, we provide a detailed video that walks you through all the charts and tells you what has, is, and what is likely to happen in the coming days for stocks, bonds, commodities, and the dollar.

I pour my heart and soul into the newsletter… and share everything we've discovered about how to grow your trading and retirement accounts faster and more safely than ever before.
What Makes The Difference…
Have you ever wondered, as I have, what makes the difference between the average investor grinding it out and super successful investors when we all start much alike in the beginning? Is it luck, talent, or dedication? Is it that one person wants to succeed while the other does not?
I'd say no. The difference usually lies in what each person knows and how they leverage that knowledge into success.
And that is why I am writing you and other people like you about the Consistent Growth Strategy. This is the purpose of CGS: to give you time-tested knowledge that can be leveraged to generate solid above-average returns and is a life-changing investment opportunity.
Three Most Dangerous Investment Lies You
Have Been Told By Financial Professionals…
Without going off too much on a rant, I must tell you something that IRKS me because it means you, the individual investor, has to work harder, work longer and experience painful financial situations when I know they could have been avoided.
Keep reading if you want to eliminate all the fears of:
– Losing your hard-earned money
– Saving enough for retirement
– Outliving your nest egg
The first step to achieving your retirement dreams is to stop listening to mainstream lies.
LIE #1:
"Diversify, Diversify, Diversify!"
In short:
– Billionaire investor warren Buffet says, "Diversification makes very little sense for those who know what they are doing."
– Multimillionaire investor Jim Rogers said, "Diversification is something that stockbrokers came up with to protect themselves, so they wouldn't get sued for making bad investment choices for clients, and that you can go broke diversifying."
And then there is this ridiculous retirement lie…
LIE #2
"Bonds Are Good And Safe Investment And Should
Represent A Large Portion Of An Investors Portfolio"
It's common for older clients to be pushed into holding a more significant percentage of their portfolio in bonds.
An often-quoted rule of thumb is that investors should hold their age in bonds in their portfolio.
What a disaster that strategy has been, and it's happening at what I believe is the worst possible time for investors, given that most affluent investors are over the age of 56.
As investors near retirement or already enjoying it, they watch their nest eggs dwindle weekly… and not because they are spending the money.
Millions of people are now scrambling and panicking, trying to figure out what to do about their significant drawdowns and losses, and adjusting their lifestyle in case things get worse.
The crazy part about bonds is that:
– During inflationary environments, bonds do poorly, and I saw this happing in real-time. Because I use technical analysis, members and I moved out of all stock positions on Feb 25th, 2020, and entered a TLT position the next day. Only eight days later, we sold our bond TLT position the day it peaked on Mar 9th, 2020, for a 19% profit during the COVID crash, and it has been in a downtrend and un-ownable since.
– Fact, bondholders of companies have no upside. Sure, you may get paid out before shareholders for dividends if there are any to be paid, but if the company goes bankrupt, the share price goes to zero, and the bondholders get nothing.
A member told me recently how he was kicking himself for holding onto his bonds still. He said, "I only held on to them because I was told they are a safe defensive position and would generate some income.
All I can say is, holding onto bonds or dividend stocks that are falling 1-3% per day in exchange for a 2-5% annual return makes no logical sense. Still, it shows the power of being told lies for so long by the industry that deep down, we have some faith and hope they know what they are doing, and so we hold on for just a little bit longer.
And there is this one…
LIE #3
"Speak With An investment Broker Or Advisor Before Placing An Trade To Be Sure It Is Suitable For Your Circumstances."
It is preached that before you invest, you should speak with an investment advisor to save you a great deal of money over time.
But does it really?
It is impossible to track all the advice given by advisors. It has been found that following advisors' strategies do not yield any superior performance in a portfolio.
Similarly, a study of all the mutual funds and hedge funds shows that, as a whole, they also underperform the market.
Therefore, paying 1 or 2 percent fees to underperform does not make sense.
Let's look at the shocking impact fees have on your retirement account value.
The table below assumes $2,500 invested each year and earns a 10% rate of return after deducting advisor management fees.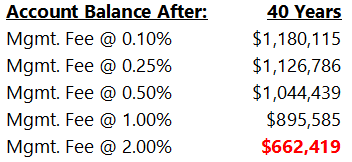 Think about those results…
If you have investments costing you 2%, your retirement account will be an astonishing $517,696 lower after 40 years than if you used low-fee investment research like this newsletter and did your own investing. Simply copy what I do, or, better yet, have it autotraded for you at no additional cost, which I'll touch on in just a moment.
I think Ric Edelman, who was ranked by Barron's as America's #1 independent financial advisor at one point, said,
"There is no greater pitfall than the one created by the retail investor industry. They are ripping you off. You are incurring greater risks, lower returns, and higher fees than you realize, and as a result, you are in danger of not achieving your financial goals."
Personally, I think it's the same with most financial advisors. I read an interesting article on Forbes called "Why You Still Can't Trust Your Financial Advisor ." Now, don't get me wrong here. I think financial advisors have their role and need. Heck, I use an advisor for a portion of my capital. Some financial advisors are outstanding, and many are Consistent Growth Strategy newsletter members.
I shouldn't have to say it, but if your advisor allowed you not only to avoid the bond market collapse and bear market in stocks but also had you profitable, how would you feel, and would you tell your friends and family? Darn right, that's why these advisors are using CGS. They are building massive businesses and can't keep up with the referrals wanting to be taken on as clients.
It's unfortunate that financial advisors have a bad rap. It only takes a small handful to ruin it for everyone else. For a point of reference, the Forbes article states that only 8% of advisors have a record of misconduct.
A Newsletter Unlike Any Other…
You see, the Consistent Growth Strategy is a unique opportunity, and you won't find anything like it anywhere else.
Every Monday and Wednesday, the special report is published and covers a broad range of information curated in a way that is simple to follow, easy to understand, and logically makes sense in laypeople's terms. The Consistent Growth Strategy gives you everything you need – when you need it.
Knowledge Is Power…
Right now, there is a lot of NOISE and EMOTIONS. Big things are being discussed, from inflation to deflation, quantitative easing to quantitative tightening, interest rates, wild bond prices, energy prices, war, and more. If you know anything about me and what I stand for, then you know I couldn't care less about news, economic data, and concerns about what may or may not happen. However, we can still use this to our advantage.
Knowledge is power, and the information included in each CGS report is strictly based on technical analysis of the price charts. Things like intermarket relationships, position and risk management, and most importantly, our indicator you will not find elsewhere – the market participant sentiment money flow. Imagine if you could be on the correct side of big market trends, like a big market sell-off or multi-year bear market…

If you have never been a CGS member and experienced this, then you don't know what you are missing. Our survey with our exclusive subscribers shows that 69% of them didn't fully understand the hidden value and power of our research and trading signals until they started using them.
Because I know the most humbling experiences tend to be painful and negative and can be life-changing… and, possibly, life-SAVING lessons for you, your family, and your financial future. You'll see the "behind-the-scenes" of our research. What we do, and how we identify these trades. The knowledge will improve your chance of success.
Plus, you get a few powerful bonuses when subscribing too…
Bonus #1: "My Buy-Hold-Sell-Rebuy Strategy For Knowing When A Bear Market Starts, And More Importantly When The Bear Market Has Ended," A Written and Video Weekly Update ($449 Value)

Free access to this passive technical investor report is for Consistent Growth Strategy members only.
This is a weekly report with written and video analysis called "The Technical Investor."

It's like my team and I sitting down with you for 15 minutes and having us tell you the most critical things unfolding and what we plan to do to avoid losses or make more money.

Once you become a Technical Investor, you'll get instant access to these reports in our members area. As soon as you subscribe, you will be taken to the members area where you can read, watch and listen to it immediately.

It's a bonus so powerful yet passive; it's hard to explain the feeling of knowing what type of market we are in (bull/bear), knowing what we need to do to avoid and how to profit from chaos in a calm, laidback way.
All I'll say here is if you're an investor, this bull market/bear market strategy will be one of the most effective long-term tools you possess, provided you follow it and apply the information.
​Here are a few you'll discover…
The big trend report. (Trading and investing with the big trend is how you will experience consistent above-average returns regardless of whether the market is rising or falling.)


Intermarket analysis and what all the key assets and trends are telling us. (Almost everything in the world is connected in some way, and the financial markets and individual assets are no different. Find out what the indexes, sectors, bonds, yields, currencies, and commodities are telling us and which assets are driving the big trends.


Stock market buy signals to buy your favorite stocks at the best price. (Find out when a new bull market starts and watch your favorite stock rocket higher and pay dividends.)


Gold and silver supercycle buy signals. (October 2018 was the last gold super cycle buy signal, in which gold ran from $1235 to $2089. Catch the next rally because it is going to be much larger, and we can trade gold miners for massive leverage.)


Know what US and Canadian ETFs to use when following The Technical Traders' passive investing signals. (If you're someone like me, who is trading your OWN money, you may still be stuck within a certain family/brand of ETFs your firm will let you trade. Get the correct symbols.)


Retirement accounts provide the best opportunity for account growth. (By using this strategy in your retirement account, you will be able to retire sooner and with more money, with the least amount of effort, while avoiding the bear market and collecting dividend income.)
Bonus #2: "Best Asset Now" BAN Trader Pro Hottest Sector ETF Signals ($1499 Value)
This is the private and proprietary stock-picking strategy I share with members.

My BAN trading system revolves around technical analysis, momentum, stage analysis, and market sentiment…
Own the three hottest sector ETFs during stock market rallies. This proven strategy goes back to the 1920s and consistently outperforms the S&P 500 and Nasdaq.

All successful traders manage positions as if their account depends on it, and that's because it does. Get my detailed trade signals for each position, complete with portfolio allocation, entry, targets, and stop levels.
I also share several tools I recommend individual investors can use to reduce FOMO and make fewer costly emotional decisions. This alone is almost worth the price of admission because I show you, live and on-screen every morning, exactly how to find the best sectors and what to expect. I help eliminate the frustration that comes with guessing and taking random trades.
– Get my daily pre-market 5-15 minute video analysis. (Know exactly what is moving, what it means, and what should do with indexes, sectors, bonds, metals, and energies. These videos are highly educational, and members use them for day trading, swing trading, and to better manage their emotions.)
– Own the hottest sectors and stocks during stock market buy signals. (This proprietary sector selection process delivers explosive growth potential, which is generated End-Of-Day.)
– Learn how to find and trade our hotlist of 44 sectors for a never-ending stream of trade ideas. (Become a master at finding and owning the hottest stocks before they become mainstream news and how you can use options for explosive returns.)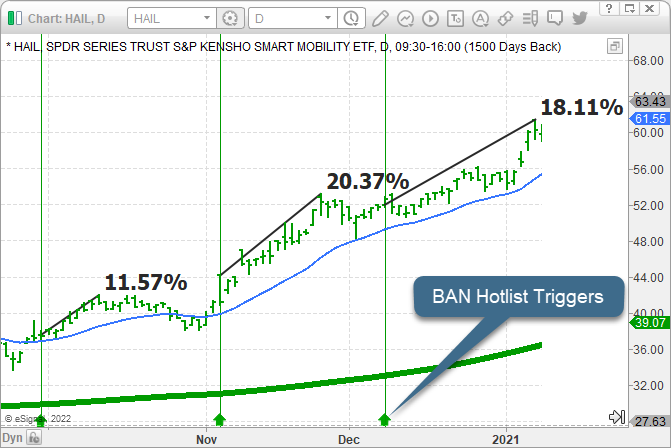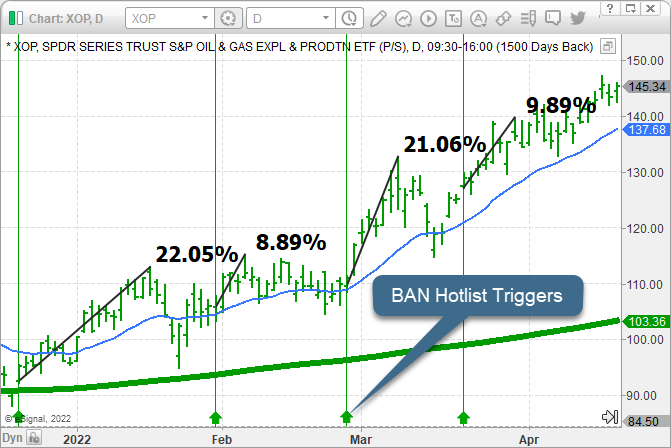 Bonus #3: Seven-Hour Technical Analysis Course Of "What Indicators We Use And How We Use Them" Detailed 12 Video Classes ($749 Value)
These insightful classes give you a behind-the-scenes view and explanation of what we use and how we use a select group of indicators and tools. We do things differently, so how you see something may be the complete opposite of what you think a particular indicator is telling you. Take notes on what you will implement and better understand how we navigate the markets without guesswork or stress.
Here's a list of the classes: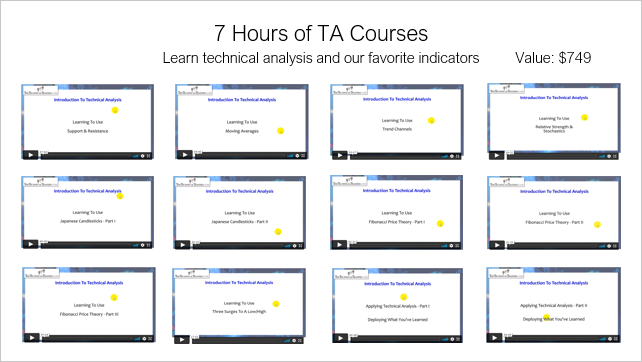 Once you get your reading or computer glasses and start watching this treasured bonus, I want you to immediately go to lessons 9, 10, and 11 and take the classes.
They are called "Fibonacci Part I, II, and III."
Even though it's one of the least popular types of analysis, I consider it one of the most important.

Too many traders become victims of their success, unfortunately. So, if you join the Consistent Growth Strategy newsletter, I want you to be prepared to handle the success that comes with it and not get lazy with execution.

As with all of the bonuses, you will be able to access them as soon as you join and get started right away.

NOTE: This video course material was created by a friend of mine Brad M., at TheTechnicalTraders.com. So if not hearing my voice will be a problem for you, don't take the classes. Brad and I grew up trading together, and he knows how I use each type of analysis in my trading.
Please understand you DO NOT need to know or learn any technical analysis to get the full benefits of CGS. I do everything and give you the trades, but if you love to learn as I do, the tactics presented are pure gold.
This newsletter is your chance to have a professional in your corner – me!
Bonus #4: "How To Have My Exact Trades Executed In Your Self-Directed Trading And Retirement Accounts" Automated Trading ($5,000+ Value)
When I'm out in public talking with others, and they ask what I do, it eventually leads to them asking me this question:
Can you trade my money for me?
The quick answer is: Kinda.
I used to say no. I don't manage anyone's money other than my own because I am not a licensed investment advisor or broker. So I legally can't give any personal trading, investment advice, or manage other people's money. This has not changed.
But here's the good news. You can have my Consistent Growth Strategy traded automatically for you in your own self-directed trading account. You simply setup an account with the broker we selected to work with, fund your account, or move your retirement account over to them. The broker will set things up for you to have the CGS trades executed instantly and automatically in your account. They are not an advisor and do not charge a management fee.
If you want to save time, money, stress, etc…
Autotrading is the solution, and I don't charge a dime for it.
The time-savings alone will be enough to pay for you to become part of the exclusive Consistent Growth Strategy community.
Think about it. Suppose you have a $300,000 account and pay an advisor 1%, which is $3000 a year. That's more than the CGS newsletter.
I was on the phone with an investor who has a $3,000,000 account. He is firing his advisor, who charges over $32,000 a year because he lost nearly 25% of his retirement account from the so-called "team of experts" who know what they are doing. Simply put, that's a big difference, and without any of the bonuses, extra growth opportunities, or bear & bond market protection that CGS provides you.
This is only one example of the many emails and phone calls I get regarding how out of control people feel with advisors handling their money. You can take control back by subscribing to CGS. You can also ask your advisor to subscribe to CGS and apply the trades to your accounts.
As your account grows, the CGS fee remains the same, unlike with an advisor.
​Here's some feedback I've received …

Bonus #5: "Live Monthly Mentoring Sessions"
Zoom ($2400 Value)

Many members (including me) in these live sessions consider these to be the greatest thing outside of our money-making trade signals.
Interestingly, a whopping 70% of members didn't realize the power of listening in or taking part in the live sessions until they attended one.
​ Two monthly mentoring sessions with my team and me. (Bi-monthly sessions are a refreshing way to keep up on the markets and trends at a more granular level.)


60-90 minutes sessions allow us to cover a wide range of topics. (From trading to investing, individual stocks, business ideas, real estate, the economy, and more.)


Aspiring to become a successful trader or investor and take control? (Get all those trading and technical analysis questions answered that you always wished you could know the answer to.)


Gain the traits of success by attending sessions and learning from others. (Discipline, patience, persistence, confidence, humility, positive thinking, objectivity, self-awareness, curiosity, and balance.)
However, a warning…

There are no "hot trade tips" in these sessions. Members and I can't be bothered by the low-level tactics of people looking for a bunch of quick speculative, high-risk trades. Instead, we focus on high-level strategies designed to elevate your trading account and emotional state for a happier and healthier lifestyle.
These Bonuses Are Worth A Total Of $10,097.00…
So, why am I including all these for free?

Because the bonuses can help you quickly recoup the cost of your Consistent Growth Strategy Newsletter subscription.

In this way, if you think about how much I'm giving you, the newsletter doesn't really "cost" you anything. If nothing else, it's like me giving you money…
I know by providing multiple ways for struggling investors to get everything they need to reach the next level of success, they will stick around longer. As a result, experience growth.

Anyway, short of me giving you investment capital to invest for yourself…
I Cannot Possibly Make It Any Easier For You
To Grow And Preserve Your Accounts
In All Market Conditions…

When you join today, you also get:
Email access to me with your questions. You can ask me anything I'm qualified and legally able to answer, and I will respond to you personally. I will respond during regular working hours because one of the huge reasons I developed and trade CGS is so I can spend quality time with my family and friends. And this is what I want for you as well. You cannot email me every other day, but if you need to know something, I am here to help. Not many people get this kind of access to me, yet I will grant you direct access as a CGS member.​
If you want direct access to me, joining CGS is the most effective way. Some days, I spend many hours responding to all inquiries.
Just ONE Of These Strategies, If Followed,
Could Make All The Difference In Your Life…

If you think I've shared everything I offer here on TheTechnicalTraders.com…

You're sadly mistaken.

I've hardly scratched the surface.

All my most effective short-term trading tactics for day traders and momentum traders are reserved exclusively for my CGS members. (I don't give exact entry/exit levels for a day or momentum trade, but I provide enough details to make weekly money from these pre-market and intraday analyses. Having said that, do NOT join for this benefit alone.) ​
Take this offer, and you will become a member of one of the world's most elite groups of active investors.
I'll treat you like my extended family… because I DO care about your success and happiness. Just watch any of the hundreds of interviews I have done, and you will quickly see that I fight for individual investors like you and me.
So, once you subscribe to the newsletter, you'll be taken to the members-only dashboard where you can access all of my strategies, signals, education, and bonuses right away…
Who Exactly Is The Consistent Growth Strategy For?
First, I'll tell you who it's NOT for…

It's not for the middle-of-the-road, can't-make-up-their-minds, afraid-to-take-a-risk fence-sitter who doesn't want to invest in themselves and their future.​
Secondly, it's not for people who want to trade every day, week, or even every month, for that matter. Sure, during raging bull markets with CGS and the BAN Hotlist, there can be a lot of trades, but generally, we are in 1-2 positions or cash. And I'll be honest, it's slow. As I always tell members, it is like watching paint dry, and to remember, boring means we are in control of our money.
Third, I have zero tolerance for people who engage in finger-pointing, blaming, or any other form of negative toxic behavior. If respect cannot be given, your membership will be terminated.
I cannot tolerate these three mindsets and don't want them anywhere near me.
Truth be told, this newsletter is not for everyone.

I found that most traders and investors don't have the self-discipline or patience to commit to a strategy long enough to experience and appreciate what it can do in all market conditions – rising and falling.
The Consistent Growth Strategy newsletter is not for individuals who never take action and follow through.
If that's you, don't waste your time. I wish you all the best, but I don't want you near my CGS members.
However, the investors who DO receive my newsletter rarely cancel, so I must be doing something right 😊
If you're still reading this, I assume my powerful message has resonated with you.

This means if you're ready to subscribe to one of the world's most elite groups of active investors, then the only logical decision is to accept my invitation and claim your spot in the Consistent Growth Strategy newsletter.
Here's The Deal…
​The Consistent Growth Strategy newsletter – and all the benefits that come with it – is $2999 USD per year.

(It's important to note the newsletter cost may be tax-deductible. Ask your tax advisor.
Look, I know there are MANY other newsletters out there for you to choose from.

Members have shared with me how they're bombarded with messages and emails for "stock trades," "penny stocks," and "trading systems," which claim to be able to generate 50-100 percent return every year with some new particular trading strategy.
I'm not one of those. Yet, I am a valuable resource to have on your side. Because I encourage you to look at the newsletter this way…​
One Winning Trade = It Pays For Itself
Avoid One Market Correction = It Pays For Itself
Profit From A Market Correction = It Pays For Itself
Trade Your Money VS Advisor Fee = It Pays For Itself
Use Autotrading = It Literally Pays For Itself

Just think about it…
Is it even possible to have all this information I've described so far and not save or gain at least the cost of the newsletter?

You be the judge.
Watch what member Eduard Nicolescu has to say…
Ok, before you get too excited…

I want to clarify one thing: there are no refunds, ever. This is for four reasons:
Reason #1: Scientific studies found that having "skin in the game" increases the odds significantly that you will execute a strategy and experience positive results.
Reason #2: Anyone who needs a safety net to fall on to make a decision is neither psychologically nor emotionally ready to join my newsletter. And that's okay. I created this newsletter for the small percentage of investors willing to do what it takes to win.
Reason #3: This type of trading takes time. It is not a flash in the pan. If you do not have the time or patience to wait for reliable, consistent growth, then you need to own up to this BEFORE you sign up.
Reason #4: Once you become a member of my community, you will have access to a lot of downloadable information, not to mention invitations to join our live mentoring sessions. Insider access is not free, and content is not inexpensive to create and then provide to our members. If you opt not to execute the trades, that is certainly your choice. You will have still received an incredible amount of learning during the term of your subscription.
Please note, this also includes the automatic renewal of your subscription. Once you are a member, you will have full access to your billing information and automatic renewal date, along with the ability to update your method of payment, cancel your renewal, etc. As a last prod by us to alert you, we send out a reminder email 45 days before your automatic renewal that the charge is pending. It is your responsibility to mark this date on your calendar and to make any changes before your renewal happens.
Having said all that, you can cancel anytime and for any reason without questions. We will cancel your renewal, and you will retain member access until the end of your subscription term. If you don't think it's easily worth quadruple the investment, fire me as your private researcher and coach.
Because if you don't see the value I'm offering you, I don't want you subscribed. I'd rather keep your spot open for someone who will use the information to create a better lifestyle and generate profits.
If you want to cancel, email us at Support@TheTechnicalTraders.com, and you won't get billed again.
Otherwise, once you've subscribed, a couple of things will happen:

1. You will have instant access to all the bonuses mentioned above (which are not available elsewhere) and…
2. You will be locked in for my next report and trade signals. Each newsletter issues its unique updates/reports and trades at different times:
– Consistent Growth Newsletter (CGS): Mon & Wed Night Reports
– Best Asset Now (BAN): Daily Pre-Market Video Report & Afternoon Update
– The Technical Investor (TTI): Thursday Night Report
IMPORTANT NOTE: If you want just the best core trades, the least amount of effort, and the lowest risk and drawdowns, then you can email me, and I can turn off BAN and TTI access. I know some members don't want to be active and emailed the video update every day and just want the core portfolio CGS positions.

Click the "Subscribe" button below to join now…
Deadline for my next report…
You're Getting My Best Information
For Less Than $8.22 Per Day…
Let me explain to you why this is such a great deal…
​
I currently charge $1,900 for 60 minutes of personal one-on-one coaching.

​Don't believe me? It's okay. That's why I've attached an actual invoice screenshot below…
I take great pride in what my skills are worth, and my research and coaching advice is worth every dollar.

Unfortunately, I only have so much time and energy in the day. This means I only want to work with a handful of investors one-on-one.

This newsletter is how I can leverage myself to help more people. You can leverage my knowledge, my experience, and trade signals to grow your wealth and save you valuable time.

In many ways, a newsletter is better than any coaching or consulting money can buy because consulting is temporary. You may be fired up after a Zoom call, but will you remember what we discussed, implement it, and keep that motivation and focus? Likely not, which is why it is best to be lifted and inspired daily/weekly/monthly with my simple-to-follow and copy research, trades, and position management updates via the newsletter.
An archive of all the newsletter reports stays with you. It serves as a reference you can review again and again. I've had investors email me and tell me how they re-read or re-watched past reports, and according to them, they gain something new each time, generally being something they missed the first time. It serves a great purpose because you can see how your emotions can blind you from the realities of trading.

And remember, CGS members get email access to me with their questions. So send me an email, and you'll never be left wondering what the correct answer is.

That's why, at only $2999 a year, this is the deal of a lifetime.

The newsletter works out to be a meager investment of less than…

$8.22 per day.

In other words, less than one of the Latte Coffees that my wife Kristen enjoys and my favorite bagel and spread. And "Yaa," I know a $6 coffee is borderline nuts for some java. But, geesh, does Starbucks have it figured out or what…
Many individuals boast about how important education is and how money is "no object." Yet, when they're asked to make a little investment in themselves, they mumble and stumble, look away, and say they need "more time to think about it."

There's absolutely no excuse for not getting in on this. If you want success, then you find a way to get it.
Heck, most investors are down well over 15% right now on their entire portfolio, that's tens of thousands of dollars that just disappeared, and most traders lose $3000 on any given bad trade in the blink of an eye. All of this could have been avoided and can be avoided going forward as a CGS member with my ETF trading signals.

Most individuals don't get what they want out of life because they aren't willing to take the actions required and pursue their goals. It takes relentless focus and determination to prosper.
Besides, if the newsletter is not right for you, you can cancel your renewal at any time – with no questions asked – by emailing Support@TheTechnicalTraders.com.
You can't have angst over $8.22 per day, especially when it is recouped to you by the first winning trade or by saving you from losing tens of thousands of dollars when the market falls. The money you give to the barista at Starbucks is gone forever.
Look, if you're truly serious about becoming successful, you'll invest in yourself. Investing in yourself provides exponential returns year after year… for the rest of your life, so how can you hesitate?
Bill Gates said it best…and it might not be what you want to hear,
You Can Make Money, Or You Can Make Excuses,
But You Can't Make Money Out Of Excuses…

I don't want to be blunt, but it's really that simple. You're either wasting time and not moving towards your goals and dreams… or you're strapping on a pair of kahunas and getting serious about investing.
It's time to take action.

If not now, when?
​
Click the button below to get your spot now…
​​Thank you for your time reading this letter. I hope you decide to join me and thousands of others just like you as we build our wealth and improve our lifestyles one trade at a time.
Chris Vermeulen
Chief Investment Officer
TheTechnicalTraders.com


P.S. "QUICK RESPONSE" BONUS…
If you lock in your spot right now, I'll throw in another bonus for you to download immediately after subscribing…

It's my 225-pg PDF version of my book: "Technical Trading Mastery – 7 Steps To Win With Logic."
​In this book, I discuss and show you how I analyze the monthly wave-like patterns that form in the stock market using a select group of indicators and tools.
I grew up going to Zig Ziglar events. I was up on stage with him when I was only 12 years old, and Zig's simple philosophy, which I believe in, is:
"You can have everything in life you want if you will just help enough other people get what they want."
If Zig's message resonates with you, you'll love how I break the markets down in this book from short-term wave identification to longer-term tidal swells so you can surf the market trends like never before.
Marcus Tullius Cicero said…
More Is Lost By Indecision Than Wrong Decisions… Indecision Is The Thief Of Opportunity. It Will Steal You Blind…
Years of helping individual investors have taught me this…
Indecisiveness is fatal in life, relationships, health, and investing.
If you don't take the initiative, you'll become robbed of a better life.
A study in the NY Times stated that…
This is one of those changes, a fork in the road, a turning point in your life… You can either succeed or suffer, but that is ultimately up to you.
Finally, you have all the information you need to make the right decision. After that, the next move is up to you…
Click the button to join the Consistent Growth Strategy now…
​NOTE: If you click the "Subscribe" button and get redirected to an email opt-in page, then I'm not taking on new subscribers at the moment. Please join the waiting list.
See what member John C. thinks of the newsletter…
Frequently Asked Questions
"​I've heard you kick members out of the newsletter and blacklist people from re-subscribing. Is this true?"
Yup, it is true.

I only want to work with people who are serious about investing and have a positive mindset to have access to my newsletter. I believe life is too short to deal with lazy and/or negative people, so if members or I see anyone being rude, I give them the boot.

What I'm giving you in the newsletter works, but it will take time to generate results. If you aren't willing to give the newsletter at least 6 months, then you aren't qualified for this, and you're best to go back to reading free articles and chasing the next hot stock tip and prediction. ​
"This sounds great, but $2999 per year seems like a lot of money for a newsletter."
Stop right there. Think about what you're saying…

You're saying that the equivalent of $8.22 per day is too much to invest in yourself, your lifestyle, and your future. But you're also saying it's too much to spend on a proven newsletter with a track record of getting results no matter what the stock market is doing, up, down, or sideways.
Tell me, when was the last time you saw a Rolls-Royce on sale? Probably never, because they don't go on sale. With that said, I must say they do have the best one-liner ad…
"The only thing you hear inside of a Rolls-Royce at 60mph is the digital clock."
The bottom line – if you want investment results equivalent to what you are getting now, go somewhere else. There are lots of traders, advisors, consultants, and coaches who will gladly take your money.

"Why the Consistent Growth Strategy newsletter?"
In short, I've found the newsletter format creates the highest odds of success over the long term. Newsletters keep us all accountable and give you ongoing education without wasting time trying to figure things out on your own.

"How much time does it take to follow? I'm strapped for time."
Each report ranges from 1-5 pages, and there is a video version with more details ranging from 5-15 minutes, depending on how long it takes to cover the markets. If you consider it "hard" to listen to a video two times a week, then there is nothing I can do to help you.

"I'm a financial advisor. Can I use this?"
Yes. I don't care who you are. I have members of all types, from individual investors, advisors, wealth managers, family offices, billionaires, investment clubs, and others.
"I'm in Canada (or the UK, Australia, etc.). Should I still join?"
I have members from all over the world in over 130 countries. In fact, I've found that some CGS members from other countries (such as Canada, Australia, and the UK) tend to be more engaged than those in the United States. Some of the additional research they test and shared with me has helped to improve my CGS and BAN strategies dramatically! Thank you, foreign folks!

Concluding thoughts: if you are ready to advance to another level with your investments, you will need help.
I'd like to be that help, and that is why I started helping others online way back in 2001 from my basement office.

That's why I'm so excited to offer my Consistent Growth Strategy newsletter to you today.

Click the "Subscribe" button below to lock in your spot for the next special report…
Ok – that's it. Subscribe or don't; it's entirely up to you. But I'd love to have you as a member and look forward to seeing you on the Inside!