Investment Philosophy
We believe three essential elements are conducive to reliable returns and, by their use, will make you the most desirable financial advisor for your target prospects.
Technical Analysis
We favor the best assets and move away from volatility during market uncertainty and into slower non-correlated assets that rise in value. Our team utilizes a quantitative process combining price, risks, cycles, and market sentiment to make investment decisions.
Asset Allocation
Asset allocation is an essential part of an investment portfolio. It's one of the main factors that lead to overall returns. Knowing what and when to hold appropriate assets like stocks, bonds, currencies, or cash is a dynamic and powerful edge that only we provide.
A Tactical Investment Strategy That Will Set You Apart
We believe in owning assets that are rising in value exclusively. We don't believe in resting on our laurels while strategies that worked in the past drain investment accounts in the present. We follow price trends using technical analysis and control risk through position management. We feel those with significant wealth, nearing retirement, or enjoying retirement should focus on avoiding corrections, bear markets and avoid holding stocks or bonds when they are falling in value.
A tactically managed portfolio can generate superior long-term risk-adjusted returns by rotating capital into trending assets and out of underperforming assets. We deploy capital to the asset with the most significant growth potential and lowest downside risk through our asset class hierarchy, thus providing maximum capital appreciation over time.
Because of our core beliefs and strategy, we are well-equipped to navigate whatever the market throws our way. And because we follow price, we never have to try and predict where the price may go. Our trend and risk-controlled strategy identify "when," "what," and "how much" to buy or sell.
Consistent Growth Strategy – CGS:
This ETF portfolio strategy seeks consistent long-term growth with below-average portfolio volatility.
CGS will help you to steer your clients toward positive returns by solving the major investment issues of bear markets and replacing the role bonds used to play. CGS seeks to achieve this investment objective by investing in the S&P 500, Nasdaq 100, US Treasuries, Dollar Index, and inverse ETFs relevant to The Technical Traders' investment theme of holding only assets rising in value and always protecting capital.
The tactical asset allocation of CGS navigates market advances and declines using a combination of dividend stocks, growth stocks, bonds, the US dollar index, and inverse exchange-traded funds. Under abnormal market circumstances, up to 100% of strategy allocation will be in a defensive cash position. A maximum of three open positions are held during a trade, with 5-12 trades a year allowing you to spend more time on client matters and scaling your business than on market research.
Learn How CGS Can:
– Build Your Business
– Generate More Referrals
– Save You Time & Money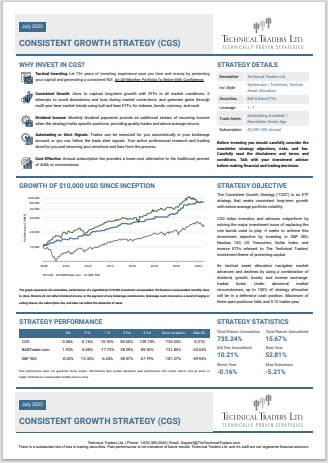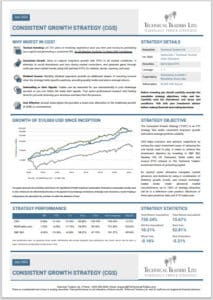 Deliverables:
Trade alerts are sent via email to the member area and the app. Our alerts tell you what and when to enter, take profits, move a stop, or exit.
Autotrading, have our signals automatically executed in your client's account at no additional charge from us.
Receive a weekly written report with charts on the key indexes, bonds, and commodities explaining their current trend.
Receive an 8-15 minute video covering assets in greater detail and Intermarket relationships about how one may affect the other.
Access to our exclusive stock market gauge. Know where the stock market is within its trading and investment cycle.
Our mobile app gives you everything in the palm of your hand, so you always have a pulse on the market and positions for your clients.
You have spent a lifetime building your business to the point where it is one of your most valuable financial assets, if not the most valuable. Let us help systemize, automate, and differentiate some of your investment processes to stand out from the crowd for additional value, thus providing you more freedom to focus on your business.
What our clients are saying…
Let's talk.
We're here to help you thrive!
We are here to help you achieve your financial and lifestyle goals. The opportunity is yours to let us show you how we can help protect and grow your wealth and business with our investment strategy signals.