THE TECHNICAL INVESTOR
AN ETF STRATEGY THAT'S AS SIMPLE AS BUY & HOLD INVESTING, WITH SMALLER DRAWDOWN AND MORE GROWTH
– WEEKLY BIG TREND REPORT & VIDEO ANALYSIS
– US & CANADIAN ETF SIGNALS: STOCK INDEX, AND BOND ETF'S
– PERFECT FOR US INVESTORS WITH IRA, ROTH IRA, 401K, ETC.
– PERFECT FOR CANADIAN INVESTORS WITH RRSP, TFSA, RESP, ETC.
Hi, my name is Chris Vermeulen.
Since 1997, I've been helping traders and investors from all walks of life use the stock market to generate all the money they need to fund a comfortable living and retirement.
I started when I was 16 and semi-retired when I turned 27. I built my dream home on the water, have all the toys, and travelled (before COVID) with my family. I don't worry about paying the bills, or stressing if I will have enough money to do the things we enjoy, and I want to help you achieve the same level of success.
What's crazy is that I made enough money to retire young and I did this in less than 10 years. Today, I continue to grow my accounts using the same simple investing signals, and you can too. I'm sharing my investing strategy to help other investors grow their wealth.
If you want to grow your long-term retirement account 627% (No Leverage), or 3377% (2x Leverage) using an ETF strategy that is almost as simple as Buy & Hold investing, but with a fraction of the drawdown, while generating life-changing returns in a shorter period of time, then continue reading.
What's crazy is that I made enough money to retire young and I did this in less than 10 years. Today, I continue to grow my accounts using the same simple investing signals, and you can too. I'm sharing my investing strategy to help other investors grow their wealth.
The reality is you do not need to learn anything other than buying the bull market ETF during a rising market, and then selling, and owning bond ETFs or moving to cash when we issue a bear market signal. If you just did this alone and nothing else, you would outperform the markets and grow your investment account faster and more efficiently than almost everyone else. Our proprietary market timing strategy knows exactly when you should own stocks, bonds, or be in cash. If you have an advisor, then you will NEVER be in cash, and believe it or not, cash is one of the best investment positions to be in during portions of a bear market. Bonds can fall 5-30% in value with stocks which most investors fail to realize.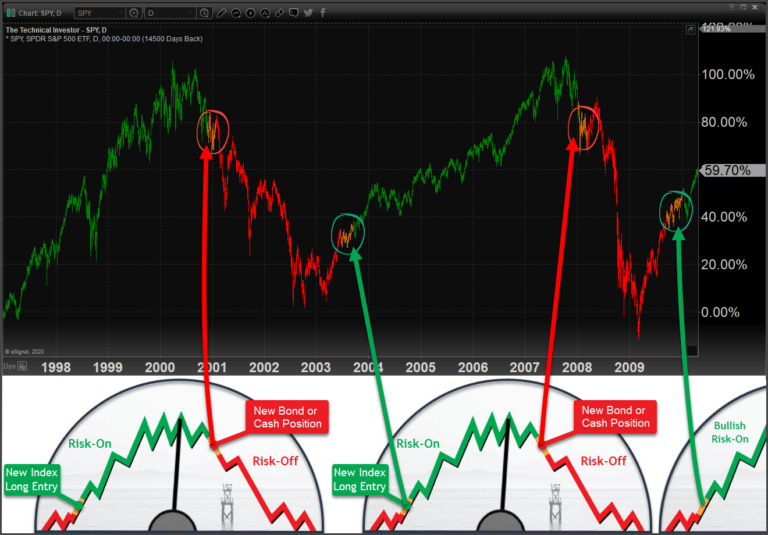 ULTIMATE MARKET TIMING
FOR INVESTORS
WANT TO CATCH MEGATRENDS THAT LAST SEVERAL YEARS.
THESE BULL AND BEAR MARKET CYCLES AND TRADE SIGNALS
ALLOW YOU TO DRAMATICALLY OUTPERFORM THE STOCK MARKET,
HEDGE FUNDS, AND ADVISORS.
PERFECT FOR RETIREMENT ACCOUNTS
401K'S, IRA'S, RSP'S, TFSA'S, ETC…
Long-Term Growth Signals for investors looking for a near set-it and forget-it strategy using the most popular and low-cost SP500 Index ETF's to generate almost 2 times higher return and only 19% drawdown VS the S&P 500 of 57%.
Over the past 23 years, there have been 5 major Bull/Bear signals (bull markets and bear markets). So if you are concerned about this being too active for you, think again. This is as simple as investing gets without having to live through 50+% drawdowns every again.
Each year we have roughly 1 investor entry signal in the market as we rotate into stocks, bonds, or cash in order to grow or preserve our capital. During these special technical conditions is when we alert you as an investor will simply buy or sell one ETF.
You may remember what happened when the DOT COM bubble burst or what occurred in 2008~2010 when the global credit markets crashed? Investors that were not prepared for these bear markets watched their assets decline substantially.
If only you had known that a bear market was starting and could have protected your assets and avoided giving back all your gains. Your investments would have been much larger by now.
That is what The Technical Investor is designed to do for you – help you manage and protect your assets, family, and future. You can now turn bear market declines into a profit center using nothing more than a long S&P 500 ETF, and a BOND ETF. The value of running The Technical Investor system is accumulated over years – not days and months. Remember, this is investing, not trading.
We deliver our research and trading signals to you as they occur and provide bi-monthly market reports and videos to keep you up to date with current price movements, trends, and when there is a new bull, bear, or re-entry signal. We will alert you via email and mobile app alert during these new opportunities.
We know this next decade will provide incredible opportunities for us as investors because there are always substantial market swings during a 10-year period. The only difference this time is that you can profit from both a rising and declining stock market. Our signals will keep you ahead of these trends while protecting assets from excessive drawdowns and losses.
ARE YOU A DAY TRADER, OPTIONS TRADER, SWING TRADER OR LONG-TERM INVESTOR? GET OUR FREE MARKET TURNING POINTS NOW!
RECOGNIZED LEADER IN TECHNICAL ANALYSIS WORLDWIDE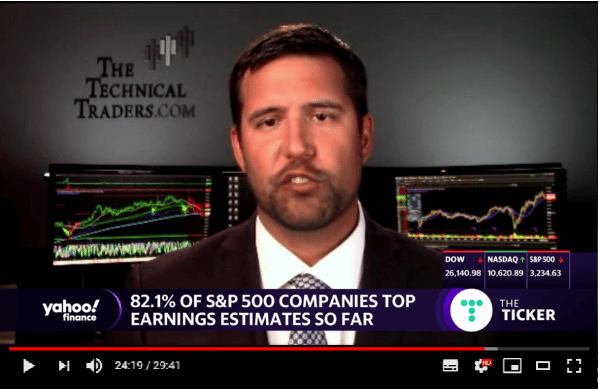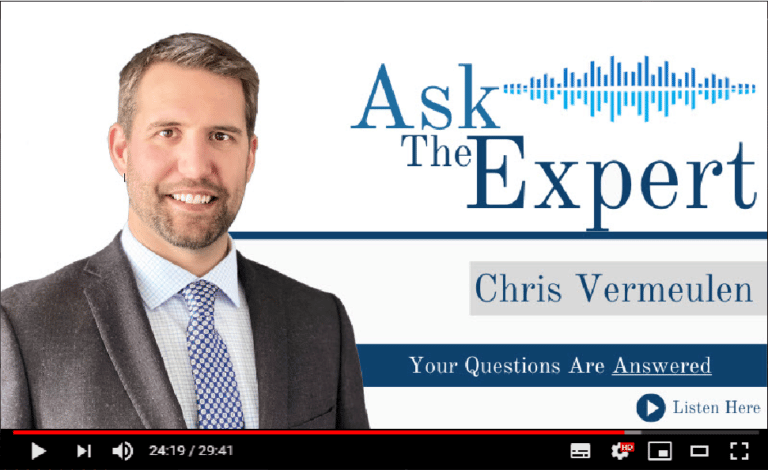 THE TECHNICAL INVESTOR
PORTFOLIO PRICING
PROTECT YOUR WEALTH WITH A PROVEN STRATEGY
The Technical Investor portfolio is a must-have for anyone with a retirement account of any type. This is as simple as buy-and-hold investing but with the benefit of knowing when to reduce exposure by moving to cash, bonds, or an index ETF.
Our proprietary technical modeling system does all of the hard work. If you can buy and sell stocks, then you can trade an ETF following this strategy.
Portfolio allocation will hold 100% in the SP500 ETF, Bond ETF, or be in cash depending on the market condition.
Our goal is to educate you to use efficient trading strategies to grow your wealth, achieve financial goals, and have more free time.
The TIBT strategy generated an incredible amount of Alpha/Profit over the past 14+ years – better than any other index trading strategy we've ever seen. The value of a fully mechanical trading strategy like this in the hands of large hedge funds or institutions is possibly worth tens of millions or more.
PROVEN STRATEGY & SIGNALS IN PALM OF YOUR HAND