BAN TRADER NEWSLETTER
OWN THE BEST ETFS AND
OUTPERFORM THE STOCK MARKET
FREE HIGH-PROFIT BAN
ETF TRADING STRATEGY WEBINAR
100% EDUCATIONAL, NO PROPRIETARY INDICATORS,
NO COST TREND TRADERS PRO STRATEGY.
EXPERT PRE-MARKET
ANALYSIS
BAN Trend Traders Pro subscribers receive a pre-market video that walks you through the charts of the major indexes, bonds, precious metals, and their miners, our open trades, the BAN Hotlist, and possible trade setups, as well as any noteworthy price action in the markets. These 7- to 12-minute videos, together with an updated BAN Hotlist, are distributed every morning by email and through our members-only iOS and Android app. Click on the computer screen below to watch one of our pre-market reports.
BAN TRADE SIGNALS
The BAN Trader Newsletter provides you with the top three sectors ETFs to own during stock market advances. By owning the best sectors, you can outperform the S&P-500 and the Nasdaq. Our proprietary sector selection process delivers explosive growth potential, so you own the best sectors everyone else is talking about in the media before the majority of traders drive up the price.
TRADES ALERTS
BAN Trend Traders Pro signals are generated at End Of Day (EOD), meaning all trade alerts are sent after the market is closed. New positions will be entered the following trading at the opening bell. Alerts are sent via mobile app, email, and posted on the members' website. This makes it easier to follow and manage trades. We do recommend setting profit-taking and stop-loss orders with your broker so that when any of these levels are reached, the broker will automatically execute the trades for you.
TRADES
As technical traders, we specialize in trading price action and momentum using relative strength which we call the BAN trading method. By focusing on the Best Asset Now (BAN) we are able to identify the strongest leading sectors at any given time. We hold the best three performing sectors in our portfolio and rotate positions as new leaders emerge. These swing trades last an average of 39 days and we target 7%, 15%, and 20% gains.

BAN TRADING STRATEGY RESULTS
We educate people to use efficient strategies to grow their wealth, achieve financial goals, and have more free time.
BAN STRATEGY STATS
Results from 2007 – 2021
Number of Trades 142
Wins 75% of Trades
Best Year 65.21%
Worst Year -2.51%
Largest Drawdown 17%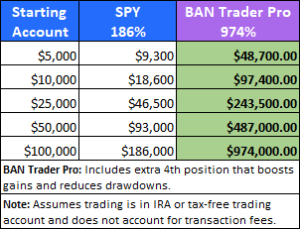 ARE YOU A MOMENTUM TRADER, SWING TRADER, POSITION TRADER, OR OPTIONS TRADER?
GET OUR FREE MARKET TURNING POINTS NOW!
SPECIAL LIMITED-TIME BONUSES
BAN TREND TRADERS PRO SIGNALS
These "supercharged" unique trades boost the average BAN sector trading strategy by 37% (on average, over 13+ years). This fourth ETF position provides an extra diversified trading component to the core BAN trades and allows you to supercharge your results.
TRADER HOTLIST
If you are an active trend trader, then you must have this traders pro tool. Follow these additional explosive ETFs setups for additional opportunities to profit. The BAN TRADER HOTLIST allows you to execute more trades "at-will" using the same BAN technology we use for the core BAN Trades. Hotlist allows you to find the Best Asset Now to trade.
BAN TRADER COURSE
This detailed video course will help you better understand how to use and profit from the BAN TRADER Hotlist Signals. These BAN TRADER videos and guides will have you loving everything BAN in just a few days. The course includes ETF selection, risk management, trade entry, position management with price targets, and an exit strategy.
LIVE MONTHLY MENTORING
Become a pro trend trader with exclusive group mentoring sessions where Chris Vermeulen and his team share BAN setups, trends, techniques, and more. Ask questions and learn at an accelerated level. These Live or Pre-Recorded sessions may include special guests or other special content as well. All mentoring sessions are recorded and made available to members as an extra resource for training and education.
RECOGNIZED LEADER IN TECHNICAL ANALYSIS WORLDWIDE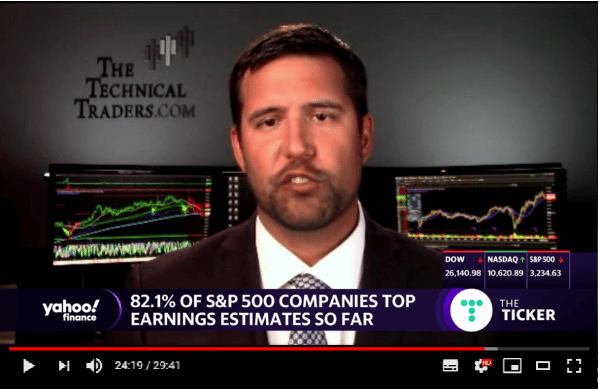 BECOME A BAN TRADER WITH OUR TOTAL ETF PORTFOLIO!
THE TIME IS NOW
Sector Rotation Is More Relevant Now
Than Ever Before!
Get our highest quality trend trader pro trades using the "Best Asset Now" BAN methodology you won't find anywhere else. A result of 75+ years of research and trading experience that provides: education, easy-to-follow signals, and a profitable strategy suitable for all levels of trend traders, pro or not!
QUESTIONS? CALL: 1-833-383-2546