Silver Will Pause Before Going Higher
Silver will likely find resistance near $15.60 and move slightly lower before another upside price leg takes place. Both gold and silver have begun incredible price rallies over the past 10+ days and we believe this is just the start of a much bigger price trend. But before we get into the details, be sure to opt-in to our free market forecasts newsletter.
We believe Silver, to be one of the absolute best potential trades and investment. It will likely pause just below $15.75, near the First Resistance level, rotate a bit lower (possibly towards $15.15), then attempt another rally towards the $16.50 level.
Daily Silver Chart Analysis
The $15.60 to $15.75 resistance level can be seen on this chart by our RED highlighted price peaks. Additionally, the upper RESISTANCE ZONE between $16.15 and $16.78 is a big range that has historically been a key price channel.
My cycle and trend trading indicators are suggesting this move is far from over, yet we believe this move upward will happen in advancement legs and this first leg is nearing exhaustion. This is why we are issuing this warning to all investors right now. We believe a downward price rotation, a stalling price pattern, will set up where a technical trader will be able to acquire silver below $15.25 again very soon. The next leg higher may start fairly quickly as we don't expect this rotation to extend out for many weeks.
See Our Previous Silver Breakout Prediction Call on June 7th
Monthly Silver Chart
This Monthly Silver chart with our proprietary Fibonacci price modeling system suggests upside targets of $17.00 (CYAN), $17.65 (GREEN), and $18.50 (DARK RED). Our RESISTANCE ZONE level on the chart, above, aligns perfectly with these objectives because the price would first have to rally into the RESISTANCE ZONE and break through this level to push to any higher target levels.
Therefore, we believe this upside price move won't run into any solid resistance until reaching above the $16.30 level and possibly as high as the $16.75 to $17.00 level. At that point, the price of Silver should find real resistance, stall, and set up for the next breakout move higher.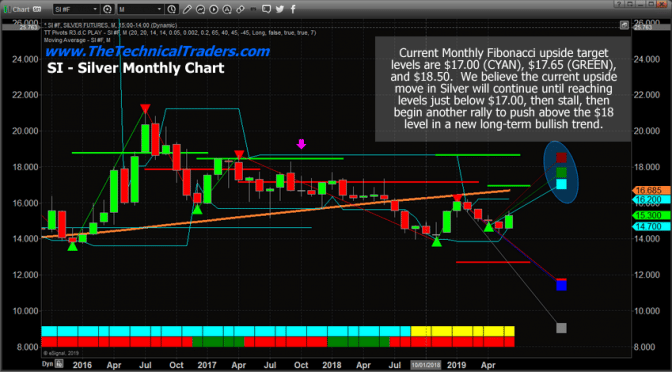 At this point, if you have not been following our research and analysis of the precious metals sector and already positioned your trades for this move, you should get another chance to set up some long trades as this downside price rotation takes place. Remember, wait for silver to fall close to or below $15.25 before targeting your new trade entry. This bottom in silver may only last for a few short trading periods, so when it happens, be ready with your orders.
CONCLUDING THOUGHTS:
The next upside leg in Silver should rally for a total of about +6% to +10% targeting the $16.25 to $17.00 price level – the RESISTANCE ZONE. After that price level is reached and price consolidates to likely form another momentum base, another upside price leg should push the price of Silver towards our Monthly Fibonacci price targets – somewhere towards $18.00 to $18.50 before stalling again. !
I can tell you that huge moves are about to start unfolding not only in metals, or stocks but globally and some of these super cycles are going to last years. A gentleman by the name of Brad Matheny goes into great detail with his simple to understand charts and guide about this. His financial market research is one of a kind and a real eye-opener. PDF guide: 2020 Cycles – The Greatest Opportunity Of Your Lifetime
As a technical analysis and trader since 1997, I have been through a few bull/bear market cycles. I believe I have a good pulse on the market and timing key turning points for both short-term swing trading and long-term investment capital. The opportunities are massive/life-changing if handled properly.
I urge you visit my Wealth Building Newsletter and if you like what I offer, join me with the 1 or 2-year subscription to lock in the lowest rate possible and ride my coattails as I navigate these financial market and build wealth while others lose nearly everything they own during the next set of crisis'.
Chris Vermeulen
www.TheTechnicalTraders.com