ADL Predictive Modeling Suggests A Big Move In Silver
Our Adaptive Dynamic Learning (ADL) predictive modeling system is suggesting that Silver is currently well below the projected ADL price level. We believe the current pricing pressure in Silver is related to global central banks attempt to regulate precious metals prices over the past 24+ months. We believe the upside move in Gold will eventually roll into Silver and the ADL predictive modeling system is suggesting Silver is currently 34% undervalued.
Our ADL predictive modeling system is capable of identifying highly probable price outcomes in the future by tracking and mapping historically accurate similar price DNA patterns. The chart below shows exactly why we believe Silver is setting up an ADL price anomaly where a big upside price reversion should take place over the next 30 to 90 days.
It is difficult to attain an exact date for the reversion move, yet we know that the ADL predictive modeling system is suggesting Silver should be trading above $17 right now. Over the next 4+ weeks, the ADL suggests price should be above $18. The current price, near $13.95, is well below these ADL predicted levels. Thus, we believe a price reversion process will take place to drive the price of Silver upward toward the ADL predicted levels.
Now, if you take a look at our Silver Cycle Momentum chart below you can see that the current price of silver is just starting what looks like a new uptrend.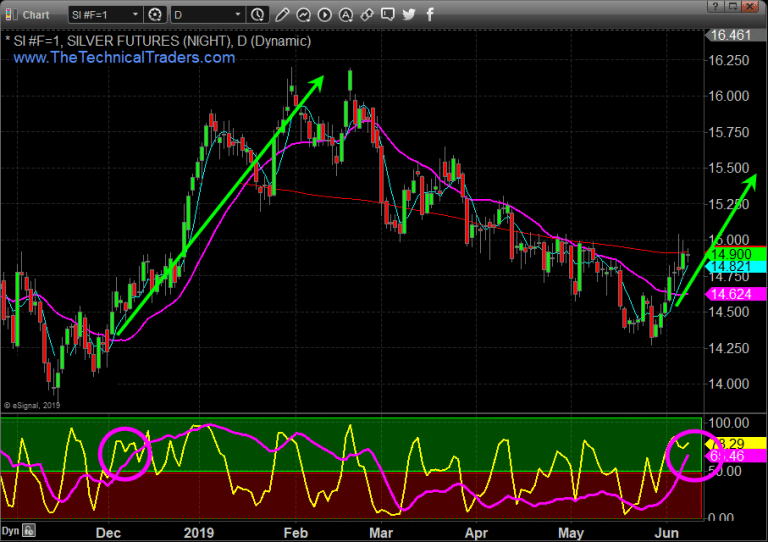 We believe the current upside price move in Silver is just the beginning. This may, very well, be the last time we'll see sub $14 levels for quite a while in Silver. We believe skilled traders should be taking advantage of these historically low levels right away to prepare for the upside price move. Keep in mind the market does not move straight up and while I am bullish this me not be the exact time to by silver.
Become a technical trader by watching my daily analysis video each and every morning before the opening bell, and take the same trades I do with my trade alerts at the Wealth Building Newsletter.
In fact, there are several super cycles starting to take place as we head into 2020 and beyond which Brad Matheny and layout in our new book: 2020 Cycles – The Greatest Opportunity Of Your Lifetime
Chris Vermeulen
www.TheTechnicalTraders.com