Crude Oil Breaks Down – Target $40
Our incredible ADL predictive modeling system predicted a moderate price anomaly on July 10th, 2019 in Crude Oil. We wrote about this oil set up on July 10th. Within this article, we suggested that Crude Oil would rotate to levels near $47~$48 rather quickly, then find some moderate support in December and January where support is likely to be found near $45 to $50. After that, the price of Oil should weaken dramatically where price could fall to levels below $30 ppb on extreme price weakness.
We are writing to you today to suggest that Oil prices may attempt to find very brief support near $55.25 as this level represents a key price trigger level which acts as support/resistance. After such a big downside move for the week, it is our opinion that Oil will briefly hold near this $55.25 level as oil tries to hold support for a couple of days.
We believe the selling may abate or weaken slightly early next week as earnings continue to hit the news cycle and future expectations are adjusted based on this data. Quite a bit of data will be released next week with the worlds biggest firms releasing Q2 data and Q3 expectations. We believe this news/data will result in a brief pause in the decline of oil prices and allow traders to set up for the next move lower.
This Daily Crude Oil Chart highlights the downside price action this week as oil collapsed from the $60 upside target called from our early June oil video forecast. The chart below also highlights our Fibonacci price modeling tool that is currently suggesting support will be found just above $51 ppb – which is aligned with the previous price bottom in early June 2019. Mild resistance is also found near $56.70 (the BLUE projected price level). This level will likely act as a "congestion range" as price rotates and attempts another downside leg.
This Weekly Crude Oil chart highlights the bigger picture for oil. The recent breakdown in price has just crossed the Bearish Fibonacci trigger level (RED LINE near $55.20) and this breach suggests the downside price move may just be starting. Ultimate downside targets near $40 to $44 are where we believe the price will find support over the next 30 to 60+ days. Beyond these levels, the price may continue much lower and eventually breach the sub $30 level in Q1 or Q2 of 2020, which would likely be a strong cause of the pending bear market.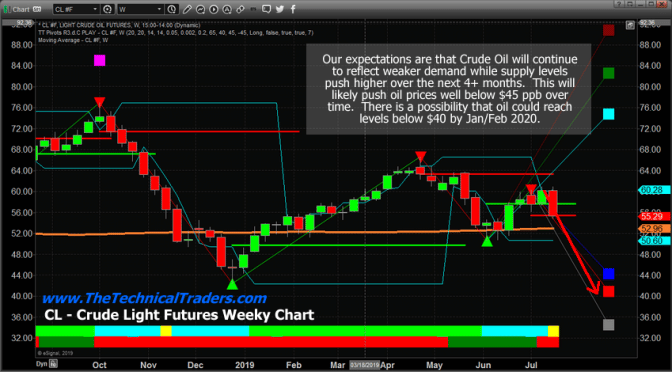 Concluding Thoughts:
Any deep downside price move like this in Crude Oil would suggest that economic weakness and supply/demand issues are the root causes of a Crude Oil price collapse.
If the downside move continues as we are suggesting, many foreign nations will come under extreme economic pressures and currency levels/support could become threatened as the foundation for many oil-based economies will begin to crumble. This could create an extreme debt/credit issue for many nations throughout the planet and could push the US Dollar well above $100. The implications for extended trends and trades is incredible when you consider the scope of the economic shift that will take place if Crude Oil does begin trading below $30 in early 2020.
$30-$40 crude oil could spark or further deeping the pending bear market which has been a long time coming. Almost all the signs are showing that it's about to start so get ready. If you want someone to guide you through the next 12-24 months complete with detailed market analysis and trade alerts (entry, targets and exit price levels) join my ETF Trading Newsletter.
As a technical analyst since 1997 having lost a fortune and made fortunes from bull and bear markets I have a good understanding of how to best attack the market during its various stages. The opportunities starting to present themselves will be life-changing if handled properly.
Be prepared for these incredible price swings before they happen and learn how you can identify and trade these fantastic trading opportunities in 2019, 2020, and beyond with our Wealth Building & Global Financial Reset Newsletter. You won't want to miss this big move, folks. As you can see from our research, everything has been setting up for this move for many months – most traders/investors have simply not been looking for it.
Join me with a 1 or 2-year subscription to lock in the lowest rate possible and ride my coattails as I navigate these financial market and build wealth while others lose nearly everything they own during the next financial crisis.
FREE GOLD or SILVER WITH MEMBERSHIP!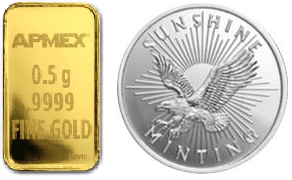 So kill two birds with one stone and subscribe for two years to get your FREE PRECIOUS METAL and get enough trades to profit through the next metals bull market and financial crisis!
Chris Vermeulen – www.TheTechnicalTraders.com