Predictive Modeling Suggest Oil Headed Much Lower
Our Adaptive Dynamic Learning (ADL) predictive price modeling system is suggesting Crude Oil will likely continue to find resistance near $64 as a price ceiling and trend lower over the next 3 to 5 months – eventually breaking below the $40 price level near the end of 2019 or in early 2020.
Our research team believes this move could very well be contingent on a continued decline in global economic activity as well as our research suggesting that global currencies could be setting up for a breakdown event.
The USA and FED will do everything in their powers to keep the economy looking strong and to hold markets up like talking about rate cuts, but eventually the music will stop, but until then we need to be long and strong stocks and keep a close eye on leading indicators like small caps, oil, transportation and industrial sectors for early warning signs.
Please read the following research posts for more information:
Report #1: PART III – DEBT CRISIS TO BE REBORN IN 2020
Report #2: KING DOLLAR RIDES HIGHER CREATING PRESSURES ON FOREIGN ECONOMIES
Report #3: FEAR DRIVES MARKET EXPECTATIONS
We believe the breakdown in support for Crude Oil will coincide with a general perception of global economic weakness, foreign Central Bank posturing and the possibility that foreign currency weakness may push global demand for Oil much lower than current expectations.
The volatility increased suggested near the right side of this chart, in late 2019 and early 2020, are indicative of oil prices reaching a critical support level while attempting to re-balance supply/demand-side economic factors against historic price lows. This will likely become a period where global oil traders feel the need to try to push oil prices higher while supply/demand factors settle to establish a basis price level for future price trends.
IN CONCLUSION:
If our ADL predictive modeling is correct, we will see rotation between $47 and $64 over the next 3+ months before a breakdown in price hits in November 2019. This will be followed by two fairly narrow price range months (December 2019 and January 2020) where oil prices will tighten near $45 to $50. After that tightening, we believe an extremely volatile price move will happen in February through April 2020 that could see oil prices trade as low as $22 and as high as $51 over a two to three-month span.
As we've continued to state, 2019 and 2020 are going to include incredible opportunities for skilled technical traders and investors. Think about how a more like this in Oil and the global markets will reflect into the precious metals markets and the US Dollar?
Be prepared for these incredible price swings before they happen and learn how you can identify and trade these fantastic trading opportunities in 2019, 2020, and beyond with our Wealth Building & Global Financial Reset Newsletter. You won't want to miss this big move, folks. As you can see from our research, everything has been setting up for this move for many months – most traders/investors have simply not been looking for it.
Join me with a 1 or 2-year subscription to lock in the lowest rate possible and ride my coattails as I navigate these financial market and build wealth while others lose nearly everything they own during the next financial crisis. Join Now and Get a 1oz Silver Round or Gold Bar Shipped To You Free.
I can tell you that huge moves are about to start unfolding not only in currencies, metals, or stocks but globally and some of these supercycles are going to last years. A gentleman by the name of Brad Matheny goes into great detail with his simple to understand charts and guide about this. His financial market research is one of a kind and a real eye-opener. 2020 Cycles – The Greatest Opportunity Of Your Lifetime
As a technical analysis and trader since 1997, I have been through a few bull/bear market cycles. I believe I have a good pulse on the market and timing key turning points for both short-term swing trading and long-term investment capital. The opportunities are massive/life-changing if handled properly.
I'M GIVING THIS GOLD BAR AWAY WITH 2-YEAR MEMBERSHIPS
AND 1OZ SILVER ROUND TO 1 YEAR SUBSCRIBERS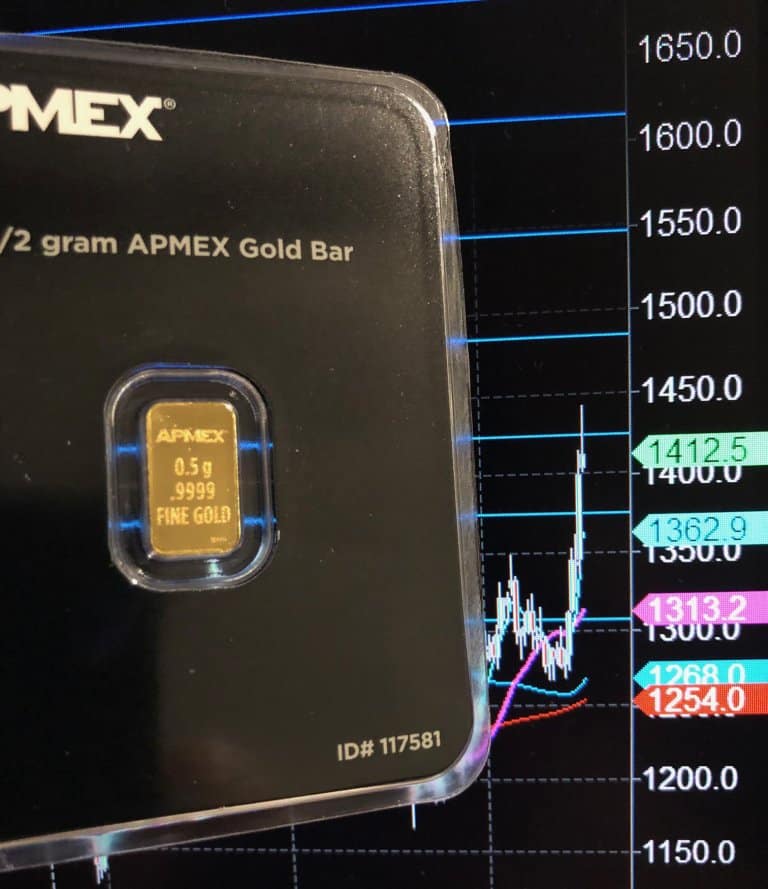 So kill two birds with one stone and subscribe for two years to get your
FREE GOLD BAR and enough trades to profit through the next metals
bull market and financial crisis!
SUBSCRIBE -> FREE GOLD BAR -> GET WINNING TRADES
Chris Vermeulen – www.TheTechnicalTraders.com