US Stock Markets Trade Sideways – Waiting on News/Guidance.
Our researchers believe the global concerns centered around Banking and Debt within the Emerging Markets and Asia/Europe are very likely to become major issues over the next 3+ months. These potentially dangerous issues could have far-reaching pricing ramifications for almost all of the world's financial markets. This weekend, we received first-hand information from an associate in Hong Kong about banks limiting ATM withdrawals and very limited transportation services. Our source stated the biggest issue was the lack of transportation right now.
We also followed the news of the Bank collapse in India this weekend and the aftermath for Indian banking customers – PMC Bank
Many of you remember how the US credit crisis event started in a similar manner. First, it is news of a few select financial institutions or lenders that are in trouble. This sends a shock-wave throughout the populous – they react by becoming more "protectionist" in their actions. Sometimes, small bank runs can happen as consumers want to have more cash on hand instead of "in the bank". Next, the local economic metrics start to fall – almost like a self-fulfilling nightmare, the consumers, acting to protect their interests and assets, are now pushing the local economy over the edge and the banks, possibly, over the breaking point in terms of Non-Performing Loans.
This time, as we have detailed in our previous research posts, we believe the crux of the credit problems is related to how emerging markets and foreign markets took advantage of the cheap US dollar between 2011 and 2015. At that time, it was cheaper for banks to borrow the US Dollar than it was for them to borrow money from their own local central banks. Thus, many went out seeking to borrow as much US Dollar as they could because it provided an opportunity to save on interest fees. Now, as the global economy continues to contract in a "stagflation" type of manner, it becomes even harder for many of these firms, banks, and individuals to service their debt.
We believe the global markets and the US stock market are waiting for news before initiating any new price trends. We believe the recent US manufacturing number is indicative of the type of economic output values we can expect over the next 30+ days. Unless the US Christmas season starts off with a big spending spree or the US/China trade issue is resolved and settled within 30+ days, we believe the markets will continue to search for and identify "true price value" by seeking out true support before attempting to move higher again.
Our morning coffee video analysis recap is the one thing… that single investment that's going to turn into the greatest thing you've ever made for your trading and investment accounts.
S&P 500 Daily Chart
This ES Daily chart highlights the recent resistance, triple-top formation, near 3025. It is clearly obvious that this 3025 level is a very strong price resistance level. Below this ceiling, we have multiple support levels to watch. 2875 is highlighted in MAGENTA and is one that we believe is the most critical right now. Below that, the Moving Average level, currently at 2845, could also provide some support. Below these two, we suspect the 2700 level is the only level of support left before we could experience a much bigger price breakdown.
Dow Jones Daily Chart
This YM Daily chart sets up a similar type of price pattern. In fact, they are almost identical. Again, the current downside price rotation has already established new recent price lows. The RED resistance channel we drew across the tops should provide some real level of a price ceiling within this trend. Our concern is that price will attempt a further breakdown without any positive news to extend a positive perspective for the US markets future. There is just too much uncertainty in the world for investors to have the confidence to push prices higher. The most logical transition would be for price to "reset" by rotating lower, finding true price value levels and establishing a new price bottom to begin a new rally from.
Dow Jones 2-Week Chart
This 2-Weekly YM Chart highlights exactly why we believe skilled technical traders need to be cautious right now and why having a very skilled team of researchers is important. This is not the time to go ALL-IN on any trades. This is not the time to roll your retirement account into HIGH-RISK funds. We suggest being very cautious at the moment and to prepare for any downside rotation by scaling back your trading account to 70 to 80% CASH. Deploying only about 20 to 25% into the markets right now.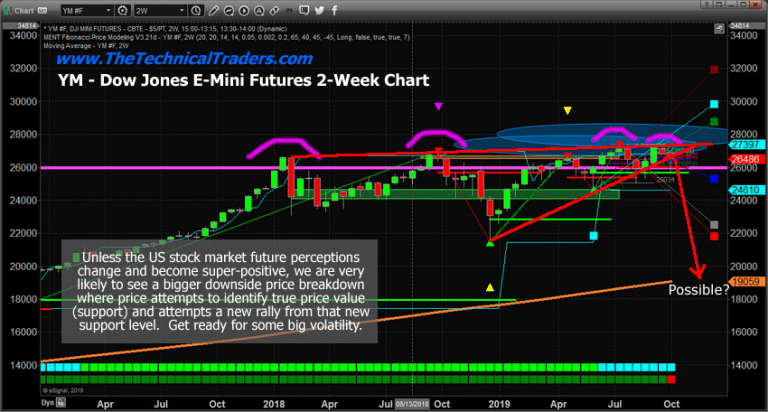 Concluding Thoughts:
It is funny how real traders understand the value of having a skilled team of dedicated technical and fundamental researchers assisting them at times like this. While other people freak out and turn into "super protectionist traders". The reality of these types of markets is that they are the best markets for traders. Price swings are larger, opportunities are setting up nearly everywhere and skilled traders can attempt to make 45%, 65%, 85% or more within a very short time-frame. Not like the regular market moves of 3~5% annually in the SPY. This is the time when you want to become more attentive and active in the markets – with the right team.
Opportunities are setting up EVERYWHERE and will continue to present very clear trade setups over the next 16+ months.
As a technical analysis and trader since 1997, I have been through a few bull/bear market cycles. I believe I have a good pulse on the market and timing key turning points for both short-term swing trading and long-term investment capital. The opportunities are massive/life-changing if handled properly.
Be sure to ride my coattails as I navigate these financial markets and build wealth while others lose nearly everything they own during the next financial crisis.
I can tell you that huge moves are about to start unfolding not only in metals, or stocks but globally and some of these supercycles are going to last years. My simple technical trading strategy using ETFs will allow you to follow the markets closely and trade with it so you never get caught on the wrong side of the market with big losses.
Chris Vermeulen
www.TheTechnicalTraders.com
NOTICE: Our free research does not constitute a trade recommendation or solicitation for our readers to take any action regarding this research. It is provided for educational purposes only. Our research team produces these research articles to share information with our followers/readers in an effort to try to keep you well informed. Visit our web site to learn how to take advantage of our members-only research and trading signals.