US & Global Markets Setting Up For A Volatility Explosion – Are You Ready?
Today, we are going to share with you some incredible charts that highlight why we believe all traders and investors need to stay keenly aware of the potential for very explosive moves over the next 6 to 12+ months. We've authored a number of articles about super-cycles, Gold, Oil and dozens of other symbols suggesting that a deeper and more complicated economic shift is taking place throughout the world. We've been following the trail of money and investments for many months and attempting to map out what we believe will happen in the future with our proprietary predictive modeling systems and adaptive learning utilities. Get ready for some crazy price ranges and a big move in the markets over the next 30+ days.
Right now, we believe the US stock market is poised for another attempt to move briefly higher as a flood of earnings hits the news wires next week. We are confident that the US stock market will attempt a move higher based on our predictive modeling systems and other technical analysis tools. We want to warn you that this upside move will likely become a "wash-out high" price rotation where price rallies briefly, stalls, then reverses back to the downside fairly quickly. We believe this "wash-out high" price pattern will set up and execute before August 5th or so. Be prepared as this move may sucker in a number of new long traders just before it breaks lower.
I highlighted the August 19th date (+/- 5 days) as a key inflection point/date in the markets. This is when we believe the US stock market may break down and when we believe a new price trend will attempt to establish. We are concerned the US stock market may break downward fairly aggressively based on our super-cycle research and predictive modeling research – causing traders to panic slightly.
Our expectations are that the US stock market may fall as the global markets collapse is warranted by a number of factors: the US Presidential election, global trade issues, global credit issues, weakening economic data throughout the globe and lofty price valuation levels within the US stock market. We believe a "price revaluation event" is the most likely outcome because of these factors and we believe the event will align with historical price patterns related to the US Presidential election cycle.
Weekly chart of the Transportation Index
This Weekly chart of the Transportation Index highlights the Volatility Range our Fibonacci price modeling system is suggesting. The support level near $10,400 is key to understanding what to expect from the markets going forward. This level is critical and when price breaks below this level, our researchers believe the TRAN will breakdown below the recent base near 9715 and continue much lower.
We don't believe any upside price advance that takes place right now has any real momentum behind it. In fact, if you look at this historical chart of the trans, industrials, and small-cap sectors, we have seen a spike in price in these groups just for a week before a new bear market starts. This setup is identical to the 2007/08 top, so check out these charts here.
VIX Daily Chart Expectations
This VIX Daily chart highlights what we expect to happen over the next 10 to 15+ days. We expect earnings to continue to deliver near expected results with a few bumps here and there. We do believe some forward guidance revisions will create some shocks in the market going forward, but we don't believe these guidance levels will present any real panic event until closer to the end of July. This is why we believe the VIX will continue to move near recent lows for another 7+ days, then start a mild upside move near the last week in July before breaking higher with an explosive upside move setting up in very late July or early August.
This upside spike in the VIX will more likely be the result of the "wash-out high" rotation pattern that we suggested above. If you have been taking advantage of the perpetual short trade on UVXY where you can earn 20-45% a month the past 10 years, well that gravy train may be over soon, at least until the next bull market starts in 8-24 months from now. I'll go into more detail on this in a future article.
Dow Jones (YM) Weekly chart
This Dow Jones (YM) Weekly chart paints a very clear picture of what we are expecting to see happen. 7 to 10+ days of moderate upside price activity creating the "wash-out high" price pattern where the YM trades near the $27,725 level (key resistance). Once that "wash-out high" pattern is set up, we expect a moderate downside price rotation toward the $25,800 level. This is the move that will prompt a VIX Spike and begin a "shake out" price move.
After that, brief support will create an opportunity where traders may consider a "buy the dip" entry before a deeper and more aggressive downside move begins near Mid August. This is the August 19 Price Peak call that we initiated a few weeks ago. We believe this move is already in the process of setting up based on our predictive modeling tools, the pre-election year cycle, and the decade cycle as seen here. We are alerting skilled traders so they can prepare for this setup.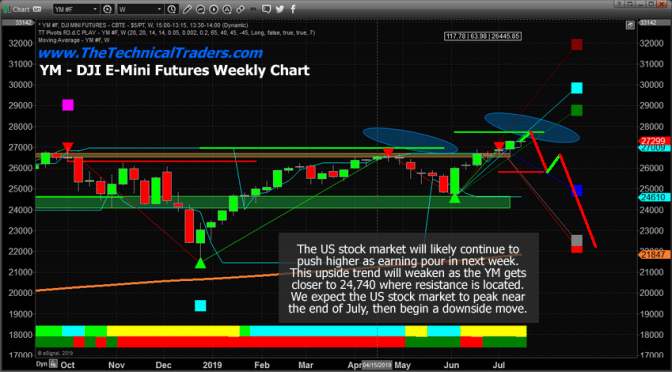 CONCLUDING THOUGHTS:
In short, the opportunities for skilled technical traders over the next 16+ months is incredible. Huge price swings, incredible trends, big rotations and 20%, 40%, 60%+ profits to be had if you know what to trade and when. These types of stock market rotations are perfect for skilled technical traders like us and we want to help you prepare for and trade these opportunities.
This bear market has been a long time coming, but finally, almost all the signs are showing that it's about to start. As a technical analyst since 1997 having lost a fortune and making a fortune from bull and bear markets I have a good understanding of how to best attack the market during its various stages.
Be prepared for these incredible price swings before they happen and learn how you can identify and trade these fantastic trading opportunities in 2019, 2020, and beyond with our Wealth Building & Global Financial Reset Newsletter. You won't want to miss this big move, folks. As you can see from our research, everything has been setting up for this move for many months – most traders/investors have simply not been looking for it.
Join me with a 1 or 2-year subscription to lock in the lowest rate possible and ride my coattails as I navigate these financial market and build wealth while others lose nearly everything they own during the next financial crisis. Join Now and Get a 1oz Silver Round or Gold Bar Shipped To You Free.
I can tell you that huge moves are about to start unfolding not only in currencies, metals, or stocks but globally and some of these supercycles are going to last years. A gentleman by the name of Brad Matheny goes into great detail with his simple to understand charts and guide about this. His financial market research is one of a kind and a real eye-opener. 2020 Cycles – The Greatest Opportunity Of Your Lifetime
As a technical analysis and trader since 1997, I have been through a few bull/bear market cycles. I believe I have a good pulse on the market and timing key turning points for both short-term swing trading and long-term investment capital. The opportunities are massive/life-changing if handled properly.
I'M GIVING AWAY – FREE GOLD & SILVER WITH MEMBERSHIPS
Kill two birds with one stone and subscribe for two years to get your FREE PRECIOUS METAL and get enough trades to profit through the next metals bull market and financial crisis!
Chris Vermeulen – www.TheTechnicalTraders.com