US Dollar Strength Will Drive Markets Higher
Almost counter to current institutional thinking, the strength in the US Dollar will likely continue to push the US stock market higher over the next few weeks/months and act as a supporting price bias in any event of a short term global/us stock market price collapse.
No matter if the FED lowers the rate and the dollar pulls back the dollar is still within a long term uptrend and this is good for stocks.
Many traders/investors fail to understand the capacity of the US Dollar to wreak havoc on foreign markets as well as to act as a support level for US equities and US investments.
The support level near $96 is currently acting as a solid price floor. Our researchers believe an attempt to breach the $99 level will happen soon and this continued strength will put further pressures on foreign currencies, commodities, metals and trade issues.
These shifting dynamics of the currency markets are presenting very clear evidence that investors believe stronger, more mature economies are going to continue to perform over the future months that weaker, more at-risk economies. The Japanese Yen, Canadian Dollar, Swiss Franc, and US Dollar are all performing quite well in this Year-To-Date comparison graph (below). The New Zealand Dollar, Euro, British Pound, and Australian Dollar are all dramatically weaker.
Our research team put this comparison chart together to further illustrate the weakness of Asian currencies in relation to the relative strength of the US and major global currencies. This chart attempt to compare currency strength by grouping relative currency pairs and comparing them as an Asian Currency Group vs a Global Major Currency Group. As price advances, the Asian Currency Group is relatively stronger overall. As price declines, the Asian Currency Group is weakening and the Global Major Currency Group is strengthening.
Currently, this chart shows the fragility of the Asian Currency Group. Any break of the lower price channel level and we enter a new downside price trend that may attempt to establish a much lower price support channel for Asian Currencies, Asian Stock Markets, and the overall global markets.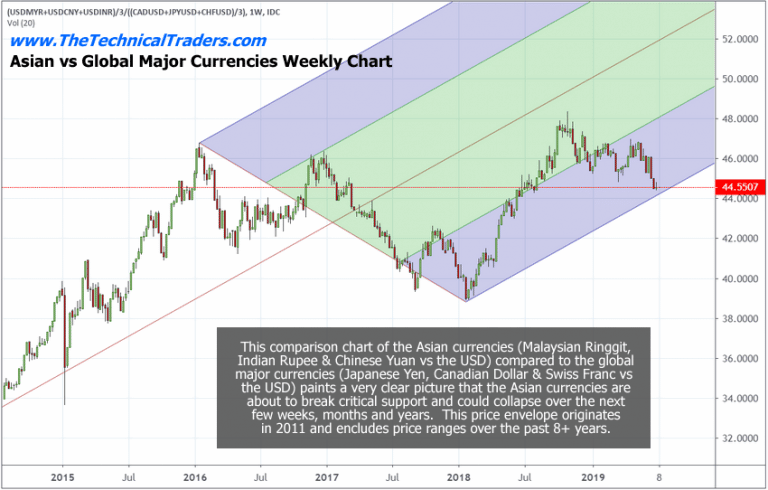 Our researchers believe the continued strength of the US Dollar and the US stock market are pushing historical normal price ranges beyond expected boundaries. As gold increases because of fear and greed, countries with larger gold reserves can attempt to offset certain losses from currency and economic weakness. Yet companies and governments that attempted to leverage the "Dollar Carry Trade" environment from years ago may find themselves in very dangerous territory as Asian currencies continue to weaken.
A stronger US Dollar will attempt to mute the upside price activity of Gold and Silver while pushing these currencies into deeper and deeper valuation declines. See our recent charts and short term dollar/gold forecast here. A continued shifting of capital away from "at-risk" economies/nations could push these currencies into a death spiral type of free-fall over time.
We believe the US Dollar will continue to move moderately higher over the next 4+ weeks and likely attempt to move towards the $99 price level. This move will somewhat mute the advance of Gold and Silver, yet we believe the weakness that is likely to unfold in the foreign currency markets will prompt renewed fear and greed – pushing Gold prices much higher – even as the US Dollar continues to strengthen.
Once the XAUUSD level breaks the $1440 level – it should rally up to the $1615 to $1625 level very quickly. This would likely be the breaking point for the Asian currencies as well. A move like that would likely push these Asian currencies below historical price envelopes and create a panic-type of a capital shift away from risk.
Our research team believes this move will likely happen sometime between Mid-August and early September 2019. This means we are only about 35 to 45 days away from an incredibly volatile price swing in the global markets. This is something that most traders/investors have failed to even begin to comprehend or consider.
What would happen if the Asian capital markets and currencies collapsed on broad weakness and a major credit/debt crisis event? An event where currencies devalue to a level that suggests forward operations are severely threatened, the rising price of Gold is not offsetting losses and commodity prices collapse pushing even further pressures on commodity/currency backed loans/debt?
Be prepared for these incredible price swings before they happen and learn how you can identify and trade these fantastic trading opportunities in 2019, 2020, and beyond with our Wealth Building & Global Financial Reset Newsletter. You won't want to miss this big move, folks. As you can see from our research, everything has been setting up for this move for many months – most traders/investors have simply not been looking for it.
Join me with a 1 or 2-year subscription to lock in the lowest rate possible and ride my coattails as I navigate these financial market and build wealth while others lose nearly everything they own during the next financial crisis. Join Now and Get a 1oz Silver Round or Gold Bar Shipped To You Free.
I can tell you that huge moves are about to start unfolding not only in currencies, metals, or stocks but globally and some of these supercycles are going to last years. A gentleman by the name of Brad Matheny goes into great detail with his simple to understand charts and guide about this. His financial market research is one of a kind and a real eye-opener. 2020 Cycles – The Greatest Opportunity Of Your Lifetime
As a technical analysis and trader since 1997, I have been through a few bull/bear market cycles. I believe I have a good pulse on the market and timing key turning points for both short-term swing trading and long-term investment capital. The opportunities are massive/life-changing if handled properly.
I'M GIVING THIS GOLD BAR AWAY WITH 2-YEAR MEMBERSHIPS
AND 1OZ SILVER ROUND TO 1 YEAR SUBSCRIBERS
So kill two birds with one stone and subscribe for two years to get your
FREE GOLD BAR and enough trades to profit through the next metals
bull market and financial crisis!
SUBSCRIBE -> STACK GOLD BAR -> GET WINNING TRADES
Chris Vermeulen – www.TheTechnicalTraders.com