Trading Is Your Business Course
"AS YOU READ THIS PAGE YOU WILL DISCOVER:
HOW TREATING YOUR TRADING AS A BUSINESS
IS YOUR BEST DEFENSE AGAINST SELF-SABOTAGE, AND
THE FASTEST, MOST CERTAIN PATH TO SUSTAINABLE PROFITS"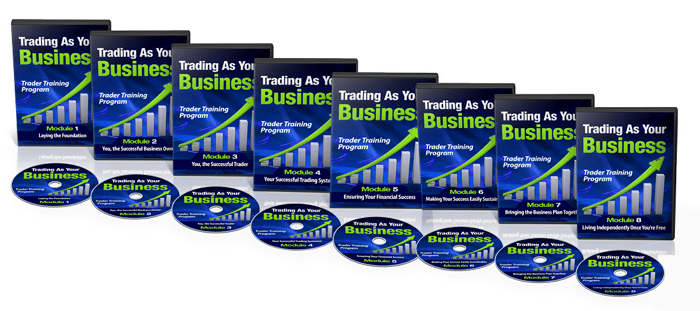 A PERSONAL MESSAGE FROM CHRIS VERMEULEN,
FOUNDER OF TECHNICAL TRADERS LTD.
AND FULL-TIME TRADER.
I have been trading since 1996 and struggled for a decade to be consistently profitable through all the various types of market conditions. In the early 2000's I met Brian McAboy who is a trader, trading coach, and business consultant and retired mechanical engineer. He and I have been great friends and trading buddies ever since.
Brian offers two trading courses, both which I took and they dramatically improved my trading and became the bases of my trading foundation to treat my trading as a business, and its allowed me to create my automated trading systems which I use every day now.
We are now offering both of these courses to you, my loyal followers and subscribers at a sharply discounted rate with the hope that we can change your trading for the better as well with less stress and more profits.
EVEN BEFORE YOU STARTED TRADING…
Whether you realized it or not, you were a venture capitalist.
You were looking to put your money to work for you, and you had quite a number of choices available to you
You were looking to invest in an activity with which you were already familiar or have a passion in
The mindset of traditional long-term investing and trading is certainly NOT the same
The activities and requirements involved in each are quite different and have different levels of your participation
Investing is usually largely passive, most often 'buy-and-hold' over a long period of time
Trading, however, is much more active and involved, and is similar to a brick-and-mortar business than it is investing
BECOMING A SUCCESSFUL TRADER ISN'T EASY BY YOURSELF
When you chose to enter the trading profession, you instantly assigned yourself several roles, each of which requires specific know-how and skills
Other professions have help, but as an independent, self-directed trader, you don't
Take a look at other business owners such as a lawyer, financial advisor, or doctor.
They have structured training and business-development systems in place, plus years of school, internships, apprenticeships, plus full staffs once they get out on their own to help run things
YOU HAVE TO BE SO MUCH MORE THAN JUST A TRADER
You are the Investor, the Owner/Manager, Planner, the Bookkeeper and CFO, Risk Management (high and low levels), Quality Manager, Trading System Analyst, and Developer – all on top of being the Trader
When trading isn't treated as a business, these roles get neglected and addressed minimally if at all
These roles are critical to success, and when they are neglected, trading becomes a major struggle and costly
Frequent changes in direction, wasted time, poor performance, inconsistency, poor decision-making, errors and misdirected efforts abound
Only proper organization, planning, and a business-like approach will create a reliable on-going operation
SUCCESS DOESN'T HAPPEN ON ITS OWN
YOU HAVE TO MAKE IT
First, recognize that you're looking to create and run a business, and this requires 'business' know-how and skills (on top of learning how to trade)
Second, since you're the one running the show and fulfilling all of the roles, it's critical to make sure that you are properly trained and organized to do all these things
Success doesn't happen by accident and things very rarely just fall into place (ask any Venture Capitalist)
In order to have a successful and sustainable trading business, you need to develop a business plan for it
This is you creating a detailed business structure, direction, objectives, strategies, and methods you intend to employ
SO, WHY DO TRADERS FAIL TO ACHIEVE LASTING SUCCESS?
For one, the delusion of "everything will magically fall in place and then be okay forever if I just get profitable".
It's much easier to keep the blinders on, stay in 'employee-mode' and pretend that someone else will figure out how to make the business run
Second, writing a business plan can be overwhelming for someone that hasn't done it before
You didn't start trading just to struggle for years and sacrifice your time and money
You're in this to win and make a better life for yourself and your family
Well, the good news is we will help you become a highly profitable trader with program
HOW TO GIVE YOURSELF A MAJOR ADVANTAGE
AND MASSIVELY ACCELERATE THE PROCESS
Without help, reaching your goals could take years and often decades – if at all.
But with the right help, and taking one step at a time, your trading life could be completely different in just 60 days from now
"How's that?"
With a process designed specifically to guide you and your new trading business.
This complete business training program is specifically created for traders like you, that covers all the hard-side and soft-side aspects of becoming a successful, independent, self-directed trader.
The training will be intense, but manageable, so you learn what you need to do and how to do it in the shortest period of time, while still being able to have a life.
INTRODUCING THE TRADING IS YOUR BUSINESSTM
TRADER TRAINING PROGRAM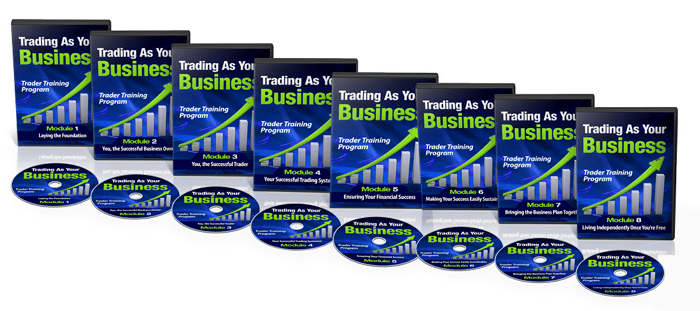 Eight modules cover all critical aspects!
Module 1 – Laying the Foundation
Module 2 – You, the Successful Business Owner
Module 3 – You, the Successful Trader
Module 4 – Your Successful Trading System(s)
Module 5 – Ensuring the Financial Success of Your Trading Business
Module 6 – Making Your Success Easily Sustainable
Module 7 – Bringing the Business Plan Together
Module 8 – Living Independently Once You're Free
During this time, we'll cover everything…
Developing this skill is also has HUGE time and money advantages: you'll not be tempted to switch trading strategies or make changes to your current one because you'll know exactly how to tell what works BEST. Instead of going the try-and-see method, you can analyze your choices and determine very quickly what will serve you best – and without risking any money in the process.
Each of the eight modules, you get a new set of videos with action steps for you to take so that in a very short period of time, you have a complete, WORKING Business Plan so you can trade and profit from your laptop at anytime and from anywhere in the world.
Here's everything you get:
COVID-19 SPECIAL OFFER


SAVE 60%
LIMITED TIME OFFER $999 $397
CONCISE, COMPLETE, TRANSFORMATIVE
The training is very comprehensive and will transform you into an entirely different person, ready for a life of true independence through trading and genuine entrepreneurship.
If you've ever been stuck, wondering what to do, so that you can have a reliable trading operation that lets you relax and have some security in its ability to consistently produce profits, then this training is for you.
Whether you're starting from scratch or re-engineering an existing operation, this training walks you step-by-step through the entire process of building a successful and sustainable trading business.
ADDRESSES THE FOUR MAIN AREAS OF TRADING PSYCHOLOGY
Plus this training addresses the four main areas of trading psychology that directly affect your ability to keep a clear head, make the right decisions, and act in a timely manner – comfortably and consistently:
Protects you from Trading's #1 Problem:

Self-Sabotage
Many traders mistakenly believe that staying disciplined is their top problem when in fact, the 'discipline' issues they see are really just symptoms of the true problem.
When trading, different emotions like fear, greed, hope, despair, desire for revenge, etc. flare up and create the urge to deviate from your trading system.
The error is thinking that these emotions are a natural part of trading.
And the fallacy is the notion that good trading only comes from having the will or discipline to override your emotions.
Your emotions are simply your subconscious telling you that something is not right and you need to address it.
When you are trying to do anything and you are NOT organized, and you are NOT properly trained for the job, it WILL be stressful and filled with emotions.
The truth is that when you are properly organized and prepared, and you have the right expectations going into the matter, you just do your thing and the emotions don't flare-up.
When you're good at something, and you know you're good and you know you're prepared, you just don't have 'psychological issues'.
YOU HAVE ALREADY EXPERIENCED IT FOR YOURSELF
Think back to anything that you're now good at, but weren't at first.
When you first started out, before you got yourself organized and established, it was scary and nerve-wracking.
But now that you have a solid handle on it, it's no big deal.
The same goes for trading and this training gets you established, organized, and trained very quickly.
Hard-side and soft-side are both covered with this training to position you where you know that your odds of success are good, very good in fact.
This training attends to all the different aspects of building a successful and sustainable trading business, including the 'what to do' and 'how to do it', plus the psychological and performance aspects.
AS YOU GO THROUGH THIS TRAINING YOU BECOME AN ENTIRELY NEW TRADER.
Instead of feeling lost at times as to what to do and filled with anxiety and stress, you'll enjoy the confidence that comes from having a solid handle on what you're doing, knowing where you're going, and having a roadmap showing how you'll get there.
It's a wonderful transformation
Imagine, over just a handful of weeks, what used to be frustrating and confusing becoming simple and clear
Instead of doubts about when – or if – you'll ever get there, you'll simply feel certainty about your arrival
You're feeling more relaxed and confident every day
YOU ALSO HAVE CONVENIENT, LIFETIME ACCESS
You'll receive this Trading Is Your Business Guide with downloadable video lessons.
You'll be able to work at your own pace too.
You get Lifetime Access to the training, so it will be available to you as long as you like to review later or simply go through things at a relaxed pace.
BETTER THAN AN MBA, PLUS SAVES YOU THOUSANDS
Every year, people sign up to online universities, pay anywhere from $18,000 to $40,000, and then work their tails off for 1 ½ to 2 years to get a general business degree.
Here, you get training created by a trader and business consultant and designed specifically for traders, that you can get through in as little as couple of weeks and still have a life, plus at a fraction of the investment.
What to do?
DEVELOPED OVER YEARS
This training program is the result of over 22 years of helping traders overcome obstacles
We've also been helping small business owners get their businesses running right for nearly 25 years
Having been in Quality Control since 1998 has been helpful too
WHAT ONE TRADER HAD TO SAY!
"Hi guys,
I am enjoying this course and finding it very helpful. It has given me a direction (A to Z if you like) so that I can see the entire business as one project. Within that project, I can see where I need more work.
Thanks and regards
Peter Geyer"
And feedback from another
"Hi Brian:
Prior to working with you, I'd been working on a few issues that had been holding back my trading for some time.
With your insight into both trading and business planning, I've been able to clarify the challenges, devise solutions, and see improvement rather quickly.
Thanks Again,
Jonathan Krohn"
FROM A BUSINESS PERSPECTIVE…
Even a conservative trading operation could have a very reasonable goal of a monthly return of 2-3% on their account.
So a $25,000 account should realize $750 monthly or $9,000 a year.
A $100,000 account could realize $30,000 a year.
Whatever the difference is between where you are now and where you'd like to be is what you stand to gain, on top of relief from the stress, regret, and frustration.
THERE'S ALSO THE MATTER OF TIME
You want your trading to reach that point of maturity as quickly as possible, with the sacrifice of family time, sleep and all the long hours kept to a minimum.
A proper plan is your best bet to make this happen.
That's why Venture Capitalists insist on a business plan because without one you'll drift around be unsuccessful for years.
DENIAL WON'T FIX YOUR PROBLEMS
Understand, so long as you continue to follow the 90%, you'll get the same lousy results.
Only when you truly treat your trading as the business that it is, will you finally enjoy the security and reliability you've sought and worked so hard for.
Life is too short. It's time to make it happen.
What to do?
"Dear Brian,
You identify what makes the difference between real success in trading and just doing alright.
Trading is a business and you make us face that fact and tell us what we need to do to eliminate the obstacles to making our trading a business and do it in a straightforward easy to understand way."
Sincerely,
W. Nickell
Birmingham, Alabama USA
Individual Trader
"I just want to say I am really enjoying this class. I have revealed some things I didn't know about myself and made changes for the better. You are a very good teacher and I enjoy the thoroughness of the process. I have to say I enjoyed each video and learned something new every time.
It is pretty intense which I like and I am excited to see the effect it has on my trading.
Happy trading and I hope you are have a beautiful day!
Thank you,
Mieko Hillman
Beverly Hills, CA
"Dear Brian,
Extremely beneficial and very unique information for traders. 
Anyone from novice to experts will benefit from it alike.
You think ONLY finding the right trading system does it all.  No way.  You have to know this stuff on top of your trading system to generate a complete and ULTRA successful trading environment."
Rizwan
Karachi, Pakistan
Individual Trader
"Hi Brian,
It seems like I get emails every week promising "the big secrets" to making money in trading, usually something along the lines of some magic-pill trading system that will have me swimming in cash. I usually just delete them because I've found that the "secret" isn't in the system, it's in me the trader.
That's why I'm so glad that I discovered your program.
In your training, the lessons and exercises focus on what truly matters – me the trader – the one thing that really does make the difference between winners and losers in trading. 
The perspectives you share and the exercises take a whole different approach to what it means to be a trader, and it makes so much sense.  I'm blown away that you seem to be the only one that has realized this simple solution to the problems that most everyone is experiencing in trading.
Thank you Brian & keep up the good work!"
Rizwan
Todd LiPira
New Egypt, New Jersey
Individual trader
"Brian, You've done it again! This training is focused on learning to trade AS a professional, instead of just LIKE a professional. Trading IS a business. And, this training puts the focus on what will help to build and maintain a successful business.Keep up the good work."
– Stan Hoffman
Individual Trader
Knoxville, TN
SO HOW MUCH IS THE INVESTMENT FOR THIS TRAINING?
I've seen so many trader training programs that "supposedly" provide a solid trading foundation, don't even approach truly how to treat trading as a business, and yet cost between $3,500 – $8,500.
Heck, the training here gives you more real-world business application than many $18,000 to $40,000 online MBAs, but I wanted to put this within reach of every sincere trader wanting to consistently pull money out of the market each week.
The regular investment for this training is $2,997, but you can get access to the Home-Study Version right now for the modest introductory investment.
What to do?
COVID-19 SPECIAL OFFER


SAVE 60%
LIMITED TIME OFFER $999 $397

If you have any questions, feel free to contact me.
I'm here to help you realize your goals through trading and to help you avoid heartache and anguish.
Don't let something as simple as a question keep you from getting this guidance.
Seriously, just email me if you have any questions.
Send it to Support@TheTechnicalTraders.com