Technical Trader Accurately Predicted Market Drop & Rally
Over the past few weeks, we've been telling our members and the general public that the markets have established a bottom and that prices should begin to advance near the week of May 7th and beyond.  Many people may have been skeptical of our analysis, given that so much market noise is out there and that the markets have been under pressure for many weeks.
Financial Sector ETF Trading
This week, our members were alerted to the likelihood of an "apex volatility", a washout low price rotation (called in our pre-market morning video on May 3. Members were alerted to get long FAS at $59.93 during the panic selloff Thursday morning and FAS has since rocketed over 7% already.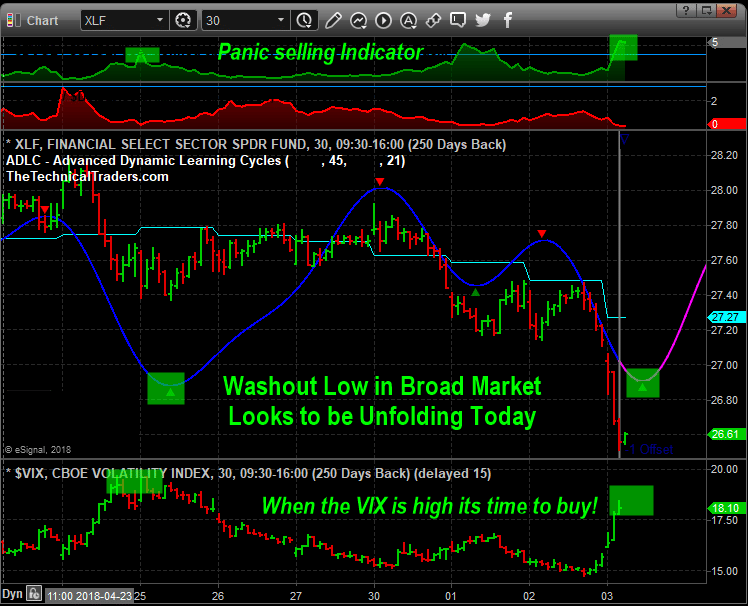 Crude Oil Analysis Posted Yesterday
Oil is particularly interesting to us because we believe the rotational top in the US Dollar will result in support solidifying in Oil near or above $66 and launch Oil into a new upside rally to well above $70.  It makes sense to us that weakness in the US Dollar with the corresponding upside pressure exerted on commodities will present an easy upside move in Oil for traders who see this move coming and are willing to take the trade.
Any Oil price move below $67 is well within our GREEN highlighted support zone and should be considered a BUY ZONE for this trade.  Remember, as this rotational top in the US Dollar plays out, there could be some volatility in both the US Dollar and Oil, so spread out your trades over a couple days to reduce risk.
Please visit our blog some of our recent research posts to see for yourself how we were able to "nail" this move for our members and alerted our followers to these moves in some cases nearly three weeks ago. It seems almost too amazing to consider, but our predictive price modeling systems have been nailing these market moves since the beginning of 2018.
You really owe it to yourself to visit www.TheTechnicalTraders.com to see what we have to offer.  Imagine having a dedicated team of professionals that can assist you in understanding the future market moves, providing daily pre-market video analysis and providing detailed trading triggers for you.  Add into these already fantastic features the ability to have access to our incredible predictive modeling systems that can assist members in seeing into the future and knowing what price should be doing days, weeks and even months into the future.
Want to have access to this level of research continually? Become a profitable technical trader today!