Stocks Fall as Gold and Oil Jumps Amid Tension Over Ukraine – FED
The FED has made it very clear that it will raise its benchmark interest rate, the federal funds rate. This could have severe consequences and even lead to a financial crisis. They are too far behind the curve and will be labeled a major policy error in the future, most likely. They have put themselves in a situation where they are now their own hostage. They need more leadership to describe what a soft landing is going to look like. They have been too slow to act, and now they are going too fast. The "Powell Put" has now been put out to pasture.
We believe that the FED will make more rate hikes than they have announced. Goldman Sachs thinks there will be four 25-basis-point increases in the federal funds rate in 2022. Jamie Dimon, CEO of JPMorgan Chase, said, "he wouldn't be surprised if there were even more interest rate hikes than that in 2022. There's a pretty good chance there will be more than four. There could be six or seven. I grew up in a world where Paul Volcker raised his rates 200 basis points on a Saturday night."
Mr. James Bullard of the St. Louis FED spoke out in an arrogant tone that aggressive action is now required. The markets translated this to mean that the FED was going to call an emergency meeting as soon as this coming week to hike interest rates by no less than 50 basis points. This sent interest rates soaring and stock prices plummeting.
WARNING: More Downside To Come
Uncertainty abounds regarding the path of inflation and new FED policy. This has created a landscape of continued strong periods of distribution in the equity markets. If there are any bounces, they should be used to sell 'risk assets'. This has been one of the worst starts to a calendar year in the history of the stock and bond markets.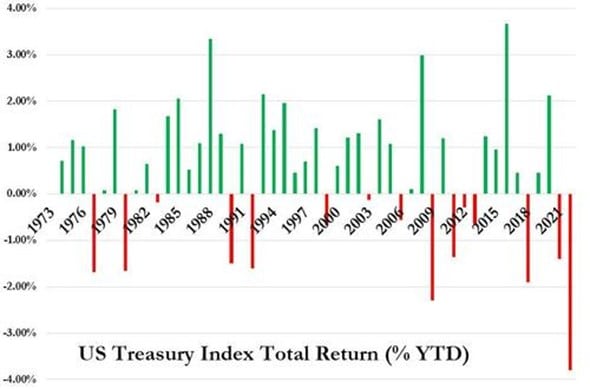 Chart Source: Zero Hedge
Last Thursday, the reported inflation rate increased by 7.7 percent, the highest in forty years. Stocks tumble as red-hot inflation print pressures technology shares. Markets didn't like this, which immediately moved them down.
Bears are in control of the market, which can be observed from Friday's trading session. The U.S. 10-year yield rose above 2% for the first time since August 2019 amid a broad Treasury-market selloff. It was driven by expectations for quicker FED interest-rate hikes to contain faster than predicted inflation. It takes at least two to three years to have any material impact on the economy.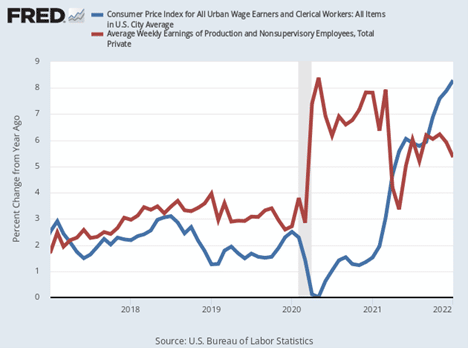 One sector is currently doing well, which is the oil sector. Cycle's analysis is applied to find the best stocks to invest in and the best sectors. The next sector we are monitoring is Gold/Silver.
Crude oil prices are staying strong. There are a lot of geopolitical factors in play here. I think there's a risk premium on oil right now because of Russia.
What The Heck is CPI?
The Consumer Price Index, CPI, is the measure of changes in the price level of a basket of consumer goods and services. This is one of the most frequently used statistics for identifying periods of inflation in households. Consumer Price Index Summary.
Last Thursday, the inflation figures were released, confirming that everything is getting more expensive. It is up 7.5 percent versus last year. Mortgage rates are starting to rise. If you plan to buy a new home, this is the time to do it. These historically low interest rates will not last long.
Should I Invest In Gold Today?
Owning gold acts as a hedge against inflation as well as a good portfolio diversifier as it is a great store of value. Gold also provides financial cover during geopolitical and macroeconomic uncertainty. Gold has historically been an excellent hedge against inflation because its price tends to rise when the cost-of-living increases.
Conclusion:
It seems the stock market may be on its last leg here. Big money flow has been coming out of the large-cap stocks while commodities have been rising. Commodities are typically one of the last assets to rally before the stock market top and start a bear market. I see all the signs, but we must wait for the price to confirm before taking action. We have seen this setup before in 2015/2016, also in 2018, and the market recovered and rallied dramatically from those levels.
What Trading Strategies Will Help You To Navigate Current Market Trends?
Learn how I use specific tools to help me understand price cycles, set-ups, and price target levels in various sectors to identify strategic entry and exit points for trades. Over the next 12 to 24+ months, I expect very large price swings in the US stock market and other asset classes across the globe. I believe the markets are starting to transition away from the continued central bank support rally phase and may start a revaluation phase as global traders attempt to identify the next big trends. Precious Metals will likely start to act as a proper hedge as caution and concern start to drive traders/investors into Metals.
I invite you to learn more about how my three Technical Trading Strategies can help you protect and grow your wealth in any type of market condition by clicking the following link: www.TheTechnicalTraders.com
Chris Vermeulen
Chief Market Strategist
Founder of TheTechnicalTraders.com