Silver gives us another chance to accumulate and buy
Our recent silver analysis could not have been more accurate.  Please take a minute to read it before you continue reading the rest of this post if you have not already done so. The Silver price breakout, to near $17.20, last week was incredible.  It established a new Fibonacci price trend, established a downward channel price breakout, coincided with a Pennant/Flag price formation breakout and the wave count of this Pennant Flag breakout was perfect.
Our research indicated that after this $17.20 price breakout happened last week, any retracement below $16.75 while price held above support near $16.00 would constitute a "BUY ZONE" where traders could begin accumulating physical metal or equity shares.  The move lower today in Silver, which is related to the US Dollar and Bond yields move today, may be an absolute gift for metals traders.  We mean this could be a "fire sale" type of gift if prices continue to stagnate below $16.50 for a few days.
As much as I would like to tell you that Silver is rocketing higher as we predicted, we have to learn to play these price rotations to our advantage – especially when the markets are handing you opportunities like this.  Again, $16.00 is our support level currently.  Anything below $16.75 and above $16.00 is our  BUY ZONE.  We are waiting to see how the market this week before we make a decision on accumulation, but this looks like an excellent opportunity to consider adding to our existing positions/physical holdings if one has the opportunity.  Remember, the upside potential of this move could be as much as 25~70%.
If you want to know how to take advantage of these moves and stay ahead of the markets, then visit our website to learn how we help our valued subscribers find and execute success every month.  These types of tools are only one component of what we offer our members – we also offer Daily video analysis of the market, advanced research posts, Daily updates and more.  We know we are the only research team that can offer you these types of advanced predictive modeling systems. If you have ever wanted to know what the markets are going to do with relative certainty, join us today.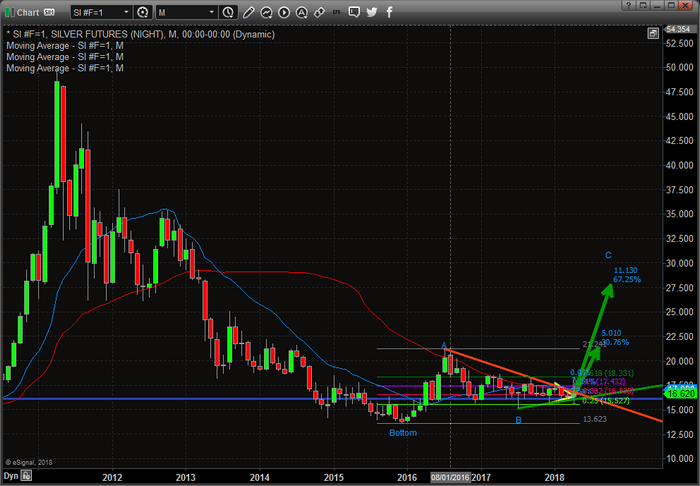 Our articles, Technical Trading Mastery book, and 3 Hour Trading Video Course are designed for both traders and investors to explore the tools and techniques that discretionary and algorithmic traders need to profit in today's competitive markets. Created with the serious trader and investor in mind – whether beginner or professional – our approach will put you on the path to win with our stock and ETF trading signals. Understanding market structure, trend identification, cycle analysis, volatility, volume, when and when to trade, position management, and how to put it all together so that you have a winning edge. Visit: www.TheTechnicalTraders.com