Rise Of The New Bull Market?
New massive breakout patterns have been setting up in the markets for months and our research team at the Wealth Building Newsletter has been quietly watching these setups – waiting for the right time to alert our followers of these exceptional opportunities.  Today, we are announcing our research and triggers to all of our followers so you can attempt for profit from our hard work and see just how critical our "Adaptive Learning Tools" are for success.
We believe the following charts clearly show just how important these breakout patterns are for traders.  This first chart shows the Stage 1 Basing formation that we've been following for quite a while with our Adaptive Dynamic Learning Cycles.  These cycle projections help us to determine the future potential of any markets as well as help us to understand historical and current price cycle rotations.
Right now, these cycle predictions are warning that a massive cycle bottom is likely to happen within the next 2 to 3 weeks followed by a massive upside price rotation in commodity prices.  We don't believe this future bottom cycle will be very deep – therefore we believe now is an excellent time to consider a positional trade expecting higher commodity prices in the future.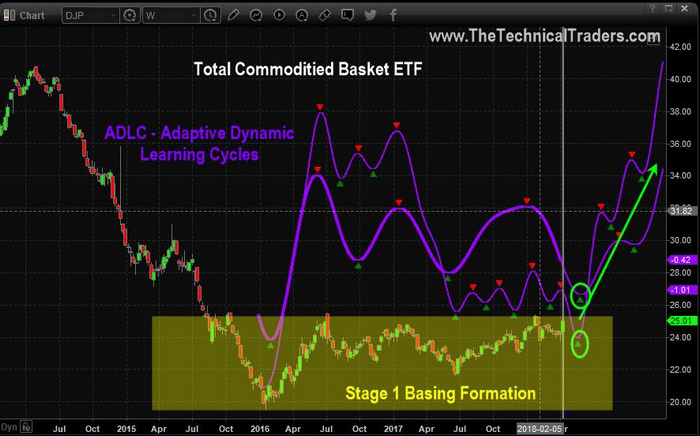 Conversely, our Adaptive Dynamic Learning Cycles are showing future weakness in the US Dollar.  Combine these two cycle patterns, weakening US Dollar and potentially stronger general commodity prices, and we have an almost perfect setup for traders and investors.  If the US Dollar weakens while external market factors (like foreign geopolitical tensions and trade issues) continue to drive the news cycle, we may be setting up for a very explosive upside move in commodities.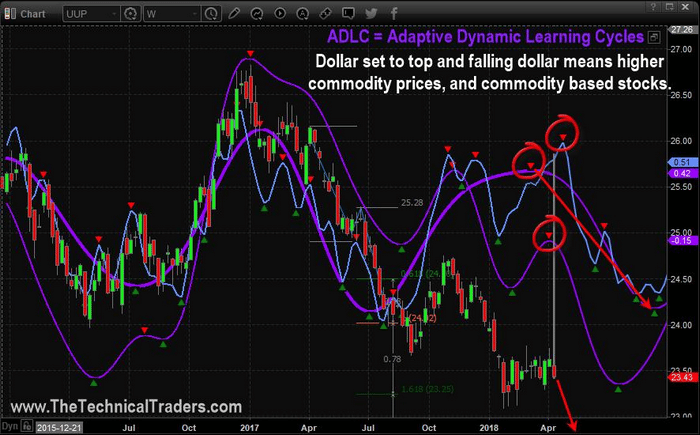 On Wednesday, April 11th, we issued a buy signal in a specific asset which we believe will post the largest gains of all for our subscribers and this can be trades both as an active swing trade, or as a long-term investing position.
We are providing you with this general analysis currently because we believe unique opportunities will continue to present themselves over the next 2 to 5 weeks as this movement continues to play out.  We believe active traders will want to take advantage of these setups to execute successful trades as this move extends.
If you want to learn how to profit from these setups and others, please visit www.TheTechnicalTraders.com to learn more about how we help our members take advantage of these setups. Our research team is dedicated to helping you stay ahead of the markets while identifying these types of trading opportunities. You will be amazed how just how stress-free trading and investing can be when you know with a high probability where the markets are headed in the days and months ahead so Join Now!
53 years experience in researching and trading makes analyzing the complex and ever-changing financial markets a natural process. We have a simple and highly effective way to provide our customers with the most convenient, accurate, and timely market forecasts available today. Our stock and ETF trading alerts are readily available through our exclusive membership service via email and SMS text. Our newsletter, Technical Trading Mastery book, and 3 Hour Trading Video Course are designed for both traders and investors. Also, some of our strategies have been fully automated for the ultimate trading experience.
Chris Vermeulen