Preparing For The Next Move
Over the past few weeks and months, we have been writing to all our members that this next move should be massive in the US majors.  We have been very clear in our analysis and have shown the price action identified as the highest probability outcome with our Advanced Dynamic Learning (ADL) price modeling system.  Today, we are going to share more information that will help you understand what to expect over the next few days and weeks.
Today's price action was very unique and presented a series of critical trade levels that we will continue to watch through the end of this week and into next week.  The identification of support and resistance levels near the apex of a pennant or flag formation is critical because these apex moves tend to include some wild price rotation before the new trend is established.  As of today, we have two new levels we are watching : support at 2623 and resistance at 2658.  The triple top formation in the ES today was indicative of major resistance near 2658.  We don't believe this level will hold for very long as our ADL price modeling system is predicting a price breakout next week.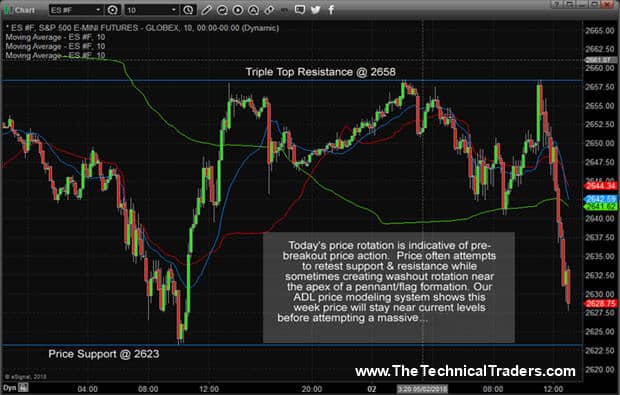 The longer term ES Weekly chart shows the pennant formation, lower price support channels and the two intermediate support and resistance levels drawn on the price chart, above.  Our interpretation of the current market setup is that price may continue to rotate in somewhat violent modes until the market completes this phase.  The breakout price move we are expecting could happen any minute between now and the end of next week.  We believe this is the most likely time span for price to attempt this breakout move.
This chart below is a Weekly YM chart with the ADL price modeling system applied to it.  This analysis is reserved for our subscribers but within a 2~3 week span, our modeling system is predicting a possible 10~14%+ price move in the DOW and US majors.  Most traders don't have a clue what to expect, we know what should happen.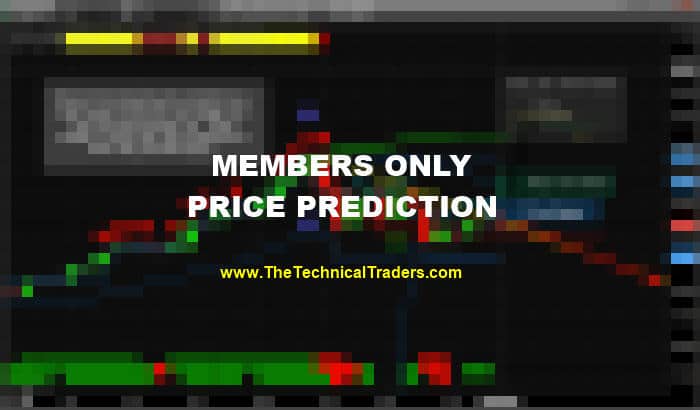 We are providing our members with more details of our ADL price modeling system showing these later weekly levels have a very high probability of success based on past price analysis.  Historical prices are showing a 90~100% probability of success for these projected price levels.  Therefore, unless the future price is vastly different from the previous 15 instances of this ADL price DNA marker, we have high confidence that price will attempt this massive move within the next 14+ days.
We are uniquely positioned right now to take advantage of this without excessive risk.  We will continue to evaluate new trades with regards to potential for success while considering risk.  Our objective is to not overweight our positions too heavily into one aspect of the market.  Although, we will add that once confirmation of this move is evident, we may find multiple opportunities for quick profitable trades for our members.  Get ready for some exciting price action and for this move that no one is expecting.
Join fellow traders from over 87 different countries and see how our technical analysis and trade setups can grow your account – www.TheTechnicalTraders.com
Chris Vermeulen