PART II – China/Asia Economic Crash Is Starting
In our previous article regarding the potential China/Asia Economic Implosion, we illustrated how the property market cycles in China (Beijing) are in the early stages of a potentially topping and a massive drop in value.
Today, we are going to try to expand on this analysis a bit further by illustrating how the US and other global established economies may have inadvertently setup certain emerging markets for another global crisis event.  Our research team at Technical Traders Ltd. has developed a unique set of skills in sourcing and evaluating current market events and predictive price modeling systems that allow us to attempt to determine future events with relative certainty.  Within this post, we will attempt to provide further evidence and supporting data as it relates to our belief that we are in a very late stage economic expansion cycle and about to enter a very early stage economic contraction cycle.  As we continue to disclose our research and findings within this multi-part article, we will close this research out by explaining how and why we believe smart investors will be able to create massive opportunities over the next 12 to 48 months from our research.
Please review our previous research post (Part I) of this detailed research report before you continue reading if you have not already read it.  It is important that you continue reading this post with the context of the previous research post.  Thank you.
You should recall from our first post that we illustrated the expanding real estate cycle events in Beijing and how they related to a downside price cycle that appears to be in the very early stages of rotation.  Today, we want to illustrate how the US market has been driving much of this expansion and speculation in China.  Below, we have highlighted the same Beijing pricing cycles over a US Real Estate Equity chart.  The point of this analysis is to clearly show that real price/equity expansion in the US market did not begin to occur until late 2012 and into early 2013.  This was the time that real estate values in the US began an upward trajectory and real equity was being earned again.  Prior to this, from roughly 2006 to the end of 2011, real estate price equity was declining or basing – with no real attrition or increase.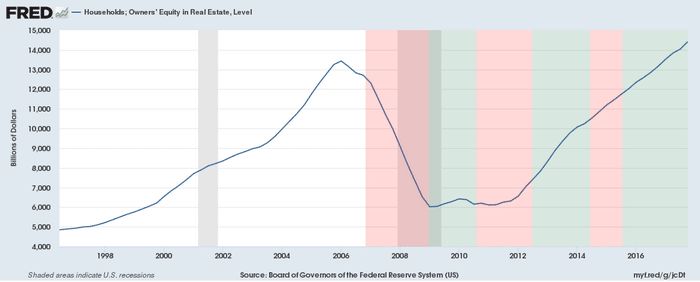 Now, if you open up Part I of this article in a separate window, you'll see that the real price expansion in the Beijing real estate market also began in mid to late 2012 and peaked in 2014.  Our analysis and belief is that many Chinese investors were jumping into the US and global real estate markets at this time and that the increase in prices in Beijing assist them in diversifying assets across the globe by buying foreign assets.  We believe this assumption is supported by the price decline in Beijing between mid-2014 through early 2016.  We believe the previous price advance allowed Chinese investors to leverage their gains into outside/foreign assets while chasing the easy credit allowed by many foreign central banks.
It was also evident that many Chinese were moving capital outside China in an attempt to source new revenue growth.  We believe this transition to outside assets was in full swing by 2013 to 2016 – when China finally started clamping down on capital flowing outside it boarders.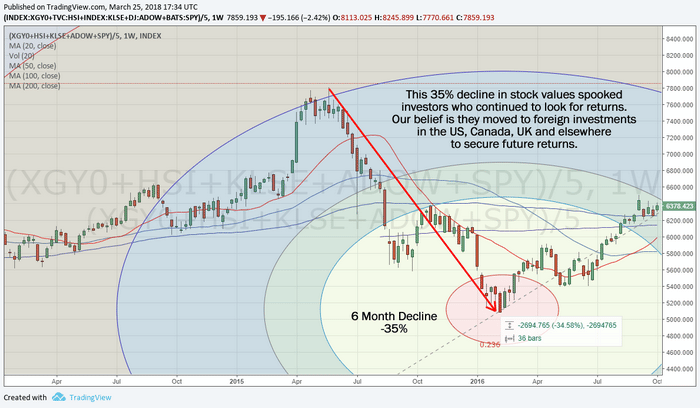 For your reference, here are a few resources to support our findings:
NYTimes : February 13, 2016: Chinese Start to Lose Confidence in Their Currency
The Strait Times: February 15, 2016: China's rich move money our of country, joining capital exodus
The Wall Street Journal: December 2, 2016: China Clamps Down on Exodus of Cash
It is obvious from the data that Chinese investors and wealthy individuals were hungry for returns in an environment where their stock markets had recently declined more than 30% while their real estate markets were experiencing a multi-year price decline of well over 10%.  What were these people to do but find outside sources for returns and move their money into foreign investments that could allow for continued revenue growth. And what better place to move their money than the US and Canada – which were experiencing massive real estate price advances.
Take a look at this chart of the Canadian real estate price advances over the past 15 years.  Incredible.
But, think about this for a minute, now that many of the Chinese were investing in Chinese and foreign assets and property while at the same time investing in China 's shadow government, corporate and derivative investment schemes, what are they to do with all this capital tied up in markets that are nearing or entering a contraction phase?  What is their exit plan and how can they move to the sidelines fast enough to avoid the risks associated with collapse?
We'll cover that in Part III of our research.
Our research team at www.TheTechnicalTraders.com has been actively following these trends and global market indicators for years.  We specialize in developing advanced price modeling systems that assist us in determining what may happen in the future and we attempt to capitalize on these moves with our members/subscribers.  Our members receive advanced warnings of these types of setups and we alert them to critical trade setups in real-time – as they happen.  We urge you to visit our website to learn more about our services and products and we hope you find our research informative and relevant to current market events.  If you want to be ahead of the markets with our continued research and content, please consider becoming a valued member at www.TheTechnicalTraders.com
---
Have These Articles Automatically
Posted on Your Website with RSS