Oil May Be Setup For A Move Back to $50
US Gasoline prices have shot up 15% to 30% or more over the past 4 weeks as the Summer Blend hits the markets and consumers continue to stay shocked at the increase.  In California, prices shot up from near $3 per gallon to over $4 a gallon over a 7-day span.  Every year, when the Summer Blend of Gasoline hits the markets, we expect a price increase that is associated with this change.  But this year, the price increase has really shocked consumers to the point that they are altering their travel plans and cutting extra spending in an attempt to deal with the new gasoline prices.
This data graph from the US Energy Information Administration shows just how dramatic the price increase has been over the past 3+ weeks.
(Source: https://www.eia.gov/dnav/pet/pet_pri_gnd_a_epm0_pte_dpgal_w.htm)
Anyone with any common sense about how consumers react to these types of price increases will understand that consumers will react to these price increases by cutting other expenses and travel from their future in order to compensate for the higher gas prices.  We've seen it happen many times in the past.  This means that retail shopping, entertainment, dining, and other non-essential purchases will be curtailed as consumers deal with the extra $100 to $250+ each month in gasoline costs.  Small business and other service industries that rely on driving or on-site work will also see their bottom line profits drop as a result of these higher prices.  The extra costs for these companies could be counted in the thousands each month.
We believe the reaction to these higher gasoline prices will result in decreasing demand by consumers as they cut back on certain expenses and attempt to limit travel as needed to balance their essentials and non-essential purchases.  We believe this decrease in overall purchases will likely reflect in a decrease in travel and hospitality, retail, entertainment, and restaurant purchases.  It is very likely that this decrease will be felt across the economy fairly quickly as gasoline prices attempt to stabilize near new levels.
Our researchers, at Technical Traders Ltd, believe Oil will come under pricing pressure over the next few weeks as consumers react to the higher gasoline prices.  The recent price stall near $65 aligns with a key Fibonacci retracement level near $63.98 and we believe any further upside in Oil may be limited.  Our researchers believe a downside price retracement will begin to unfold where Oil prices will fall to below $55 ppb initially and potentially target sub $50 levels eventually.
The recent rally in oil prices from last 2018 was in-line with expectations that the US and global markets would recover after the deep price correction in Q4 2018.  As the US stock market continues to rally towards new highs, we suggest watching Crude Oil, Transports and overall consumer activity to determine is a mild consumer recession sets up over the next few weeks.  Our research suggests that Q2 is typically fairly strong for Transports and Oil.  Q3, or the Summer season, is typically relatively weak.  This fall into the old trader saying "Sell in May and go away".  We believe the rotation lower in Oil and consumer activity related to the higher oil prices may hit the markets a bit earlier this year and set up some incredible trading opportunities.
If our research is correct and Oil prices top over the next few weeks, this means that OILD and USOD are likely to be very strong buying opportunities near historical lows.  Let's take a look at these setups and plan out the best case scenario.
USOD, the US 3x Short Oil Fund, is set up with current price levels very close to historical price lows.  We can see how any price move below $4 would set up an incredible buying opportunity for skilled traders to setup swing trade long positions going into the summer months.  The closer we get to mid-May, the more likely the historical price weakness will setup to drive these Oil ETFs higher by at least 15% to 25%.  Our believe that consumers will react to the higher gasoline prices by cutting their demand for extra travel and other expenses help to support our belief that oil prices may decline 12% to 24% over the next 30 to 60 days.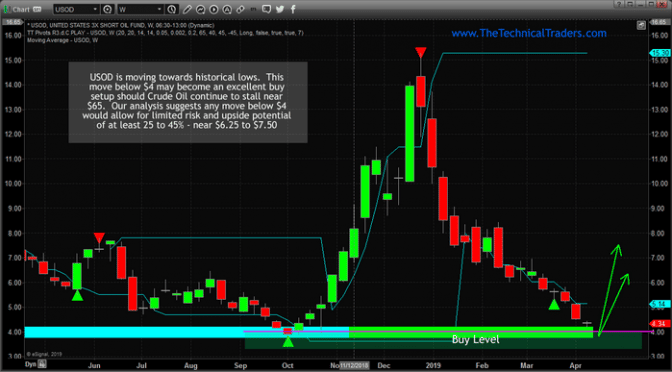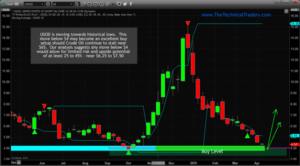 OILD, the Proshares UltraPro Short 3x ETF, is setting up very near to historical price lows slightly below $16.  We believe any price decline near these lower levels would create an excellent buying opportunity for skilled traders to setup long trades in OILD as we expect the Summer season oil price decline to push these ETFs at least 15~25% higher.
The key to understanding the potential for this trade is to watch for price weakness in the general markets and in select consumer sectors (travel, entertainment, retail, restaurants, and others).  If we see that consumers are pulling back on certain expenses, then we can assume they are also pulling back on travel, gas purchases, and Summer vacations.  This will likely cause demand issues in Oil to prompt a price decline.  We don't expect a dramatic price decline at this point, but we do expect a 12% to 24% price drop as any protection move by consumers will have far-reaching results on the economic numbers and future expectations.
Take a minute to find out why www.TheTechnicalTraders.com is quickly becoming one of the best research and trading services you can find anywhere on the planet and last week we took another 4.5% profit on another winning trade.  We are about to launch a new technology product to assist our members and we continue to deliver incredible research posts, like this one, where we can highlight our proprietary price modeling systems and adaptive learning solutions.  If you want to stay ahead of these markets moves and find greater success in 2019 and beyond, then please take a minute to see how we can help you.  Once this move begins in Gold and Silver, there will be dozens of incredible opportunities for skilled investors – don't miss out of them.  Join www.TheTechnicalTraders.com today.
Chris Vermeulen