Natural Gas Continues To Offer Opportunities for Longs
Historically, April has been a pretty consistent upside opportunity in Natural Gas for over 20 years.  Over the past 24+ years, the upside opportunity in Natural Gas has been accurate over 68% of the time with the average upside potential ranging from $0.60 to $0.85.  With Natural Gas sitting down near recent lows and seeing as though we are still fairly early in the month of April, our researchers believe the opportunity still exists for some quick profits in UNG with an upside move from below $23.95 to a target level of $26 to $28 (roughly +9 to +18%).
The downside risk is rather limited with clear support visible below the recent lows (near $22.75) and a historical likelihood of any further downside price swing being below 33%.  Our research team believes an opportunity to establish new longs in UNG below the current Daily price gap (below $23.50) would be ideal.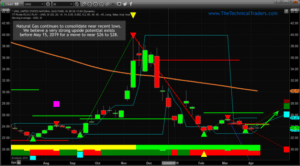 Historical data mining shows that average upside rallies at this time of the year are typically ranging just below $1.  Thus, the upside potential for this move being about +9 to +12% should be sufficient for quick profits.  Skilled traders can hold a small portion of the trade for any potential run beyond these initial target levels, but we caution traders that $28.50 to $29.00 is an area of strong resistance. Our last trade in natural gas with subscribers netted us 30% profit in UGAZ within 10 days back in February.
Our research team is still waiting for the Daily Upside Gap to fill with prices below $23.50 before we look to enter any new trades.  We have been patiently waiting for the bottom in Natural Gas to form knowing that we have this trade setup with a relatively high success rate.  Keep an eye on Natural Gas and look for any good entries below $23.50 in UNG – the deeper the better.  Our Fibonacci modeling systems are already suggesting a bottom has set up and any upside price move above $24.30 will likely prompt a bigger rally towards $26 to $28.
Are you ready for this next move?  Want to know how we can help you find and execute better trades?  55 years of combined experience in researching and trading makes analyzing the complex and ever-changing financial markets a natural process. We have a simple and highly effective way to provide our customers with the most convenient, accurate, and timely market forecasts available today. Our stock and ETF trading alerts are readily available through our exclusive membership service via email and SMS text. Our newsletter, Technical Trading Mastery book, and Trading Courses are designed for both traders and investors. Also, some of our strategies have been fully automated for the ultimate trading experience.
Chris Vermeulen