Metals and US Dollar Set To Rollover
We've been warning our members that this move was going to happen and it looks like it is just starting to initiate.  The US Dollar and Metals markets are about to rotate in dramatic form over the next few weeks – possibly months.  Right now, what we can tell you is that our cycle analysis and adaptive learning models are showing we are in for a very dramatic move in these markets.
This first chart is a GOLD Weekly chart showing our adaptive learning price modeling system and the predicted price activity going forward.  One can easily see this weekly double top formation is predicting prices to drop by nearly 5~8% over the next few weeks before basing near the $1250 to $1275 levels.  This should be a very clear warning to metals investors that Gold and Silver are setting up for a lower price rotation before the next big move higher.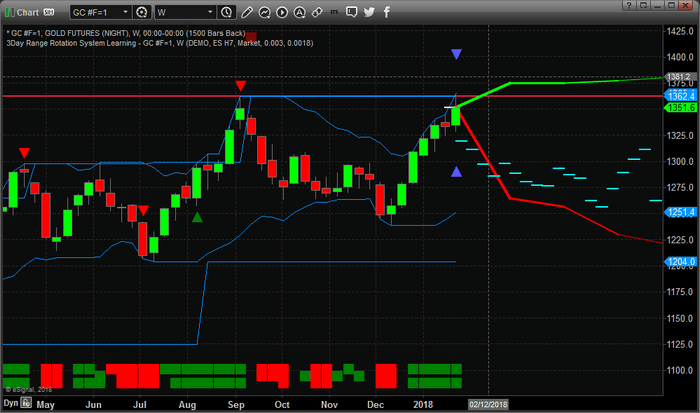 This next chart is a GOLD Monthly chart and one can easily see the adaptive learning modeling system is predicting massively lower prices over the next few months.  We would caution our reader that these dramatically lower prices (toward and below $1000) would be an incredible downward move in the metals.  It would also indicate that the US and global economies continue to "melt-up" extensively over the next few months. We believe the downside rotation is accurate, yet we don't believe prices will fall below $1000 within 2~3 months in Gold.  Although, one can never accurately predict the future with any degree of certainty.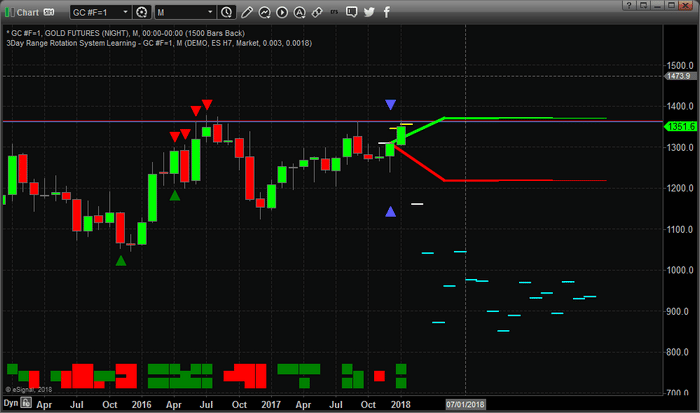 This next chart of a Daily Palladium chart showing our cycle analysis.  Once can clearly see the relationship between the cycle levels and price activity.  Currently, the cycles are showing use that price is weakening and that a lower price cycle is setting up to drive prices back to near of below $100.  All of the metals markets are setting up like this currently and Silver is the only metal that shows the potential for a muted downside price swing.
This last chart of a Daily US Dollar cycle analysis chart showing what we believe will be a primary driver of the rotation in the metals markets – the predicted US Dollar price advance.  Take a look at this chart and see the aggressive cycle levels that are expected to happen in the immediate future?  This type of advancement is usually associated with a fairly dramatic upward price move.  We expect this move to mature over the next 2~3 weeks culminating in a general market top formation for the US majors near March 15~19, 2018 – as our earlier research has shown.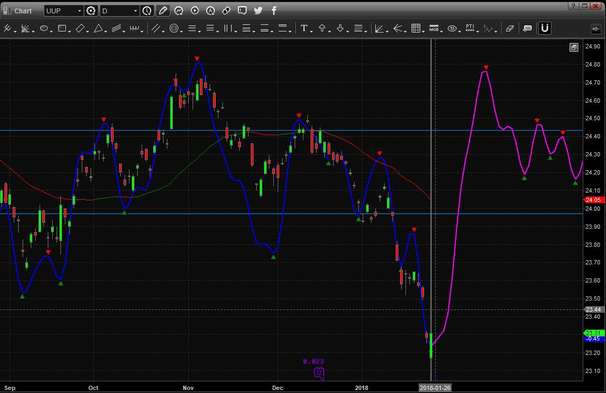 You don't want to miss this move, folks.  Visit www.TheTechnicalTraders.com to learn how we can assist you in finding great trades and profiting from these future moves.  Please take a few minutes to read some of our research reports from the beginning of 2018 to see how well we've been calling these market moves weeks in advance.  If you are a GoldBug or you want to find new opportunities in the markets, visit www.TheTechnicalTraders.com to learn how we help you achieve success.
Our articles, Technical Trading Mastery book, and 3 Hour Trading Video Course are designed for both traders and investors to explore the tools and techniques that discretionary and algorithmic traders need to profit in today's competitive markets. Created with the serious trader and investor in mind – whether beginner or professional – our approach will put you on the path to win. Understanding market structure, trend identification, cycle analysis, volatility, volume, when and when to trade, position management, and how to put it all together so that you have a winning edge.