New Trading Tools, Analysis, and Signals Coming!
This month we plan to start expanding this trading newsletter to provide our trading system signal charts and cycle analysis.
We have such incredible news to share with all of our existing members and all of our followers/non-members.
This new technical traders technology application we've created and continue to develop exclusively for our members allows us to deliver an incredible level of service, alerts, updates, trading triggers and much more.
Over the next few months, we'll continue to add more features, charting, strategic trading signals and tools, and more to deliver an expanded range of trading support and solutions for our members.
What you see below is Version 1.0 of what is to come. While this live updating portfolio and alert system may look basic, in reality, the engine we build behind it will allow us to take both our trading and your trading to a whole new level.
New Position & Trading Application
Take a look at some of our recent trades our application that instantly and automatically tracks our trades, send email and SMS trade alerts to you. It WAY faster than me spotting the alert then manually having to type up alerts and send them with a long delay – this is now instant!
Right now, we are working on three new trading tools that will provide all of us traders with the most benefits. Remember, we are not just building this for you/members to fluff up the member's area, I'm building what I Want and Need to become an even better trader which in turn will boost members profits and learning experiences.
These next features will start to be included over the next few months:
The V9 Trading Algo (including charts and trade alerts/signals)
The Predictive Price Cycle Analysis (including charts with cluster reversal signals)
You can see some of our proprietary solutions in the sample charts below:
V9 Trading Algo – Trend Trading
SP500 – SSO 2x Leveraged Trading Signals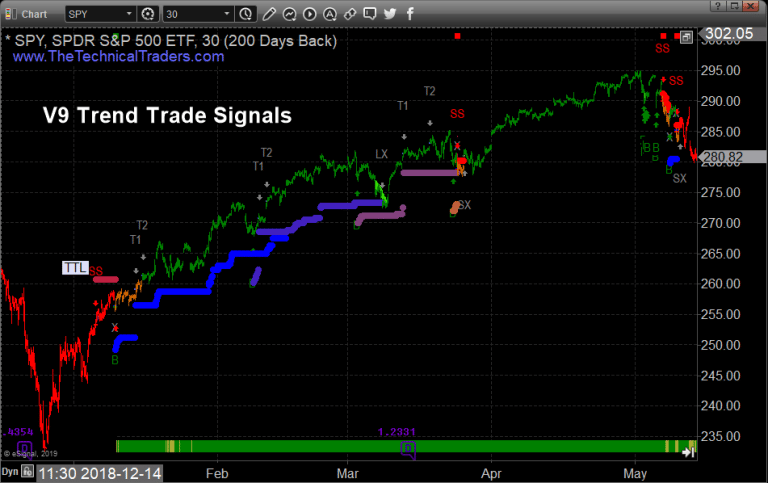 V9 Trading Algo – Momentum T1 and Swing Trade T2
SP500 – SSO 2x Leveraged Trading Signals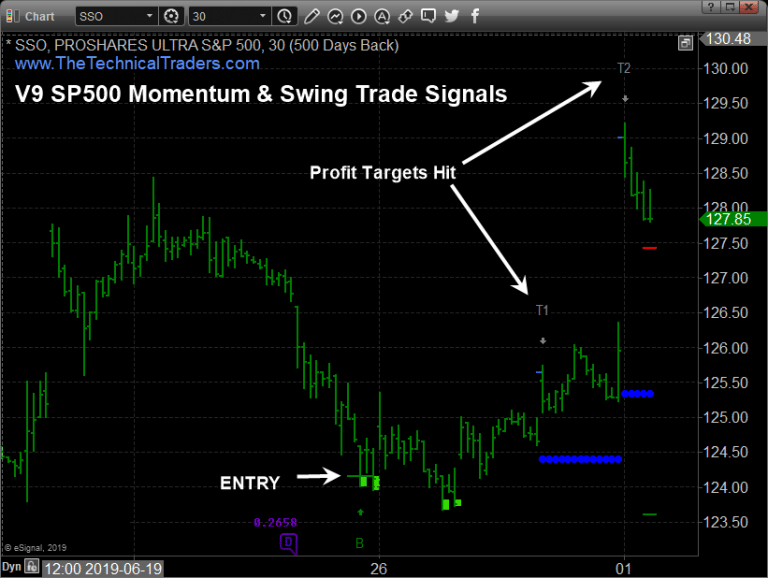 V9 Trading Algo (Trend, Momentum, and Swing Trades)
GOLD – GLD Signals
Predictive Cycle Cluster Reversal Tool
SP500 – Index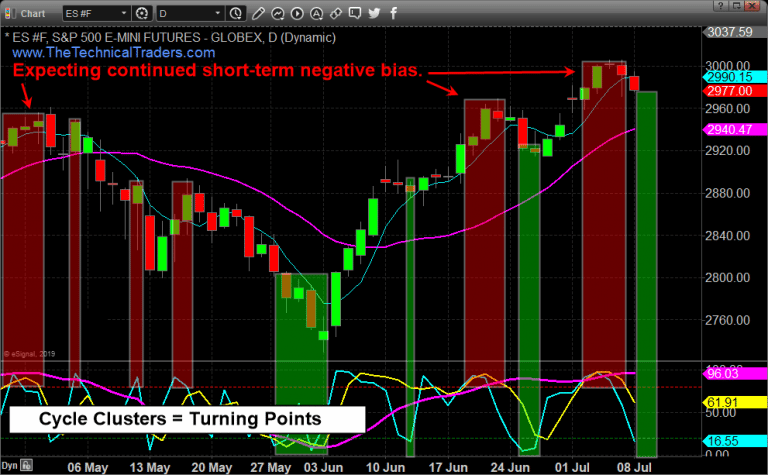 Existing members, you don't have to worry about a thing – you are already grandfathered at your current rates.
Non-members, now is the time to decide if you want to secure these lower rates and allow us to help you create greater success in your future? If you have been thinking about joining our exclusive group of traders, now is the time to do it – before the rates go up with the added value that will be implemented soon.
EDIT: September, 26, 2019. New Terms and Conditions are in effect. Grandfathered rates may no longer apply. Please read the Terms and Conditions available on the sign-up page of www.thetechnicaltraders.com.
We intend to continue to develop and include new features, trading systems, and proprietary trading solutions like these into our new TTT Traders App for all our existing and new members
The big benefit we are alerting you to, today, is that if you subscribe now before we raise our rates, you will be grandfathered at the current rates for as long as your membership renews with us. By subscribing now, you will actually save more than 28%, plus get free silver or gold, vs. waiting until all these new features are added soon. Visit www.TheTechnicalTraders.com to get started.