Index Trading Signals for Momentum, Swing, and Trend Following
Since 2001 I have been refining my index trading skills and strategies in the hope that one day I would provide a steady stream of trades and income and possibly even be able to automate the trading for me.
Now, 18 years later I have made most of these dreams/goals come true with a robust trading system that makes trading momentum drops and pops, swing trading, and trend following really simple. While it's not 100% complete, and likely never will be as I'm always working on adapting things work with the everchanging markets, it is something I'm really proud of and excited to share with fellow traders. Over the next month or so I will be pushing to get this new application running for members to watch and receive the trade alerts.
Take a look at this year's chart of the system which really is incredible, but the rally the market is experiencing is also not the norm in terms of price action.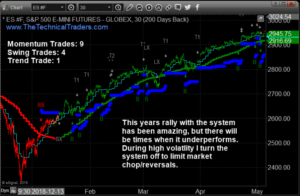 The next chart shows the most recent trade taken this Thursday and the first momentum trade target was hit in less than 24 hours for a quick 2.5% profit on the SP500.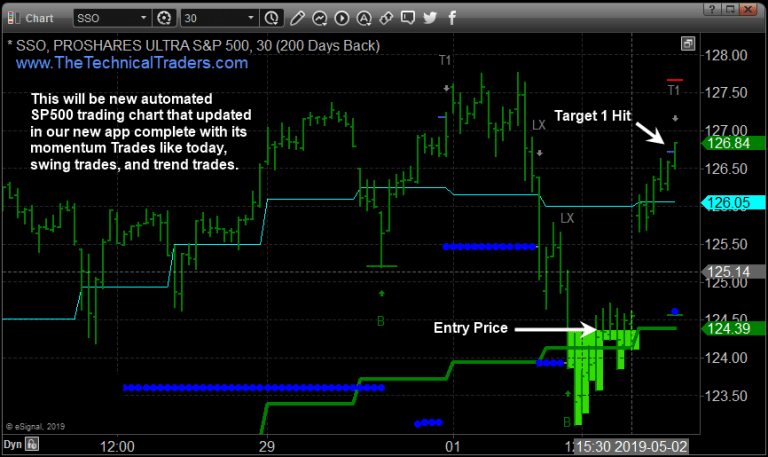 To make things even more exciting this strategy works well with high momentum stocks and the most recent trade we took on CPRX we locked in 10% from our entry price as shown below.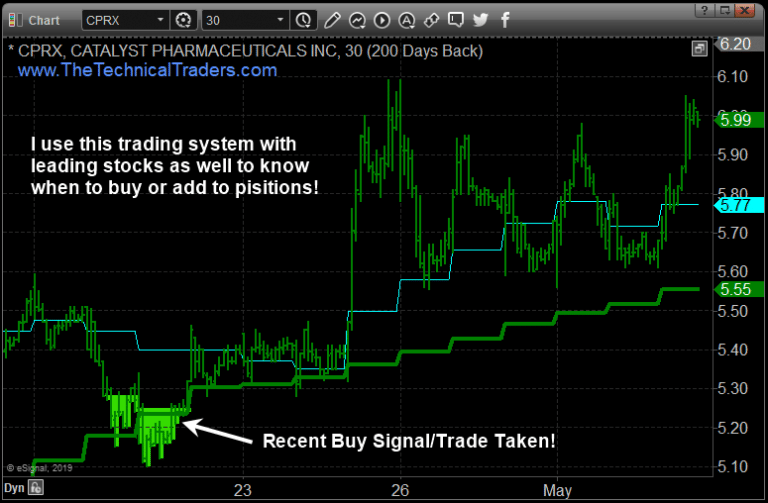 I am about to launch a new technology product to assist our members like this one explained above, where we can highlight our proprietary price modeling systems complete with all the trade signals (entry, stops, targets). This added analysis and trade signals are bonus value added for our loyal followers.
If you want to stay ahead of these markets moves and find greater success in 2019 and beyond, then Join www.TheTechnicalTraders.com today.
EXTRA UNIQUE OPPORTUNITY
First, we typically see stocks sell-off and as the old saying goes, "Sell in May and Go Away!"
So what does this mean? It means we should start to see money flow into the safe-haven assets like the Utility sector, bonds, and most importantly precious metals.
Second, my birthday is this month, and I think its time I open the doors for a once a year opportunity for everyone to get a gift that could have some considerable value in the future.
For May I am going to give away and ship out silver rounds to anyone who buys a 1-year, or 2-year subscription to my Wealth Trading Newsletter for the first 25 subscribers. You can upgrade to this longer-term subscription or if you are new, join one of these two plans, and you will receive: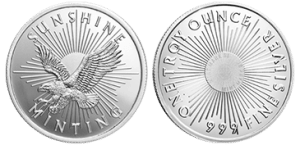 1-Year Subscription Gets One 1oz Silver Round FREE
(Could be worth hundreds of dollars)
2-Year Subscription Gets TWO 1oz Silver Rounds FREE
(Could be worth a lot in the future)
I only have 25 silver rounds I'm giving away
​​​​​​​so upgrade or join now before its too late!
SUBSCRIBE TO MY TRADE ALERTS AND GET YOUR FREE SILVER ROUNDS!
Happy May Everyone!
Chris Vermeulen