Gold And Gold Miners Preparing for Big Move
Just a few days ago we alerted our members and followers to a massive setup in the Palladium market that had not been seen in years.  This chart formation provides an incredible opportunity for a trader to take advantage of and profit from the expected price decline.  We alerted our members and followers on January 24th of this move.
As of today, Palladium has rotated downward by over 9% from the recent highs and should continue to move lower as this multi-month rotation extends. Even though this initial move lower (-9%) reaches our initial predicted target levels, we still believe support won't be found till prices reach near the $1000 price level.  If that support fails to hold, the price of Palladium could fall to the $900. This total move could be over -20% by the time this downward swing ends.
As an additional bonus, the other metals and Miner ETFs are starting a move in correlation with this massive rotation in Palladium.  The aggressive move in Palladium may become a catalyst for the other metals and miners to sell off further.
We warned weeks ago about this cycle top in gold and how it should rotate lower and move to near $1300 before finding support.  This move has just started really and would equate to a -3.8~4.2% downward price correction.
The ability to see these moves and act on them provides our members with the ability to take a single trading signal and deploy multiple successful trades from it.  We got our member's long DUST near the very bottom of the market in anticipation of this move in the metals markets.  Knowing that this move was set up and that it could be somewhat aggressive, we simply waited for the proper setup and trigger to alert our members.
The overall potential from our DUST trade remains substantial.  Currently, we have already locked in +11% for our members and we believe the final move could be much larger.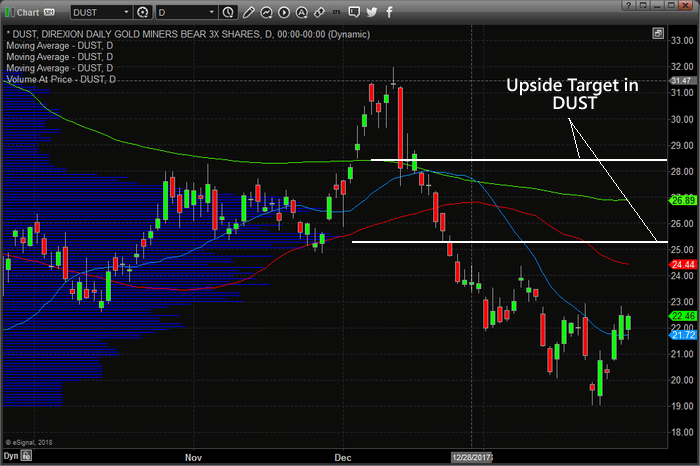 The reason we are alerting you, today, of the progress of our calls, is that the market conditions are changing, and these types of trade setups are going to happen every month and a lot of money can be made by taking advantage of them each month. Join our Wealth Building Newsletter at www.TheTechnicalTraders.com and let us boost your trading returns with our daily analysis video, market updates, and trade alerts.
We just closed out another winning trade and members locked in a quick 9.1% profit with falling price of natural gas.
Our articles, Technical Trading Mastery book, and 3 Hour Trading Video Course are designed for both traders and investors to explore the tools and techniques that discretionary and algorithmic traders need to profit in today's competitive markets. Created with the serious trader and investor in mind – whether beginner or professional – our approach will put you on the path to win. Understanding market structure, trend identification, cycle analysis, volatility, volume, when and when to trade, position management, and how to put it all together so that you have a winning edge.
Chris Vermeulen
Founder Technical Traders Ltd.