How This Trader New To Move to Cash Before The Crash
Recently, we've received a number of comments from members and followers regarding the BAN Trader Pro system thanking us for the successful BAN Exit triggers on February 18 and 23rd, 2021.
We've also received many other comments from members sharing their insights and messages from other analysts that suggest other systems are just starting to prompt triggers and warnings that the markets could be poised for a deeper downside price swing.
Think about this for a minute. What is the difference between our February 18, 2021 BAN exit trigger and what other people are starting to receive in their emails right now?  The difference is a -9.27% loss of assets for those who don't have access to the BAN Trader Pro system.
Any -9.27% loss when fully invested is difficult to deal with.  On a $100k account, that loss totals almost $9,500.
On a $250k account, that loss totals almost $23,000.  If traders were leveraged in their trading or were invested in leveraged ETFs, the losses could be even bigger.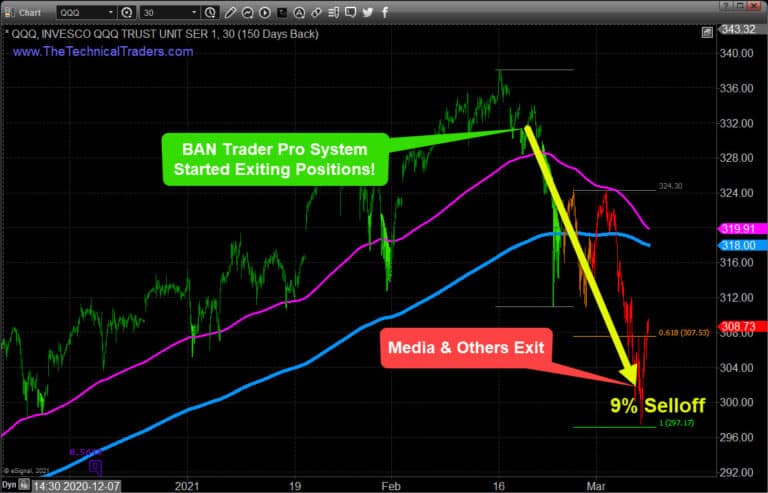 And the real kicker is that most people are just starting to short the stock market or buy inverse ETFs to try and profit from a market drop. If you have been following me for any length of time or attended my webinars, then know, trying to bet against a bull market has roughly a 30% chance of making money, and that's if your good at marketing timing and take profits quickly.
The risk/reward ratio for betting against a bull market is generally a 3:1. You risk $3 to try and make $1. Im not going to get into the details here but if you are betting against this market, be cautious!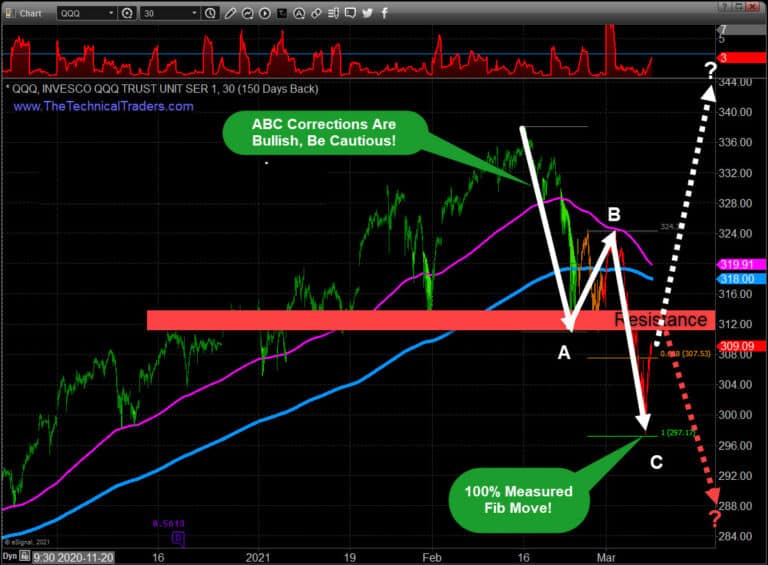 As we like to tell our BAN Trader Pro members, "being in cash IS a position."
Many people simply don't understand one of the core principles of trading – which is that, on average, 40% of the time, you will likely be 100% IN CASH waiting for proper trade setups. We call it the slow, easy method of trading. You don't have to be glued to your computer screen or phone trying to manage multiple positions all the time.  BAN Trader Pro is a completely mechanical trading system that keeps you in the markets when the market is favorable to own stocks and moves you out of the markets when it's not.
You won't find us messing around with penny stocks or headline news stocks like GME, AMC, etc… with wild news/hype pushing the prices around. If you did try to trade these, then you likely took a loss. If you made money, great, but move on to safer and better opportunities!
The team and I focus only on trading technically proves strategies. Our goal is to provide Efficient Trading and Smart Investing strategies for ourselves to trade, and we also share those with our subscribers.
Watch Chris and his Options Trading Expert Neil This week Live – CLICK HERE
What is efficient trading?
It means we focus on making fewer trades, small drawdowns, and making more money than an active trader working their butt off glued to the screens every day.
Anyways, pay attention as others start to warn of new risks. They are 15 days late and are starting to suggest traders/investors move out of trades and into cash or other investments over the next few days/weeks.
As the chart above shows, the market just had a 100% Fibonacci measured move, and it completed an ABC retracement. Both of these means we should see a bounce at a minimum, but it could also be a bottom, and all those shorting the market will take a big loss if that is the case. It's a coin toss here, not something we want anything to do with.
Remember, it is your capital – your future.  This 9+% downside price trend likely cost you more than 3+ years of a BAN Trader Pro subscription (assuming you have $50k in your account). Maybe it's time you allowed yourself to see how our BAN Trader Pro can help you grow and protect your wealth? I am teaching the strategy free in this webinar – LINK
Don't miss the opportunities in the broad market sectors over the next 6+ months. 2021 and beyond are going to be incredible years for traders like you if you follow me to success. Staying ahead of these sector trends is going to be key to developing continued success.
As some sectors fail, others will begin to trend higher. Learn how BAN Trader Pro can help you spot the best trade setups in our Free Training Webinar https://joinnow.live/s/EPdGTI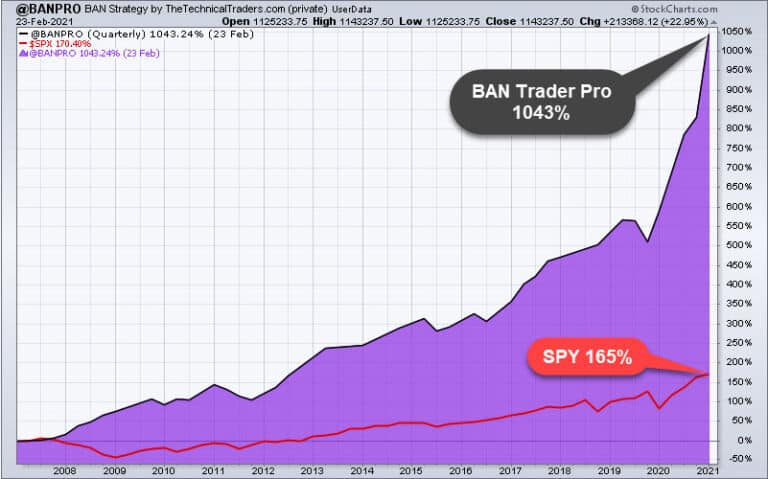 We've built this technology to help us identify the strongest and best trade setups in any market sector. Every day, we deliver these setups to our subscribers along with the BAN Trader Pro system trades. You owe it to yourself to see how simple it is. You only need to be in stocks roughly 60% of the time to generate incredible results. Please take a minute to visit www.TheTechnicalTraders.com to learn about our BAN Trader Pro technology and how my free training session can help you identify and trade better sector setups without my help.
Chris Vermeulen
Cheif Market Strategist