Financial Sector Starts To Rally Towards The $43.60 Upside Target
Near November 24, 2021, I published a research article suggesting the Financial Sector, XLF in particular, may bottom and start to move higher, targeting the $43.60 level. After watching XLF rotate lower and form multiple bottoms near $37.50, it appears to finally be starting a new breakout rally phase ahead of Q4:2021 earnings. Will it rally up to my $43.60 target level before the end of January 2022? And how far could it rally beyond my $43.60 target?
Using a simple Fibonacci Price Extension allowed me to target the $43.60 level. Duplicating that range and applying it to the top of the $43.60 target level will enable me to see a higher target range of $49.55. This upper target level would result from a 200% Fibonacci price rally from the original price range I identified back in late November 2021.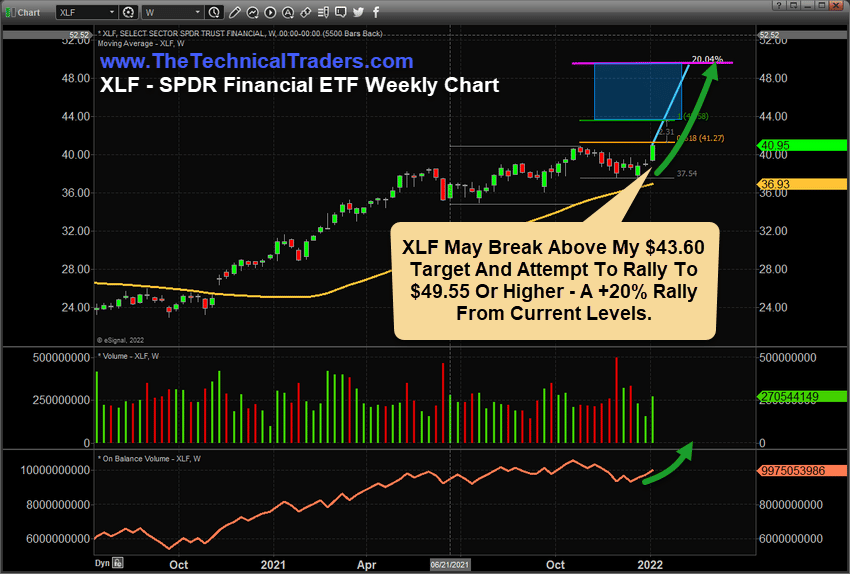 Could it happen? Sure, it could happen. Financials are uniquely positioned to benefit from higher consumer engagement in almost all levels of the economy. Housing, consumer spending, credit/loan origination, fees and services, trading, and other services – they all combine into Banking and Financial Services. I expect Q4:2021 to show robust consumer engagement and housing data, likely prompting many financial firms' strong revenues/earnings results.
My original financial sector (xlf) research article included (below) for you to review:
The recent downward price rotation in the Financial Sector (XLF) may have frightened some traders, but my research suggests this move is setting up a future bullish price target near $43.60 – a more than +11% move. The end of the year Christmas Rally phase of the markets should drive spending and Q4:2021 expectations strongly into the first quarter of 2022. Unless something big breaks this market trend, traders should continue to expect a "melt-up" bullish price trend through at least early January 2022.
Sign up for my free trading newsletter so you don't miss the next opportunity!
The Financial Sector continues to deliver strong earnings and revenue data each quarter. The way consumers and assets prices have reacted after the COVID market collapse says quite a bit about the ability of financial firms to generate future profits. Financial firms actively engage in financial services, traditional banking, real estate, and other investments, and corporate financing. The rising inflation trends and consumer spending activities suggest the US economy is still rallying after the COVID stimulus and recovery.
Financials May Rally 10% to 15%, or more, by January 2022
My analysis of XLF suggests this recent pullback in price may stall and start a new bullish price rally targeting the $43.60 level – a full 100% Fibonacci Price Extension of the last rally in XLF.
This Daily XLF chart shows the extended rally in early 2021 and the brief pause in the price rally between June 2021 and early September 2021. Now that we've entered Q4:2021 and the US economy appears to be strengthening in the post-COVID recovery, my expectations are that most sectors, and the US major indexes, will rally throughout the end of 2021 and into early 2022.
This recent pullback in XLF sets up a solid buying opportunity for traders targeting a +10% rally that may last well into January/February 2022 – or longer.
Longer-term Financial Trends Suggest Another Rally Above $44 May Start Soon
Over the past 6+ months, moderate rally phases in XLF have shown a range of about $4.00 to $4.50. I've highlighted two recent rally phases in XLF on this longer-term XLF Daily chart below with gold rectangles. I believe the next rally from the recent pullback will be similar in size and prompt a moderate upward price move targeting the $43.60 level – or higher.
Although there are some concerns related to the continuing recovery in the US markets, I believe the momentum of the US recovery and the strength in the US Dollar will push many US sectors higher over the next 60+ days. Closing out Q4:2021 and starting Q1:2022 with a fairly strong rally that may surprise many traders.
The Financial sector is likely to present very strong Q4:2021 revenues and earnings data as long as the global markets don't push some crisis event or other issue that could detract from the US economic recovery. Right now, the biggest issues seem to be China and Europe.
Concluding thoughts
My opinion is that any moderate price weakness in the Financial sector will be short-lived and will resolve into a bullish price rally, or "melt-upward" type of trend, as we move into early December 2021. Once the US Debt Ceiling issue is resolved, I believe the Financial sector will begin a very strong rally pushing prices above $44 or $45 as Q4:2021 earnings expectations drive investors' focus into Technology, Consumer Retail, Financials, and Real Estate.
The strength of the US Dollar is driving large amounts of capital into US assets and stocks right now. Based on my research, it is very likely that the US major indexes and certain sectors will continue to rally into early January 2022. If my analysis proves accurate, we may see a +11% to +18% rally in XLF before the end of January.
If you are interested in learning more about how my strategies can help you protect and grow your wealth in any type of market condition, I invite you to visit www.TheTechnicalTraders.com
Chris Vermeulen
Founder of Technical Traders Ltd.