Our April 21~24 Gold Call Is Here
One of the most important things about making calls about any future price movement is to have confidence in your research team and systems.  The second most important thing is to make these calls public so everyone can see if you were right or wrong about your predictions.  Predicting the future, often many months in advance, is not an easy task.  We like to ask people, how many people do you know that can predict something in the future, almost to the exact day, and find they were accurate more often than being wrong?
Well, this is the time we'll see if our predictions are accurate or not.  Back in October 2018, we issued a research post indicating that Gold would rally above $1300, then stall, then set up a momentum base between $1260 and $1275 near mid-April or early May.  Here is a link to that public post: https://thetechnicaltraders.com/45-days-until-a-multi-year-breakout-for-precious-metals/
In February/March 2019, our research team honed in on the April 21~24 dates as a key cycle date for a very likely momentum bottom setup.  You can read our research here.  We believe these dates will be key to the future rally in Gold and they may very well be the last time we see sub-$1300 price levels for a while, but gold does need to reverse to the upside this week.
Currently, Gold is trading at $1278.10 with a recent low at $1273.  Remember our original prediction that the momentum base would likely setup between $1260 and $1275?  Right now, we believe this Momentum base is setting up exactly as we predicted back in October 2018 – over 6 months ago.
As we continue to watch this Momentum Base setup play out, we urge skilled traders to watch the outlying symbols for signs of confirmation and validation.  The news about the Iran Oil Sanctions, today, may become a key element going forward – but it is too early to tell right now.  We believe some global economic event will drive prices of Gold much higher over the next 30+ days.
Gold has moved lower over the past 30+ days from the $1340 level down to near the $1270 level – just as we predicted as well.  The timing of this recent downswing in price is perfect for our April 21~24 Momentum Base call.  We do believe there is still a chance that a $1255 to $1260 level may be seen this week or next.  The Momentum Bottom/Basing formation may form over a 7 to 10+ day range.  So, pay attention to these opportunities in Gold over the next few days and weeks.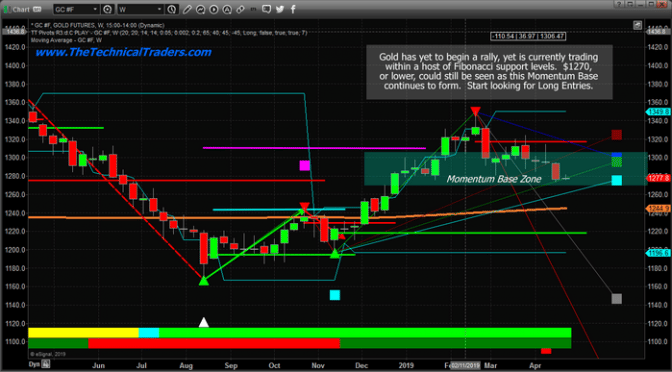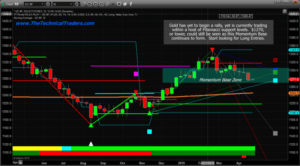 NUGT (3x gold miners bull ETF) continues to fall as Gold Bases.  In fact, NUGT has fallen to levels that we have not seen since January 2019.  The reality of the matter is that NUGT may be the best confirmation tool/symbol we have right now for timing the end of our Momentum Base in Gold.  When NUGT rotates higher and forms the base, it will very likely mark the end of weaker prices for the entire precious metals sector and the beginning of the upside price rally we have been predicting.
As our research team likes to state – this is "do or die" time with regards to our predictions from many months ago.  We've stuck by them for months, telling anyone who would listen this setup would be the last time you see sub-$1300 levels in Gold for many months – possibly years.  If our analysis is correct, we suggest you pay attention to these symbols and lower Gold price levels right now.  Once this move begins to rally, it could take the markets by surprise.
Our expectations are that by mid-May, or so, we should already be in an upside price swing that should be targeting the $1450 to $1550 level.  This means we have about 7 to 15 trading days until we start to see some real upside price move in precious metals.
We should remind you that gold needs to find a bottom this week and price could become choppy and volatile.
Get ready and follow our research.  How many other research firms do you know that are capable of calling the markets 6+ months in advance with this type of accuracy?
Please visit www.TheTechnicalTraders.com to learn how we can help you find and execute better trades for your future.
Chris Vermeulen