ADL Predicts Expected Range Of The NASDAQ Before Breakout
Our advanced predictive modeling system is suggesting a defined range for the NQ over the next 30 to 60+ days before a bigger breakout move is expected. If you've been following our research, you already know we have been predicting the NQ to move in a sideways pennant formation. Our ADL predictive modeling system is suggesting the NQ will stay within a defined price range over the next 30 to 60 days.
The upside price bias we are predicting is based on the ADL modeling systems suggestion that an upward price bias is inherent in the markets. You'll see from the charts below that two different predictive results are driving our interpretation currently.
One result is predicting an upward price bias over the next 2 to 4 months whereas the second result is predicting a sideways price result over the same period of time.
Our conclusion is that the NQ will likely trade in a sideways pennant formation over this span of time before a breakout price move happens.
Our research continues to suggest a price peak may happen in August or September of 2019. We believe this peak aligns with our cycle research as well as aligns with our suggested pennant formation pattern. We believe the peak that forms near August or September will likely result in new all-time price highs. That breakout to new all-time highs will likely be the end of the move higher for now. After our expected price peak sometime near September, we believe the markets will turn lower with a possible move of -10% to -15% or more.
This two-week bar chart of the NQ highlights our ADL predictive modeling results. You should be able to see the yellow dashed lines on this chart showing what we believe will be price support above 6800. we've also drawn lines on the chart highlighting where the pennant formation price rotation will likely take place. Over the next few weeks, we expect the NQ price rotation to stay between 6800 and 7500. This range presents an incredible opportunity for traders to trade this rotation.
This NQ monthly chart highlights to ADL predictive modeling results showing two separate ADL predictions. Our researchers use these results to create a combined consensus expectation for the markets. This particular NQ monthly chart suggests there is a strong upward price bias over the next 2 to 3 months. Combining this upward bias with our expectations of price support near 6800, we conclude that a sideways price rotation should be expected with a fairly volatile price range.
Please take notice of the upper yellow dashed lines of 8000. These ADL predictive levels suggest that the NQ will likely attempt a move above 8000 sometime in August or September of 2019, then move dramatically lower as price attempts to revert back to the 7500 level – or lower.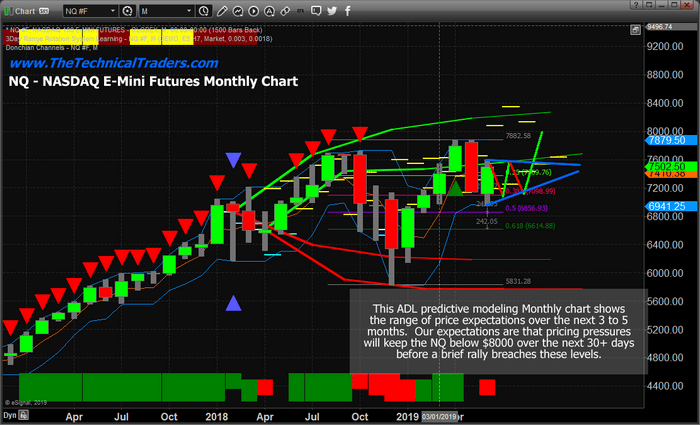 It is critically important for traders to understand the future price expectations of the NQ and the US stock market. Having knowledge of future price activity, like our ADL predictive modeling can produce, allows traders to plan for and execute strategic trading strategies.
Once the peak in August or September is reached, skilled traders should begin to prepare for a bigger downside price move which may last many months. Initially, our expectation is a move back to 7500. Our longer-term research and cycle analysis suggest prices may move much lower – possibly towards 6000 or lower.
We have a good pulse on the major markets and can profit during times when most others can't which is why you should join my Wealth Trading Newsletter for index, metals, and energy trade alerts.
I can tell you that huge moves are about to start unfolding not only in metals, or stocks but globally and some of these super cycles are going to last years. These super cycles starting to take place will go into 2020 and beyond which we lay out in our new PDF guide: 2020 Cycles – The Greatest Opportunity Of Your Lifetime
Happy Trading!
Chris Vermeulen