Wall Street Smart Money Is Accumulating Physical Silver Ahead Of New Basel III Regulations And Price Explosion To $44 An Ounce
Recently, Gold and Silver have somewhat stalled after a fairly solid upside price trend in April and May 2021. Looking at the longer-term Weekly Silver chart, we believe Silver is ready to pounce with a big move higher.
The second half of 2021 will welcome BASEL III (likely) and a renewed focus by the US Federal Reserve (and Global Central banks) working to contain inflationary aspects of the recovering global economy while also attempting to support continued growth objectives. I believe precious metals, in particular – Silver, have shown a very unique "Accumulation Phase" over the past 12+ months that may lead to a big upside breakout rally when it breaches the $28.50 level.
Silver Waiting For The Opportune Moment To Pounce – Are You Ready?
This Weekly Silver Futures chart highlights the On Balance Volume Accumulation Phase as well as our price cycle analysis suggesting Silver is stalling just below resistance near $28.50. My team and I believe the new upward cycle phase, in addition to the massive Accumulation taking place, suggests that Silver is currently lying in wait – ready to pounce on a big upward price trend once the $28.50 level is breached.
ADL Model Suggests $40 To $44 Upside Target Is Real
Our proprietary Adaptive Dynamic Learning (ADL) Price Modeling system suggests a continued bullish price trend is likely on the Monthly Silver chart, shown below, and that a peak is likely near $40 to $44 near December 2021. This bullish price dynamic is based on the ADL's ability to map out unique price and technical setups in the past, then align those unique price DNA markers with current price setups.
Sign up for my free trading newsletter so you don't miss the next opportunity!
What may happen over the course of the next few weeks is that Silver may continue to attempt to consolidate below $28.50 as the markets react to the FOMC announcements and other market facets. Once the markets digest the real factors related to inflationary concerns, what the US Fed and Global Central Banks need to do is to address these concerns, and the future expectations related to forward monetary policies and expectations. Personally, I believe Silver will move above $28.50 sometime in July (or shortly afterward) and begin to move dramatically higher – targeting $40 or higher.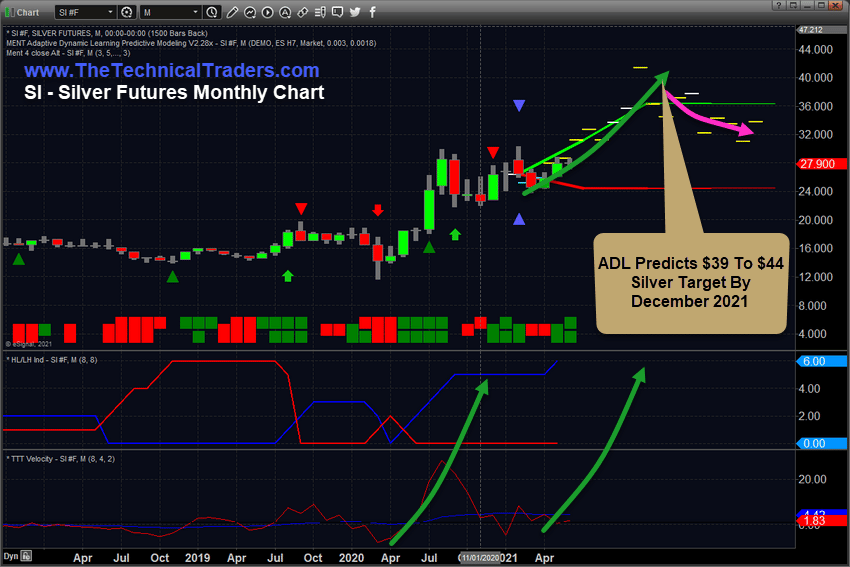 My team and I believe the end of 2021 and nearly all of the next 2 to 3+ years will be full of incredibly big price trends for traders to take advantage of. This setup in Silver suggests we are only starting a multi-year bullish price rally phase in precious metals (very similar to the 2003 to 2007 rally in Gold/Silver). If you have followed precious metals long enough, you understand the biggest moves in Gold and Silver happened after the 2006~07 stock market peak.
That means that we are just starting to see an incredible opportunity in the US stock market and precious metals related to volatility, trends and price rotations. Now is the time you should start preparing for what is to come and learn how to take advantage of these incredible opporutnities.
Want to know how our BAN strategy is identifying and ranking various sectors and ETFs for the best possible opportunities for future profits? Please take a minute to learn about my BAN Trader Pro newsletter service and how it can help you identify and trade better sector setups. My team and I have built this strategy to help us identify the strongest and best trade setups in any market sector. Every day, we deliver these setups to our subscribers along with the BAN Trader Pro system trades. You owe it to yourself to see how simple it is to trade 30% to 40% of the time to generate incredible results.
Have a great Friday!
Chris Vermeulen
Chief Market Strategist
www.TheTechnicalTraders.com