The Short Squeeze/Melt-Up We Predicted Started Today
The US majors are all nearly 1% higher for the day with the NASDAQ up over 2.25%.  Our analysis of the markets was DEAD ON.  We called the 2678 level on the ES as a key resistance level to watch before any breakout to the upside would potentially happen.  We also called this market bottom nearly three weeks ago on March 28, 2018 and we are up over 15% on a position to take advantage of it with our followers.  We have been nailing these market reversals with incredible accuracy all year and we are just getting started with our Advanced Dynamic Learning systems we have developed.
We should all expect this move higher to continue for the next few weeks as a dual time/price cycle is driving prices higher for the next few weeks.  Our predictive analysis and traditional technical analysis has indicated this move will last till after the cycle apex – which should be near the end of April or early May.  At that time, we should expect a price stagnation/rotation that is rather muted in range because the overall dynamics of this cycle move is still strongly bullish.  We will update you with new data as we update our research, but if you want to know about moves before the happen you are best to subscribe to our Wealth Building Newsletter for real-time analysis and trade alerts.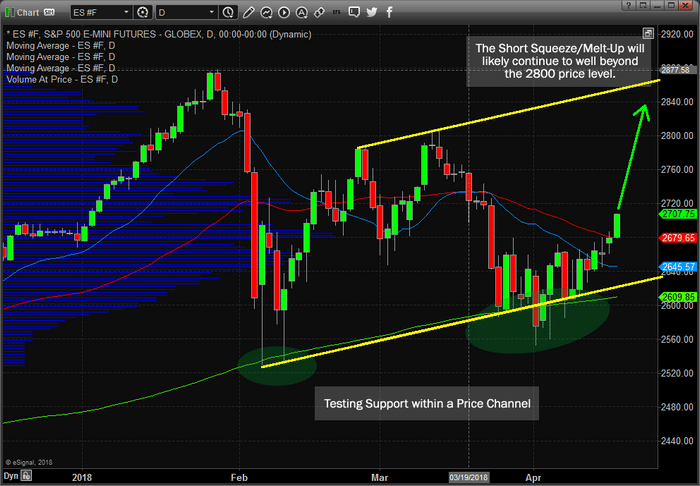 On the chart below you can see the price channel is also driving price rotation throughout this advance.  Expect the markets to continue their push higher until they near recent highs.  At that point, expect the markets to stall a bit in a sideways rotation for a few days before attempting another push higher near or after May 7th.
This is an incredible opportunity for traders and investors.  The price moves we have been able to identify and call correctly over the past 6+ months have resulted in some fantastic opportunities for our members.  Visit www.TheTechnicalTraders.com to subscribe today and stay ahead of these markets and increase your profits.  Where else can you get this type of detailed, consistent, and accurate price analysis?  We believe we provide incredible value and insight to our members and we welcome you to join our other members in building greater future success.