Should you consider investing/buying Gold or Bitcoin?
Recently, we have been asked by a number of clients about the precious metals and what our advice would be with regards to buying, selling or holding physical or trading positions in the metals.  There are really only a few short and simple answers to this question and they are revolve around the concept of providing a hedge against risk, capital preservation and opportunity for returns.  Let's explore the details a bit further.
First, Gold, historically, has been and will continue to be the basis of physical wealth for the foreseeable future.  Currently, Gold and Silver are relatively low cost compared to other assets offering similar protection.   As of right now, Gold and Silver are nearing the lowest price ratio levels, historically, that have existed since 1990.  This means, the relationship of the price ratio for Gold and Silver are comparatively low in relationship to how Gold and Silver are priced in peak levels.  So, right now is the time to be acquiring Gold and Silver as a low price hedge against another global crisis event or market meltdown.
People are starting to park their money in digital currencies, like Bitcoin and Ethereum, rather than parking them in fiat currencies – I buy and hold my currencies in this crypto wallet CoinBase. This is primarily due to the Negative Interest Rate Policy as well as Zero Interest Rate Policy of the Central Banks, which explains the sharp rise in the price of Bitcoin, this year.
Taking a look at this chart of the DOW Index shown in relative Gold Ounce price levels, we can see that every peak in this ratio above 15 or so has resulted in a dramatic ratio level reversion (decline).  This reversion means that asset prices (the DOW price level) declined while the price of Gold rose or stayed relatively stable.  The current level is well above 17 and any peak in this level should start the next rally in precious metals while global equities contract.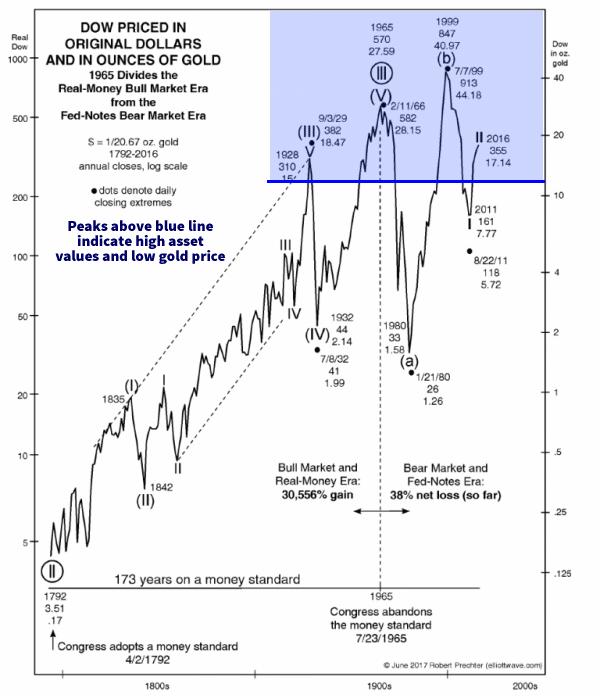 Second, the fact that the Gold and Silver price ratio is historically very low (meaning they provide a very good hedging opportunity at historically very low price ratio levels) also means that cash can be traded for physical gold with very limited risk and provide an excellent hedge for inflation, global market crisis events and as long-term investments.  Taking advantage of the current market conditions, one has to be aware that crisis events do exist and present a clear risk to future equity investments.  One could decide to risk further capital hedging with options or short positions as risk becomes more evident, but these are inherently more risky than a physical Gold or Silver investment.  Physical Gold or Silver, especially rare coins which include greater intrinsic value, can provide real capital, real gains, real hedging of risk and real return – whereas the short positions or options are only valuable if the trade is executed to profit.
The relationship of the US Dollar to Gold is key to understanding precious metals valuations.  As the US Dollar increases in value, this puts pressure on the price of Gold because most of the world operates in US Dollars and Gold is typically a hedge against risk and inflation.  Therefore, as the US Dollar increases in value, there is a perceived view that risks and inflation are less of a threat to the global economy.
As this chart, below, shows, the US Dollar is currently settling within a FLAG formation that could result in downside price action – below recent support.  When we consider the first chart, showing the price of Gold being historically very cheap and the ratio being above 17, we must assume that any downside price activity in Gold is a blessing right now because these levels have not been seen since 1999, 1965 or 1929.  In other words, this is potentially a once-in-a-lifetime opportunity for investors.
Lastly, Gold and Silver are very limited in supply on this planet and, unless society decides that Gold or Silver is absolutely worthless as a substance, will likely continue to increase in value.  News that China and Russia are acquiring hundreds of tons of gold each year in preparation for a gold-based currency is another set of reasons that you should consider starting your own physical hoard of precious metals.  The most important thing for you to understand about owning physical Gold and Silver is that it is a protective investment that can be liquidated or resold at almost any time in the future.  It can be traded, held, secured and transported easily.  You can physically take possession of your Gold and Silver and be assured that through any banking crisis, global market crisis or major global event, you have enough physical precious metal to operate in a crisis mode and likely attain great wealth/gains in the process.
Think of physical Gold and Silver like an "emergency kit".  You hope you never need it, but when you do need it, you had better be prepared and have set aside some physical holdings before the crisis event happened.  Out here in California, we keep "Earthquake Kits" with emergency supplies, water, lanterns, food and other essentials.  Well, guess what is included in my Earthquake Kit?  Yup – Gold and Silver in proper quantities that I could barter and trade for items that are essential.
This final chart is the Gold to Silver ratio and is used to identify when price disparity between the two most common precious metals is opportunistic for one metal over the other.  When the price of Gold is high compared to the price of Silver, this ratio will climb.  When the price of Silver increases, because of perceived market risks, this ratio will decline.  Currently, one can see that we are nearing a peak in this ratio chart – meaning that Silver is much cheaper, in relative terms, than gold.  Because of this, investors should consider Silver and Gold as viable wealth protection.
Should another market crisis event unfold, both Silver and Gold will likely rally.  This chart is telling us that Silver will likely rally by a larger percentage value than Gold to result in a decline in this ratio and resulting in closer "parity" between the valuations of these two precious metals.  Again, currently, this is very close to a once-in-a-lifetime opportunity for investors.
The point of my post is that I can think of no reasons why anyone would not want to attain some physical Gold and Silver at today's prices to protect against known risks, provide a hedge against inflation and crisis events and to protect wealth from what we all know will happen in a crisis event – the banks will close or limit cash availability (think of Greece).  So, it is really up to you to determine if and how you want to prepare for what could happen in the future.  Will you have your "emergency kit" and be prepared or not?
Now is the time to consider building your "emergency kit" and to prepare for the next market crisis event.  Our research team is ready to assist you and to keep you updated with Daily and Weekly update for all the major markets.
Visit www.TheTechnicalTraders.com to learn more about our services and newsletters today.