Renewed Economic Optimism Will Hold Metals Near Recent Lows
The US stocks are already up 1.5%, and gold 1.1% or more on news originating from Argentina from the G20 meeting.  The commitment from the US and China to restore talks and hold off on new trade tariffs for a 90-day period of time allows the markets some breathing room and some time to digest future expectations.  Combine that with the US Fed talking about taking a more dovish approach to rates and that rates are near "neutral" and we have a perfect setup for the global equity markets to rally back towards recent all-time highs.
This type of equity opportunity will push the metals markets towards recent price ranges/lows with almost no attempt at upward price activity.  In our opinion, we are looking for the next 14 days to be quite explosive in the equities markets and quite mute in the metal's markets.
Gold will likely stay below $1250 for the next 10~14 days as a renewed global equities rally takes hold.  This is an excellent time to establish new long positions as our predictive modeling systems are suggesting that the metals markets should start to move higher near the end of 2018 and into early 2019.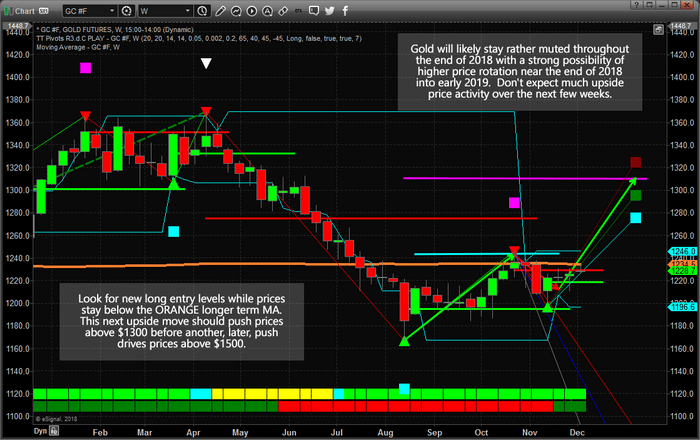 Silver will likely stay below $14.40 for the next 10~14 days with the possibility of falling below $14 on a washout low price rotation near Dec 10th or 11th.  This would be an excellent time to look for and set up positional long trades in metals miners or SIL in preparation for the late December and early Jan price pop that our predictive modeling system is suggesting will happen.
The initial upswing price activity in the metals will push prices above recent price peaks ($1260 for Gold and $15.00 for Silver).  Our modeling systems suggest this price move will stall in late Jan 2019 and continue to stay muted till April or May of 2019.  At that point, a new upside price advance will push metals prices much higher.
This may be the last time you see prices near these lows, so be aware of the risks that are ahead of the markets.  Remember, the EU and the Brexit deals will likely play a role in the rise of the metals prices over the next few months, so take advantage of these setups before they vanish.
Follow our analysis to stay on the right side of this move.  Our predictive modeling systems have been calling these market moves 30~60+ days in advance.  Visit www.TheTechnicalTraders.com to learn how we can help you find and execute better trades.
Chris Vermeulen