Preservation Of Wealth vs You Only Live Once – Another Victory For Retail Traders As AMC Price Blasts Off
In a market flush with cash where traders are able to use social media to target heavily shorted symbols – incredible things can, and often do happen. AMC follows GME to the heavens as retail traders flex their muscles while pushing institutional-level players to the sidelines. It is a true David vs. Goliath story where the impossible is possible.
To The Moon? Maybe? But What About The Landing?
We'll start off with this 10 Minute AMC chart that shows two incredible rallies over the past 72 hours. The first, a +42% rally from $32 to $45, and the second, a +65% rally from $36 to $62 as day traders and retail traders drove AMC to incredible highs (over 100% higher) in just 3 days.
What is happening with these price swings is that a group of retail and other traders are piling into a selected symbol and attempting to force a short squeeze in larger institutional level accounts. As the price moves higher, big money often comes in to short these symbols if fundamentals and earnings don't support the valuation. Yet, when the tide of retail buyers is never-ending and they lock up their shares with sell limit orders well above the current market price, this locks out the shorts (in some form) – pushing the squeeze into hyperdrive.
YOLO! Blow Up? Blow Out? Who's Left Holding The Empty Bag?
The Daily AMC chart below shows the incredible +560% rally that has taken place in under 30 days. Just like what we saw with GME, this rally has moved into a parabolic phase with price levels now well above $45 to $55 per share. When you consider AMC was trading below $8.00 per share just 4 months ago and is just now starting to regain some revenue after opening in theaters in many states, one has to ask a simple question… Who's left holding the bag when this is all over?
I remember seeing the posts on Reddit from retail traders that had lost fortunes after the GME rally collapsed. I remember reading about that one young man that took his own life after amassing a +$700k margin debt on Robinhood. As much as one has to sit back and wonder in amazement at this rally in AMC – I keep asking myself "who's going to walk away from this holding a huge loss when this is all over?".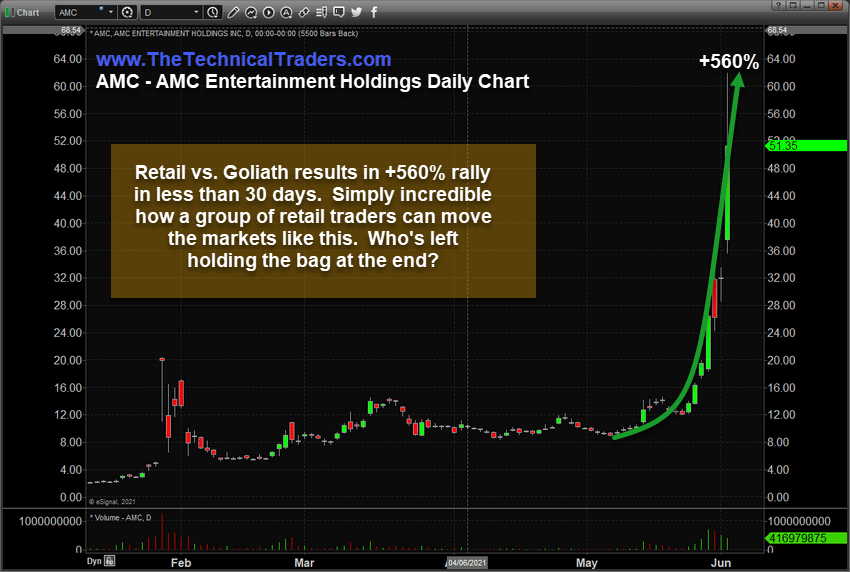 Maybe that is the YOLO plan for many of these traders. It is not about wealth preservation or consistently trying to find suitable gains in a wild market. Maybe it is about living the experience – no matter what the costs and risks are.
I congratulate those retail traders involved in this rally and we hope to urge you to take your profits and be satisfied with these incredible rallies. There is nothing wrong with pulling off enough to cover your initial investment (or more) when you want the symbol to skyrocket like AMC has.
Sign up for my free trading newsletter so you don't miss the next opportunity!
Additionally, I urge all active traders to consider the longer-term game plan when you start to get serious about trading and investing. My team and I like the "slow and easy" approach to trading where we target momentum-based trends while the markets support rising price levels, use position-sizing to our advantage, and attempt to limit downside risks. In our opinion, staying alive and protecting our trading account is more important than these "flash-rallies" and the risks that come with this style of trading.
We've all heard stories about the traders that turned $2500 into $250k, then lost it all on a couple of dumb trades. That is a very important lesson to learn in this industry. Especially when data shows that more than 60% of active traders blow out their accounts within three years of trading.
Having said that, our options trading specialist has unique and fresh ways to play price and volatility spike in AMC shares. Watch this video for some ideas.
Please take a minute to learn about my BAN Trader Pro newsletter service and how it can help you identify and trade better sector setups. My team and I have built this strategy to help us identify the strongest and best trade setups in any market sector. Every day, we deliver these setups to our subscribers along with the BAN Trader Pro system trades. You owe it to yourself to see how simple it is to trade 30% to 40% of the time to generate incredible results.
Enjoy the rest of your day!
Chris Vermeulen
Chief Market Strategist
www.TheTechnicalTraders.com