NQ Rallied To New All-Time Highs – Are We Starting Another Bullish Rally Phase?
After the Fed's comments in support of the US economy and the transitory nature of the recent inflation, the NASDAQ rallied to new all-time highs and closed at $15,167.75 on August 5, 2021. If the markets fall back into the "melt-higher" mode as we move away from Q2:2021 earnings, we may be setting up for a moderately big rally phase targeting $15,400 or higher in the NQ.
Global Traders Continue To Bank On A Rally In US Equities
Global traders have poured billions into the US markets over the past 4+ years as the US Federal Reserve has continued to act as the global banker of last resort. Because of this, global traders continue to invest in US equities as the strength of the US Dollar and the incredible post-Covid rally in the markets has blown past everyone's expectations.
Sign up for my free trading newsletter so you don't miss the next opportunity to learn more!
This Daily NQ Chart shows how the trading on Thursday, August 5th, 2021, rallied past the recent high levels to close at a new all-time high. The $15,000 level appears to be fairly strong resistance, but the NASDAQ has continued to be one of the strongest market sectors over the past 6+ months – continually pushing higher and higher.
Quite possibly, the NQ may be starting a new rally phase which may attempt to move upward towards $15,400 or higher.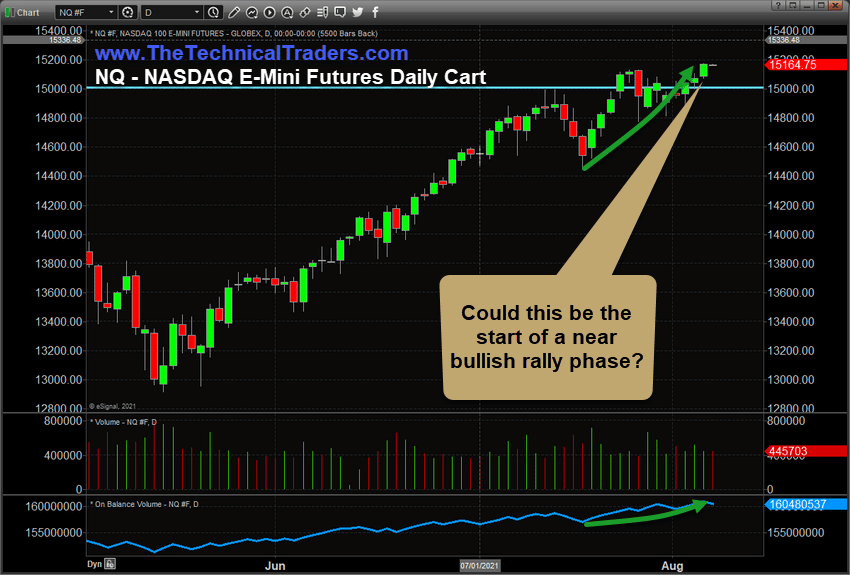 We'll know soon enough if the NASDAQ and other US major indexes are able to continue this rally phase. August and September are typically very volatile months for traders, but the Christmas rally usually starts in late September or early October as consumers start preparing for the holidays upon seeing Halloween decorations lining the shelves in stores.
The next few months may be full of volatility and big trends. There will still be endless opportunities for profits from these extended price rotations, but the volatility and leverage factors will increase risk levels for traders that are not prepared or don't have solid strategies. Don't let yourself get caught in these next cycle phases unprepared.
Want to know how our BAN strategy is identifying and ranking various sectors and ETFs for the best possible opportunities for future profits? Please take a minute to learn about my BAN Trader Pro newsletter service and how it can help you identify and trade better sector setups. My team and I have built this strategy to help us identify the strongest and best trade setups in any market sector. Every day, we deliver these setups to our subscribers along with the BAN Trader Pro system trades. You owe it to yourself to see how simple it is to trade 30% to 40% of the time to generate incredible results.
As something entirely new, check out my new initiative URLYstart to learn more about the youth entrepreneurship program I am developing. This is an online program of gamified entrepreneurship designed to introduce and inspire kids to start their own businesses. Click-by-click, each student will be guided from their initial idea, through the startup process all the way to their first sale and beyond. Along the way, our students will learn life lessons such as communication, perseverance, goal setting, teamwork, and more. My team and I are passionate about this project and want to reach as many kids as possible!
Have a great day!
Chris Vermeulen
Chief Market Strategist