Is this the last leg higher for the DOW Index?
Our researchers, at Technical Traders Ltd., believe this current upside price move is nearing the end of any immediate upside potential.  Yes, back in December 2018 and before, we called for an "Ultimate Low" pattern setup followed by an incredible run to new all-time highs when almost everyone else was calling for a continued downside price move.  Now, that the YM/DOW is only 640 points away from reaching all-time highs again, we believe a new price peak will setup sometime near June/July 2019.
Our researchers believe the continued upside price bias will stay in place for at least another 30 days and that the YM.DOW will establish new higher all-time highs in late April or early May 2019.  We believe once a "scouting party" type price move completes above the all-time highs near $27,000, a sideways price rotation will begin that may last as long as 25 to 55 days.  Our predictive modeling systems are suggesting that June/July are important months for the global equities/stock markets and we believe we'll know more about the setups that will prompt bigger moves as we get closer to these dates.
Right now, our researchers are suggesting the upside move in the YM/DOW is likely to push higher by +2.5 to +3% or slightly more.  Once the $27,000 level is breached to the upside, traders should begin to become much more cautious of price rotation and volatility.  As we head into June/July/August 2019, be prepared for a spike in volatility/VIX as price rotation is likely to become much more aggressive.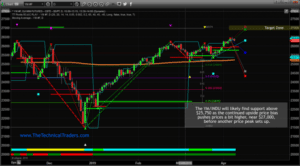 Read our most recent research to learn more about what we believe will happen over the next few months.  Get ready for some bigger price swings and prepare for the last bit of upside price trending before a price peak sets up near June/July.  Ultimately, we believe there is an opportunity for skilled traders that can see and create opportunity from these moves.  We've been warning that 2019 is going to be an incredible year for skilled traders – our call near the end of 2018 that this move higher would target new all-time highs is proof of the opportunity that exists if you pay attention to our research.  Do you know of any other firm that called this move as accurately as we did?
On September 17, 2018 our Predictive Trading Model Suggests Falling Stock Prices During US Elections.
Please visit www.TheTechnicalTraders.com to learn more about how we help our members learn to find and execute incredible trading opportunities.  We've recently launched a new technology solution for our members that delivers our incredible research and trading solutions.  2019 is going to continue to be an incredible year for skilled traders – you won't want to miss these big moves that are setting up.
Chris Vermeulen