Grey Swan Warning – Get Your FREE issue of TradersWorld
RESEARCH HIGHLIGHTS:
I believe a major price event, we're calling it a "Grey Swan", is about to unload on the US and global markets.
A Grey Swan Event is the sudden realization that the party won't go on forever – much like the end of the DOT COM bubble.
A breakdown below the $900 on the FAANGs Index would represent the potential start of a deeper price decline within the US stock market.
Click on the image below to get your FREE issue of this great trading magazine!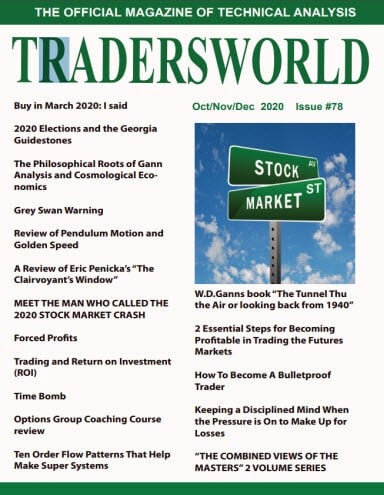 You can read more about the Grey Swan Event in my article on Page 29 of the magazine. Take a look at the other great articles you can read in your FREE issue of TradersWorld:
Buy in March 2020: I said by Daniele Prandelli
2020 Elections and the Georgia Guidestones By Dr. Lorrie Bennett
The Philosophical Roots of Gann Analysis and Cosmological Economics by William Bradstreet Stewart
Review of Pendulum Motion and Golden Speed by Larry Jacobs
A Review of Eric Penicka's "The Clairvoyant's Window" by Gordon Roberts
MEET THE MAN WHO CALLED THE 2020 STOCK MARKET CRASH
Forced Profits by Joel Rensink
Trading and Return on Investment (ROI) by Thomas Barmann
Time Bomb by Rick Versteeg
How to select the appropriate cycles for forecasting by Lars von Thienen
Options Group Coaching Course review by Larry Jacobs
Ten Order Flow Patterns That Help Make Super Systems by Rob Mitchell
W.D. Gann's book "The Tunnel Thu the Air or looking back from 1940" by D.K. Burton
2 Essential Steps for Becoming Profitable in Trading the Futures Markets By Steve Wheeler
How To Become A Bulletproof Trader By Steve Ward
Keeping a Disciplined Mind When the Pressure is On to Make Up for Losses by Rande Howell
"THE COMBINED VIEWS OF THE MASTERS" 2 VOLUME SERIES by Rob Giordano
Orbital Trading Computers – High-Performance Computers purpose-built to maximize trading performance by Danny Payne
Visit www.TheTechnicalTraders.com to learn how we can help you find and execute better trades and avoid risk. If you follow our research, you already know we have stayed well ahead of these trends and big price rotations in the US stock market. What's next is even more big trends and profits for those able to engage in the best trade setups.
As a technical analyst and trader since 1997, I have been through a few bull/bear market cycles in stocks and commodities. I believe I have a good pulse on the market and timing key turning points for investing and short-term swing traders. Subscribers of my Active ETF Swing Trading Newsletter can ride my coattails as I navigate these financial markets and build wealth. My research and trading team are here to help you find better trades and navigate these incredibly crazy market trends.
While most of us have active trading accounts, our long-term investment and retirement accounts are equally at risk. We can also help you preserve and even grow your long term capital when things get ugly (likely now) with our Passive Long-Term ETF Investing Signals. Don't wait until it is too late – subscribe today!
Stay safe and healthy, and have a great weekend!
Chris Vermeulen
Chief Market Strategies
Founder of Technical Traders Ltd.
NOTICE AND DISCLAIMER: Our free research does not constitute a trade recommendation or solicitation for our readers to take any action regarding this research. It is provided for educational purposes only – read our FULL DISCLAIMER here. Visit www.thetechnicaltraders.com to learn how to take advantage of our members-only research and trading signals.