Gold and Silver Setting Up for A Sleeper Breakout
As the world continues to see economic improvements, specifically within the US and major global markets, Gold and Silver are relegated to an after-thought by investors.   Why consider Gold or Silver when the NASDAQ or S&P leaders are rallying 2%+ per week?
Well, the recent G7 meeting and President Trump's meeting with Kim Jung Un in Singapore may spark a little interest in these shiny metals as they setup a "rope-a-dope breakout" for those not paying attention.
One of the easiest components of Fibonacci price theory is the concept that "price must always attempt to establish new price highs or new price lows within price rotation – ALWAYS".  For those of you that are familiar with our research, visit www.TheTechnicalTraders.com if you are not, you know that the lack of new price highs indicates a downward trend may have formed.  Conversely, a lack of new price lows indicated an upward price trend may have formed.  With this in mind, let's take a look at this Monthly Gold chart.
Please notice that the recent price lows, originating near the start of 2016 all the way through current price activities, are continually higher.  Even the current price rotation, near the right edge of the chart, is still higher than the previous low price rotation near the middle of 2017.  Ladies and Gentlemen, we have an uptrend already in place in Gold.  The "rope-a-dope breakout" that we are suggesting is right around the corner is the potential for a $1370 price break that has been setting up since June 2016.
Our proprietary Fibonacci price modeling system is showing us the current price trend is BULLISH and that support is near $1250.  Additionally, the newest Bearish Price Trigger level, near $1124, is a result of extended price rotation and lack of clear price trend (the "rope-a-dope" setup).  This has lulled many metals investors into thinking any price breakout may never happen if the global economy continues to strengthen.
Well, we're here to tell you that this price breakout may be less than 30 days away from now and the key to any potential move will originate in the global fear that may continue to grow as the world's leading economies continue to spar over trade, economic cooperation and fair opportunities going forward.  Nearly 3 months ago, we authored a detailed research piece on China and the fact that China and SE Asia were entering an economic malaise cycle.  The recent elections in Malaysia may have changed this perspective a bit, but the core economic cycles have not likely changed much.  We believe Gold and Silver are setting up for breakout of the $1370 price level with the potential to rally to near $1430~$1463 within the next 3~5 months – +11.5% or more.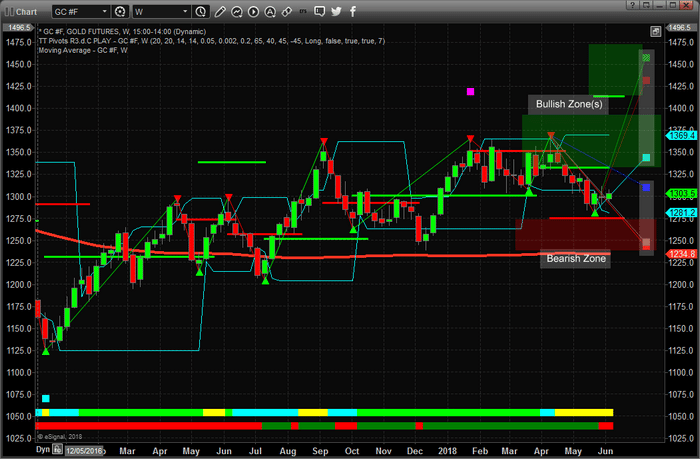 Silver, the other shiny metal, is the one investment that many have overlooked and the chart proves why this is the case.  This Monthly Silver chart shows that silver has been trapped in a sideways trend for months.  The price low, set in early 2016, is a critical low point regarding future price analysis.  From this point, we are able to establish price waves, counts and other key factors of future price activities.  Our proprietary Fibonacci price modeling system is showing use that the price of Silver MUST rally above $19.50 to qualify for a new BULLISH price trend.  Currently, the price of Silver is $16.82.  This means the price of Silver MUST rise by more than 16% to establish a new BULLISH trend.  Hmm…
Think about that for a minute..  Gold has already shown a Fibonacci Bullish price trend is in place and a breakout is nearly upon us.  Silver is showing a similar setup, but is telling us that price has to move upward by more than 16% to establish a new bullish price trend whereas Gold only needs to move higher by about 8% for the same outcome.  Either way, if Gold moves higher by greater than 8% and Silver moves higher by greater than 16% from current levels) – that is a GREAT TRADE.  The upside potential after that is even better.
The price rotation required to achieve this upside breakout is likely to play out over the next 30~45 days or more.  Remember, we're calling this a "rope-a-dope breakout" because we believe this will be a sleeper move to the upside.  Gradually climbing over the next 30+ days and gradually building up momentum till a massive upside breakout move takes place.  By then, these lower price levels will be gone and the upside move will already be taking place – catching many traders flat-footed.
There has been talk that many big players are setting up short positions in the US markets (financials and others). We believe this could be a disaster waiting to unfold should the global markets play out as we expect.  Yes, fear of some economic issues will continue to drive Gold and Silver higher, but we believe the US market is somewhat immune from this debt concern because it is really the only game on the planet to generate returns and opportunities.  Things can change, but for right now, expect Gold and Silver to continue to rotate higher and watch for Silver to start moving at 1.5x or 2.x that of gold as the breakout takes place.  This "rope-a-dope breakout" is setting up to be a fantastic trading opportunity for those able to see it unfolding.
Stay aware of these fantastic trade opportunities by visiting www.TheTechnicalTraders.com and learn how we can help you stay ahead of the markets with our advanced predictive modeling systems, expert research, daily video content and detailed trading signals.  Our proprietary research is second to none – you won't find these tools or capabilities anywhere else.  Visit our Wealth Building Newsletter today to learn how we've called nearly every move in the markets this year and continue to astound our members with our detailed research.  Opportunities exist for profits every month – it is simply a matter of finding them (that's what we do) and you just execute the trade setups.