Extended Gold Mega Base Could Prompt An Incredible Rally
Here we go again..  We've been nailing the Precious Metals moves for many months and we've heard from many of our followers and members about our research.  Some of you might remember our November 24, 2018 prediction that Gold would rally above $1300, then stall and set up a "Momentum Base pattern near April 21~24, 2019″ .  We find it incredible that we can make a prediction about Gold nearly 6+ months ahead of the move using our proprietary predictive modeling tools and then sit back and wait for it to happen just as we predicted.
On March 28, 2019, we posted this research article regarding the "Final Buying Opportunity for Gold".  Our researchers believe this current double-bottom setup is the last time you'll see Gold prices below $1300 for quite some time in the future.  Again, we were warning our followers that the opportunity to position their gold trades was setting up and this low price setup may be the last time we see Gold near these lows.
Our current research suggests the bottoming is over and the new price leg should begin to prompt a Gold price rally over the next 5~7+ weeks targeting a level well above $1375 initially.
This Daily Gold chart highlights the price rotation and the Double-Bottom that has currently set up in Gold.  Our proprietary Fibonacci price modeling system is suggesting an upside price leg targeting at least $1330 (on this Daily chart) will become the initial upside price leg.  Remember, the Daily Fibonacci modeling system is predicting price moves over 10~30+ days.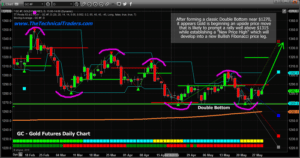 This Weekly Gold chart is highlighting the same Fibonacci predictive price modeling system on long term data – weekly data.  You can see how we've highlighted the price rotation peaks and valleys as well as how the Fibonacci modeling system is predicting a broader upside price move with a target near $1425 or higher.
If you pay attention to the MAGENTA price rotations we've highlighted throughout the initial upside price move, you'll see there are a total of FIVE (5) rotations within that first price leg.  A perfect 5 wave rotation upward.  Then, the following downside price move consisted of a THREE (3) wave downside price move – resulting in a DOUBLE-BOTTOM price formation.  Should this next wave, wave C, rally in equal form to Wave A, the upside price target for the move would be $1450.  We believe this next price advance will be bigger than Wave A and likely result in a price target range well above $1650.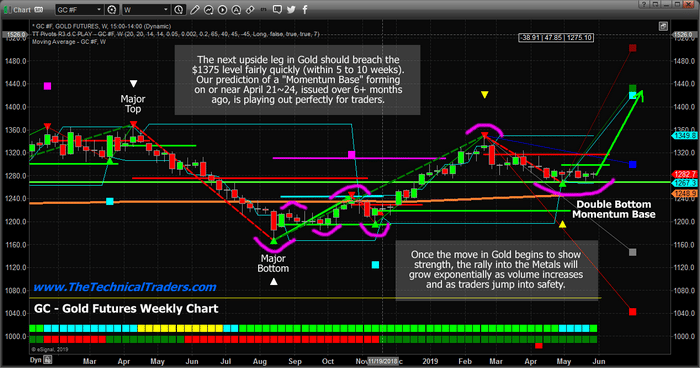 As we've been saying for many months, get ready and here we go.  Once the protectionist moves into Cryptos have waned and traders realize the magnitude of this potential precious metals rally (as well as the fact that Cryptos will not provide the same level of protection as precious metals), the hunt for the shiny metals will be on.  It would be very wise to stay well ahead of this move and prepare for this upside leg now.
We have been trying to tell you about this move for over 6+ months.  We hope you've been paying attention and understand that even with a 4% to 8% price risk (or more) in your accumulation of Gold/Miners and precious metals positions, this trade is for the longer-term objective – not the short-term 8 to 12%.  This next upside price move could target the $2100 to $2400 level if it extends into a complex advancement wave.  That would mean Wave C could end well above $2100 and that Wave E could target the $5000 level or much higher.
We'll keep you informed of this move, but you better start planning for this upside move before you miss this bottom. And just because we like to hear it – remember, we called this move back in November 2018 – over 6 months ago.
UNIQUE OPPORTUNITY: First, we typically see stocks sell-off and as the old saying goes, "Sell in May and Go Away!" which is what has been happening.
So what does this mean? It means we should start to see money flow into the safe-haven assets like the Utility sector, bonds, and most importantly precious metals. I anticipated this and our XLU utilities ETF taken with members has already hit our first profit target, and our VIX ETF trade also hit out 15% profit target and we the balance of it is still up 25% as of yesterday.
Second, my birthday was this month, and I think its time I open the doors for a once a year opportunity for everyone to get a gift that could have some considerable value in the future.
For May I am going to give away and ship out silver rounds to anyone who buys a 1-year, or 2-year subscription to my Wealth Trading Newsletter. You can upgrade to this longer-term subscription or if you are new, join one of these two plans listed below, and you will receive:
1-Year Subscription Gets One 1oz Silver Round FREE
(Could be worth hundreds of dollars)
2-Year Subscription Gets TWO 1oz Silver Rounds FREE
(Could be worth a lot in the future)
I only have few silver rounds I'm giving away
​​​​​​​so upgrade or join now before its too late!
SUBSCRIBE TO MY TRADE ALERTS AND GET YOUR FREE SILVER ROUNDS!
Chris Vermeulen