ETF Trade Setup Of The Week – YANG
This week the markets have been wild just as we expected based on Friday's closing price. Markets are having large intraday price swings and these market conditions are best for day traders and momentum traders.
Knowing the type of market condition we are in allows us to adjust our strategies to swing at quick first base hits and this week the inverse China large-cap fund YANG was our setup and trade. We pulled a nice 8% profit entering Tuesday near the low, and selling Wednesday right at the high. Both the entry and exit provided a window of several hours to enter at the same price or better than what we alerted which is exactly what we like to see for these momentum trades. Because if our member's cant trades them in time, then they are no good.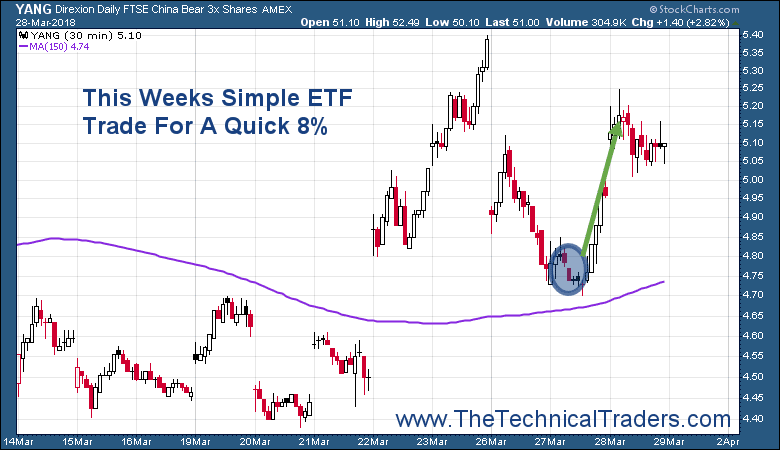 Here are our two closed trades this month and we still hold a few open positions based on our technical analysis, cycle work, and ADL adaptive learning algorithms forecasts.

53 years experience in researching and trading makes analyzing the complex and ever-changing financial markets a natural process. We have a simple and highly effective way to provide our customers with the most convenient, accurate, and timely market forecasts available today. Our stock and ETF trading alerts are readily available through our exclusive membership service via email and SMS text. Our newsletter, Technical Trading Mastery book, and 3 Hour Trading Video Course are designed for both traders and investors. Also, some of our strategies have been fully automated for the ultimate trading experience.