Can The FED Engineer A Soft Landing For The Biggest Bubble We've Ever Seen?
Taking into account the Fed comments from last week, recently one of our technical analysts forecasted a correct S&P Index price range of $4348 to $4261. The market has since corrected to that level and is now bouncing.
With that said, investors have been panicking with the SPY ETF having an average outflow of more than $1 billion per day over the past ten days.
S&P 500 Index Panic Selling Wave – Daily Chart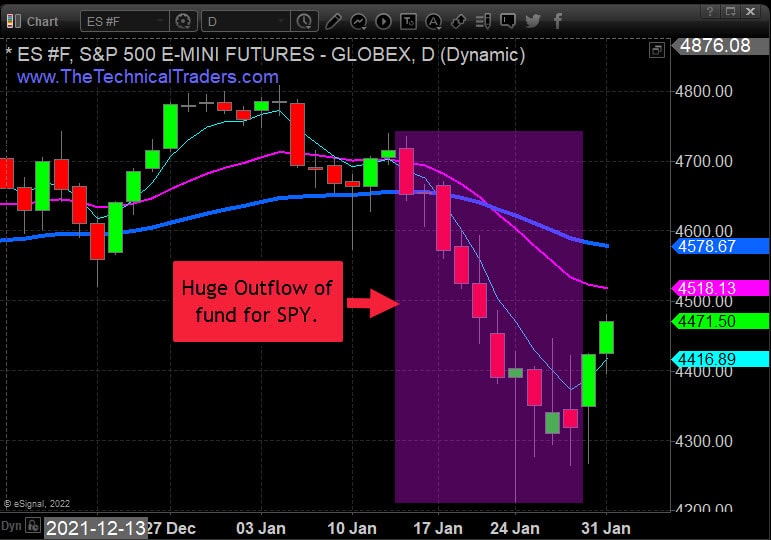 Nasdaq Analysis Shows 30% of Stocks Trading At 52-Week Lows
Over the past twenty-five years, you can see the new 52-week lows on the Nasdaq. This may look like a buy signal and quick spike on the chart, but remember, the chart below is a condensed 25-year view. Some of these spikes can last several weeks, and the stock market can keep falling.
From a technical standpoint, stocks, in general, are oversold and are starting to bounce. The question we are all asking ourselves:
"Is this a bounce before lower prices, or the start of a rally?"
Only time will tell, so we wait, watch, and analyze what the market internals and money flow tell us. Over time we will know better and have a new confirmed trend to trade.
U.S. Treasury yields rose as the FED issued its update
FED Chair Powell confirmed last Wednesday that it's on track to raise interest rates. This dialogue continues to increase risks that will impact the US stock market. In the month of March rate hikes will be implemented.
The FED has stepped in to save falling markets in the past, but this time will be different?
The FEDS rate hikes will play their own part in reducing economic growth. This year, it does not need to be catastrophic to the stock market's performance.
Energy stocks spent the decade of 2010 to 2020 mired in weakness, but that trend is coming to an end. Crude oil has reached a seven-year high. Russia and COVID pressuring global oil supplies is one main reason why this is occurring.
What to buy in a post-interest rate hike world?
Regardless of how many times the central bank hikes rates in 2022, there are places, stocks, and sectors from which you will be able to keep profiting. Inflation is part of the reason rates are rising in the first place. Also, the indices have prepared for higher interest rates soon. It's possible that it may have already been priced into the market.
Trader Tip – What Stocks to Buy Next?
The expensive growth technology stocks are hit disproportionately hard by rising interest rates. Their business models are trading profitability for the promise of higher profits tomorrow. These higher interest rates reduce the present-day value of those future profits.
On the other hand, value stocks tend to outperform in a rising-rate environment – especially if economic growth is on the rise. The FED plans to complete its bond-buying program in March and to let bonds mature as a preferred method of reducing its balance sheet over time. The timing and pace of balance sheet reduction were not explicit in their speech.
Get our free trading newsletter and never miss the next opportunity!
Bank stocks also perform favorably in times of rising hikes. Rate hikes are particularly positive for the financial sector. So, the new trend to benefit from is from value stocks once the stock market turns favorable again to own equities.
Sentiment Reaches Severe Bearish Level
The chart below is the AAII Sentiment Survey. It reflects market participants are now extremely negative (bearish), the highest in 16-months. Similarly, bullish sentiment fell to an 18-month low. This widely followed measure of the mood of individual investors is an interesting contrarian indicator that suggests we may be closing into the end of the current market correction.
Concluding Thoughts:
The analysis of the broad stock market shows signs of instability and weakness from a long-term investor's point of view. The near term indicates a short-term bottom has been put in place, and higher prices are likely over the next week or two.
What Trading Strategies Will Help You To Navigate Current Market Trends?
Learn how I use specific tools to help me understand price cycles, set-ups, and price target levels in various sectors to identify strategic entry and exit points for trades. Over the next 12 to 24+ months, I expect very large price swings in the US stock market and other asset classes across the globe. I believe the markets are starting to transition away from the continued central bank support rally phase and may start a revaluation phase as global traders attempt to identify the next big trends. Precious Metals will likely start to act as a proper hedge as caution and concern start to drive traders/investors into Metals.
I invite you to learn more about how my three Technical Trading Strategies can help you protect and grow your wealth in any type of market condition by clicking the following link: www.TheTechnicalTraders.com
Chris Vermeulen
Chief Market Strategist
Founder of TheTechnicalTraders.com